Here's an image we made back in October 2012: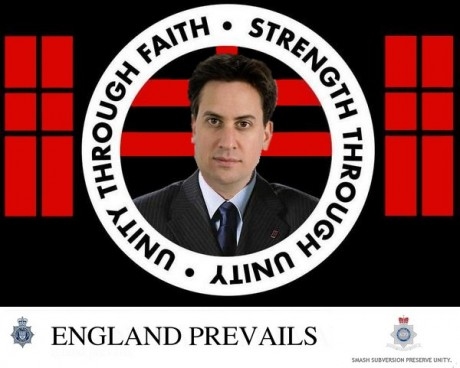 It's based on a graphic from the movie version of "V For Vendetta".
And here's a piece from the right-wing Guido Fawkes blog today: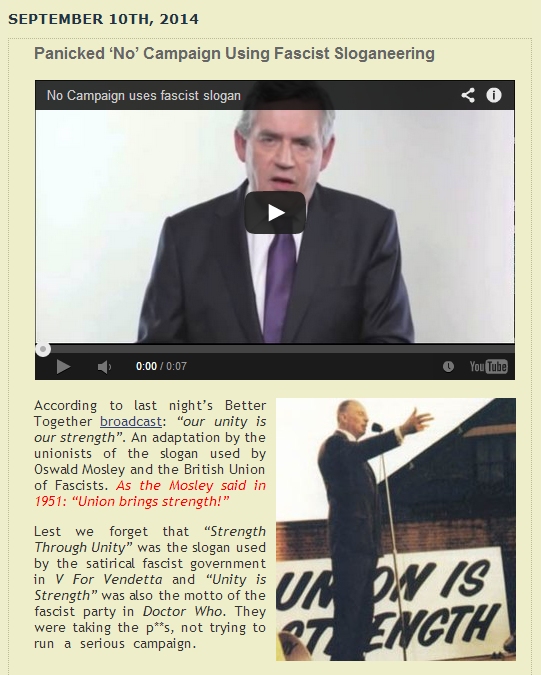 The rather creepy video itself – which is notionally a "Better Together" one, but really a Labour election broadcast bashing the Tories in the most shamelessly disingenuous way – can be viewed here.
If you've seen the movie, the similarities between the fictional prime minister Adam Susan (played by John Hurt) and the former real one are all too chilling. But not as chilling as Labour's whole wider "One Nation" schtick, which the video is nothing but a hasty rebadging of, and whose "Ein Volk, Ein Reich, Ein Fuhrer" echoes give us the heeby-jeebies as much now as they did two years ago.
(Especially given Labour's enduring fondness for grotesquely pejorative language about "foreigners" and its willingness to refer to its opponents as a "virus".)
It seems safe to say that in the current Unionist omnipanic, no holds are barred.