UK politics is stuck fast in the mud, going nowhere, and the casualties are mounting. Whether on Brexit, independence or anything else, we've all become so dug-in to our positions that some people – naming no names – have forgotten where the battle lines are or what their political war was even about in the first place.
For 30 months now, the Yes movement has been trying to answer the question of how to get a second indyref. The SNP has a triple-locked democratic mandate based on Scotland being dragged out of the EU against the will of its people, but as strong a moral argument as that is it unfortunately runs straight into a brick wall of reality: the constitution is reserved to Westminster.
Equally we're consumed by the ongoing Brexit trainwreck, which has no apparent escape route from a poisonous stalemate paralysing the UK's politicians and leaving nobody in control as the country heads for some very hard buffers.
As the self-imposed Brexit deadline looms, Theresa May is running out of options. Her deal is a dead duck. When it inevitably fails, there are two possible scenarios: a second EU referendum of some sort (nobody can agree what the options would be), or a general election.
Neither the Tories nor Labour want another referendum because both parties want Brexit to happen, so another election is the more likely. But all the polls suggest it would deliver much the same hung parliament as we have now, solving nothing.
Last week, SNP MP Joanna Cherry QC gave a speech to a diverse pro-Europe group that includes former Green leader Caroline Lucas, pro-indy commentator Lesley Riddoch and Tory MP Dominic Grieve. And as she waxed lyrical, with a twinkle in her eye Cherry slipped in reference to a hitherto-undiscussed plan that offers an escape route for everyone.
As we've seen over the past two years, the SNP have been systematically shut out of Westminster debate and lawmaking in the House of Commons. But behind the scenes the party has been seeking like-minded allies across all parties. Ms Cherry and her band are proposing a plan which would radically reshape the political battlefield.
In order to call a general election now, the Tories would have to invoke one of the two mechanisms in the Fixed Term Parliament Act. One of those, a two-thirds majority, isn't going to happen. But the other mechanism has a really interesting provision; if a vote of no confidence in the government is passed (by simple majority) then a general election will be held unless a new government can be formed within two weeks and a vote of confidence in it passes.
What this means is that Labour, the SNP, the Lib Dems, Greens, Plaid and some disgruntled Tories could form a new unity government – a cross-party administration like the National Government of WW2 – without a general election. And at a single, perfectly feasible, stroke that would change everything.
Such a unity government could – thanks to the case successfully argued by Ms Cherry and her allies in the European Court of Justice – unilaterally revoke Article 50, thereby keeping the whole UK in the EU. However that's probably an unrealistic hope, unless public opinion on Brexit shifts quite a few more points towards Remain in the coming weeks.
A more plausible outcome might be a softer Brexit where the UK stays in the customs union and the single market, while still satisfying the result of the 2016 referendum. (Which, remember, didn't specify any particular type of Brexit.)
Anyway, these things would be up for debate and discussion – the key point for independence supporters is that in return for the support of the SNP's bloc of 35 MPs, which would almost certainly hold the balance of power, the National Government would have to grant key new powers to the Scottish Parliament, such as control over immigration and the Section 30 powers to hold a new independence referendum.
Ladies and gentlemen, start your engines.
Obviously this hypothetical scenario has a lot of moving parts, but what Joanna Cherry and her companions have done is found a way past two seemingly-impassable barricades: securing a new indyref in line with the democratic mandate of the Scottish Parliament, and potentially saving the rest of the UK from a disastrous no-deal Brexit (or a civil war) into the bargain. It's a brilliant piece of political manoeuvring.
But before we get ahead of ourselves, just how viable is this scenario? First of all we'd have to convince Labour to play ball, and thus far Corbyn hasn't shown any inclination to work with the SNP, seemingly more ready to deal with the DUP.
But if the current polls are to be believed, if Theresa May does indeed call a general election before Brexit, Corbyn is almost certainly sunk. Would he really repeat Ed Miliband's mistake and deliver the entire UK into the hands of a shambolic, cut-throat Tory party for a generation? (Labour would tear itself apart in the recriminations.) Perhaps, but he almost certainly wouldn't survive as leader in such circumstances, and his dream of a glorious socialist revolution would be dead forever.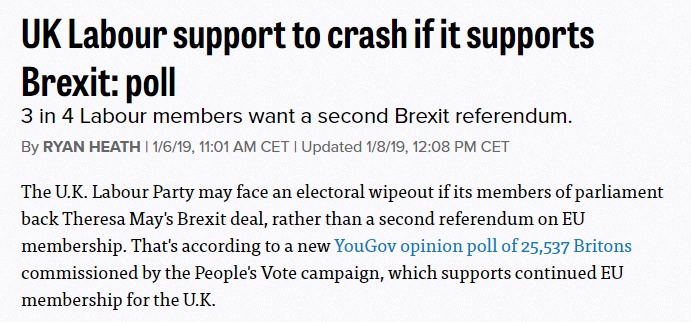 His best shot at being Prime Minister is now as part of a rainbow coalition including the SNP. He could use a relatively short unity government's term in Number 10 to deliver real change in the UK and consolidate his support without fatally alienating the large number of Labour Leave voters in the north of England, perhaps resulting in a Labour majority in a future England and Wales general election.
The rather thornier problem might be getting some Tories to vote for this. But let's not underestimate the crisis in the Tory party. Believe it or not, there are some good Tory MPs who believe that defying their own party is a price worth paying if it saves the UK from a devastating no-deal Brexit.
But perhaps more importantly, if Theresa May's government falls, then it lets the Tories off the hook for Brexit. They could blame whatever the outcome is on the cross-party government – and therefore primarily Labour – thus avoiding the stigma and electoral wilderness that looms large if Brexit goes badly, as it definitely will on the current path.
Theresa May has always been a lame duck Prime Minster, stayed from execution only as long as she could carry the can for Brexit. If she goes, the party has an opportunity to reinvent itself. If Labour can be persuaded to back the Cherry plan, there's a good chance that enough Tory rebels – only a small handful would be needed – will join it either out of a sense of duty to the country or simple self-preservation.
But what of the SNP itself? Cherry's speech sparked furious online debate in the Yes movement, with many members expressing deep discomfort with the idea of the SNP propping up a Westminster government of any flavour.
That, however, is a self-defeating argument. We're stuck in Westminster for now, so we have to try to make it work for us. We need to see past the current constitutional and party political arguments and remember why most of us got into this game in the first place: Scottish independence and the lasting societal change it would deliver.
Rather than focusing on the arguments of the past, a National Government would allow us to redraw the battle lines and obtain our goal by other means. It would end the costly, bitter stalemate of trench warfare, put a huge meaningful power in the hands of the Scottish Parliament, and remove the Tories from power in as little as two months.
And that's a result worth fighting for.