The extremely sharp and perceptive New Statesman writer Stephen Bush buries some of his political insight in a daily email newsletter (because, we assume, his fax machine doesn't work, you can't send telegrams any more and London flats don't have enough room to keep a lot of messenger pigeons or let you send smoke signals).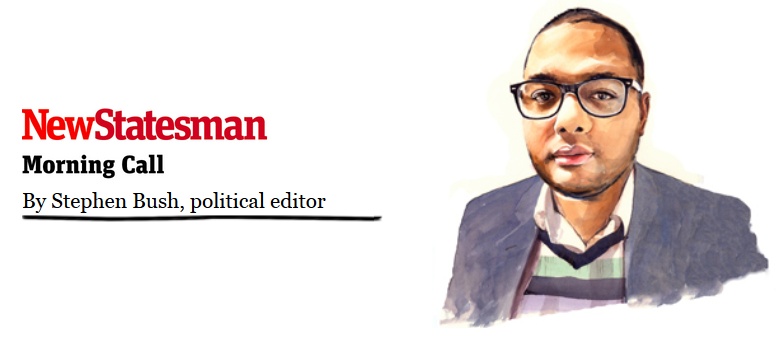 And it's a lot easier just to quote you a chunk of today's than it is to rewrite the same observations into a new article ourselves.
"Good morning. Will this be the week that spells the end of Brexit? That's what Theresa May wants MPs to believe, at any rate. She will claim that she now thinks that MPs will react to the defeat of her deal by voting to stop Brexit rather than taking us out of the European Union without a deal. 

But does she? One of the neglected aspects of May's political style is that she is happy to say things that are untrue. Although there is a widespread belief that this is part of the average politician's toolkit, most politicians lie rarely and went they do, do it awkwardly.

But May does it frequently and with great ease. From the man who couldn't be deported because he had a cat, through to her frequent use of the term "implementation period" (there is nothing to implement and there may well have to be an implementation period after the transition period), the Prime Minister is a politician who is happy to say things that are demonstrably untrue.

She's at it again in the pre-released extracts of her speech, looking back to the very close result of the 18 September 1997 referendum on whether or not to have a devolved legislature in Wales, saying "that result was accepted by both sides and the popular legitimacy of that institution has never seriously been questioned". 

Just one small problem, Prime Minister, I hate to mention it, but: the parliamentary Conservative party, including you, voted against the creation of the Welsh Assembly after the referendum. May voted to reject it at the second reading, and then against the motion to give it its third reading in December 1997.

She did the same with the creation of the Scottish Parliament and that referendum wasn't even a close-run thing. To cap it off, she – and the rest of the Conservative Party, of which she was then a senior member – went into the 2005 general election promising to hold another referendum on whether or not to keep the Welsh Assembly. " 
Bush omits another stunning line from May's speech:

But Scottish people don't have to imagine that. It actually happened in 1979, when the first Scottish devolution referendum delivered a result almost identical to that of the Brexit vote (51.6% in favour compared to Brexit's 51.9%, on pretty similar respective turnouts of 64% and 72%).
That vote was nevertheless overruled at Westminster – by the new Tory government of that year, on the basis of an amendment previously instigated by Labour MPs from Scotland – and not enacted until another referendum 20 years later.
Wings readers will of course be familiar, thanks to years of helpful training from Scottish Labour, with politicians who not only habitually lie on an epic scale but are so jaw-droppingly thick that they think they can get away with it in the internet age, when any idiot with a keyboard and an internet connection (*waves*) can immediately and definitively expose the lies.
We'll be watching keenly, therefore, to see if any of the national broadcasters who will cover May's speech today pick up on any of the above.
.
EDIT 12.25pm: