Some considered thoughts on the evening's events, then.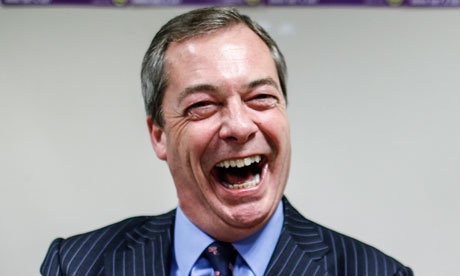 Yeah, nice work, Britain.
———————————————————————————————-
THE SILVER LINING
The Unionist parties and the media, as we noted last night, are struggling to contain their glee. In the wee small hours columnists were already issuing forth screeds of text about how having a UKIP MEP damages the Yes campaign's suggestions that Scotland is somehow fundamentally different to the rest of the UK.
That's nonsense on every level. UKIP won the UK, but came 4th in Scotland. That's a rather big and somewhat important difference in a political context.
Had they got 9.9% of the vote instead of 10.4% and failed to win an MEP, it wouldn't have fundamentally changed anything very much. Nobody knows what MEPs actually do. By winning one, however, they ensured that David Coburn will be on TV and radio and in newspapers a lot more in the next three months telling Scots to vote No, and it's awfully hard to see how that can be anything but good news for the Yes camp.
PEAK LABOUR

Last night was a catastrophe for Ed Miliband. Even the New Statesman couldn't put any sort of positive spin on it, calling the result "dismal". With the Lib Dems absolutely annihilated, Labour had the pro-EU vote pretty much to itself (the Greens increased their vote share slightly and pipped the Lib Dems to 4th, but still only boosted their MEP count by one, to three) and still barely scraped past the Tories into 2nd place.
(When the Scottish MEPs are finally allocated, Labour should have 20 in the whole of the UK, compared to 19 for the Conservatives.)
As recently as last weekend, Labour were still leading in the polls. In the end, they were lucky to be runners-up. A year from now there'll be a general election in which the Tories will promise an EU referendum and Labour won't. It requires a heroic feat of self-delusion to see any way in which Labour can win it.
Labour's entire election strategy for the past four years has been to count on taking enough votes from the Lib Dems to just squeak over the line on 35% of the vote. Well, last night ALL the Lib Dem vote vanished and Labour still couldn't get the job done.
The low-hanging fruit is all gone, and all that's left to fight over is the 50% of UKIP voters who say they'll vote for someone else in 2015. What price Labour's hopes of taking the majority of them?
FOREIGNERS COME HOME TO ROOST
And while we're talking about Labour, who could possibly have predicted that spending the last 18 months going on about how awful it would be to have a "foreigner" in your family might result in British voters deciding to vote for an anti-foreigner party?
Or that issuing dire warnings about Scotland being swamped by "a million immigrants" (mumbled small print: spread across 40 years) might lead to an increase in support for UKIP? It's a mystery defying all scientific explanation. We'll just never know.
(Coming soon: the SHOCKING LINK between banging on about how amazing Britain is and how great WW1 was, and a rise in British nationalism. Honestly, who could ever have foreseen such a surprising outcome? Etc.)
LIB DEMS, GUARANTORS OF DEVOLUTION
Yeah, good luck with that. The Lib Dems now have fewer MEPs in the whole of the UK than the SNP do (and the same number as Plaid Cymru). We're not at all sure they could guarantee the tide coming in tomorrow, let alone more powers for Holyrood.
ANOTHER BLOW FOR SALMOND
One of the most bewildering aspects of the results was the media's eagerness to portray them as a defeat for the SNP. On a night which is widely being assessed as a massive anti-politician protest, the SNP – the party of government in Scotland for the last seven years – actually secured tens of thousands MORE votes (admittedly thanks to an increased turnout, but it held onto its vote share) and came within a whisker of claiming a third seat.
That the anti-UKIP tactical vote was split between the Nats and the Greens is just one of those things that happens in politics. Tactical voting has limits – many Green voters wouldn't vote SNP for any reason, and vice versa.
Salmond would doubtless have preferred to secure the extra MEP, but the remarkable thing is that there was no discernible protest vote at all against the sitting government, nor any visible backlash against the only party anywhere in the UK campaigning for MORE immigration on a night when pretty much the whole of Europe (except, ironically, Germany) voted for xenophobic right-wing parties.
(As an amusing footnote, the SNP's vote share was in fact slightly higher in Scotland than UKIP's was in the UK: 29% vs 27.5%. One of those is being presented by the media as an incredible triumph and the other as a failure. Guess which is which.)
OH, WALES
Labour did manage to beat UKIP in Wales, but by a wafer-thin 0.6%. That's a real kick in the teeth for the party's "solidarity" narrative in the independence referendum. Until now it was possible to present UKIP as an essentially English phenomenon, but an incredibly strong performance for Nigel Farage's outfit west of Offa's Dyke changed that story dramatically.
Despite there also being a credible left-wing, pro-EU nationalist party available to voters in the valleys – Plaid Cymru notched a respectable 15% – UKIP's vote share in Wales was almost three times what it got north of the border. There is now no rational argument to be made whatsoever against the fact that Scotland has a significantly different political culture to anywhere else in the UK.
———————————————————————————————-
That's pretty much all the things we think about the Euro elections.