Unionist politicians, journalists and trolls have barely been able to contain themselves with glee at today's figures suggesting that Scotland's economy was weaker in the last fiscal year than in previous years (though still healthy). We'll keep this short.
1. We're not sure that "You've been in the Union for 300 years and you're a financial basket case!" is a particularly ringing endorsement of the Union.

2. There isn't an independence referendum imminent and nobody's offering Scotland fiscal autonomy, so the state of GERS at this particular moment in time is an entirely moot point.

3. Countries have good years and bad years. This isn't news. Economies based on volatile resources protect themselves by investing the proceeds from the good years in a contingency reserve for bad years.

Norway doesn't care what the oil price is because they've got a mindbogglingly vast oil fund. The UK, almost uniquely on the planet, never bothered setting one up for Scotland. This reckless and short-sighted mismanagement and neglect again seems a curious argument to deploy in favour of the Union.

4. In the absence of an oil fund, Scotland would have had to borrow money in a bad year. This is what's currently happening to Scotland in the UK. So, um, what have we gained from being in the Union?

5. We don't think anyone, except perhaps the odd brainless Sun journalist, is so stupid as to actually imagine that Scotland is being "bailed out" by the UK with billions of extra pounds to cover the shortfall in a bad year. The UK is incurring debt in Scotland's name which Scotland will have to pay back in a disproportionately high amount. Nobody's getting a freebie.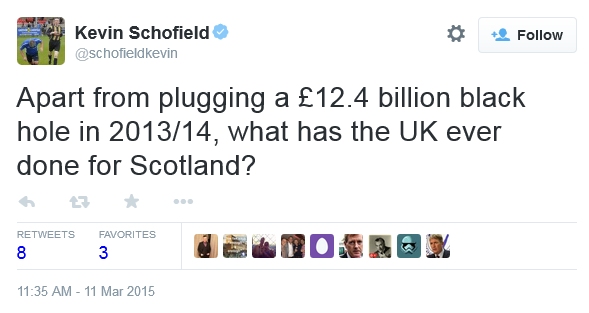 And even if we were, we've paid for it many, many times over. In the last 30 or so years, according to independent analysis, Scotland's net contribution to the UK is at least £68bn.
That's about it for relevant observations concerning GERS.