Daily Express hack Siobhan McFadyen had a quite extraordinary meltdown on Twitter last night and this morning after we highlighted an appalling article that she'd written for Saturday's paper.
After angrily attacking other users for a few hours, by the end she'd declared a full-on DefCon One, sending out a desperate plea for hauners from entities as diverse as the Times, the New York Times, the Telegraph, the NUJ, the Washington Post, Guardian Scotland, BBC Radio 4, the Drudge Report, the CEO of Twitter and JK Rowling.
At the time of writing, none had replied.
She also announced she'd be reporting this site and another user to the police.
The apparently criminal tweets were the one pictured above where she was called "an utter disgrace" (which we're reasonably sure is still a thing you're allowed to say) and the shocking pair of messages below from an England-based CND supporter, which McFadyen bewilderingly held to constitute a "threat":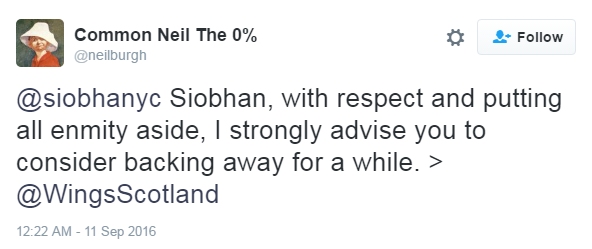 She threatened another user with lawyers for suggesting she was a bit loopy:
In amongst all this lashing out, McFadyen attempted to justify Saturday's article by referencing another one that she'd written for the Express back in 2015, as evidence for her claim that the independence referendum had turned Scotland into something more akin to Bosnia in the early 1990s or Northern Ireland in the 1970s and 80s.
The 2015 piece was, ironically, another extraordinary confection of wildly hyperbolic innuendo with no discernible content. It reported that Police Scotland had monitored crime levels during the last couple of months of the independence campaign in case they suggested any possibility of organised disturbances related to the vote.
In the event, nothing transpired except for the night of 19 September when hundreds of Loyalists attacked innocent Yes supporters and police officers in Glasgow's George Square (which McFadyen described as a "violent confrontation between No and Yes"), resulting in a handful of arrests and a few convictions, all of them Unionists.
(Even the Daily Record had felt compelled to point out that the police were searching exclusively for Unionist thugs, and that the "isolated incident" had marred a "largely trouble-free referendum campaign", quoting Lib Dem leader Willie Rennie as calling it "one of the greatest democratic experiences in our history".)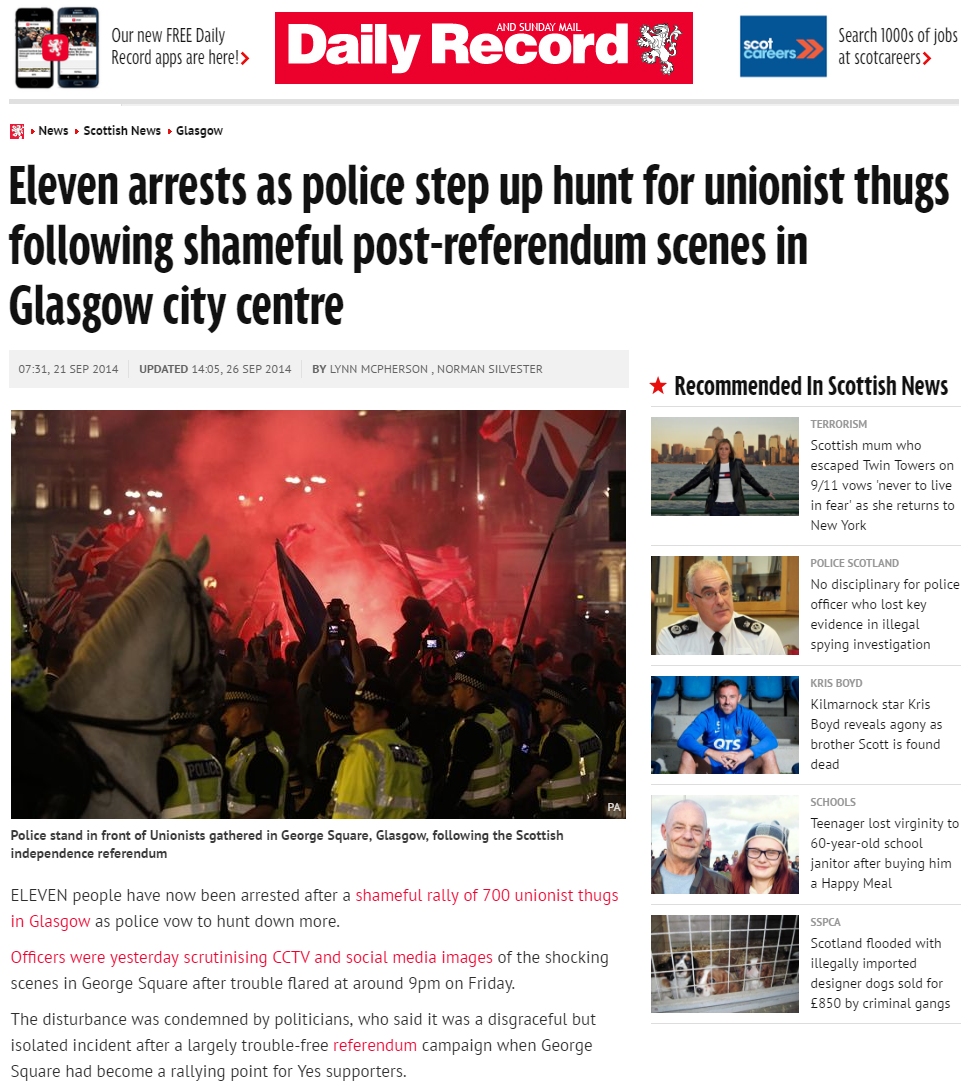 Police Scotland had added that even the minor crimes which had been recorded under the initiative, such as cars with campaign stickers on them being damaged, couldn't necessarily be put down to the referendum rather than normal everyday vandalism.
Bizarrely, McFadyen's article had concluded that this near-total absence of incident "undermines claims about the 'peaceful' nature of the independence campaign".
The only source she'd been able to find for a quote backing up that assertion was the notoriously halfwitted Labour peer George Foulkes – who was at least experienced in the field, having his own conviction for drunkenly assaulting a police officer – who was duly given four paragraphs to fire off some mad paranoid ramblings only passingly connected to the story, before the article closed on something of a killer line.

So despite a dedicated team being set up to identify and police crime related to the referendum, only a "very small amount" was found, almost all of it minor incidents of theft or damage which may or may not have had any political motivation at all.
Siobhan McFadyen and the Daily Express managed to translate that into "widespread outbreaks of violence, threats and public disorder for months before and after the referendum", featuring the oxymoronic "scenes that have not been witnessed in living memory" and "rage and disorder that plagued the streets of [a] once peaceful country", while accusing Nicola Sturgeon of being "ready to unleash yet more violence".
When challenged on social media, with what was some quite admirable restraint in the circumstances, McFadyen reacted by calling people asking for evidence in support of her claims a "hate mob" and screaming for emergency assistance from pretty much everyone short of Captain America, Secret Squirrel and the A-Team.
Tomorrow, the BBC will solemnly report the headlines in the Daily Express as if it were a respectable organ of news and comment, as it does every day. Readers could be forgiven a weary sigh.