Well, it looks like Wings is coming back, then. Blimey. So let's see where we're going to be picking things up from. Exactly eight years ago today, Nicola Sturgeon took over as First Minister from Alex Salmond.
How has it gone?
Salmond became First Minister with support for the SNP at 32% (just 1 point ahead of Scottish Labour) and support for independence at 25% and falling.
After seven years he bequeathed Sturgeon a party running at 50% in the polls – 27 points ahead of its nearest challenger – with a membership almost 10 times bigger than when he took over, and support for independence consistently in the lead.
It's a matter of record that the governance of the UK has been a toxic binfire of malign incompetence for almost the entire subsequent period. Five different Prime Ministers, a shambolic Brexit, a catastrophically-mismanaged virus pandemic, runaway inflation, economic collapse, industrial unrest and an imminent recession.
And what has Sturgeon made of this gift-wrapped golden legacy?

Most of the SNP's voters have doggedly kept the faith, with support for the party only a few points down. But none of the last six independence polls, and just three of the last 30, have shown Yes in the lead.
Let's put that in a punchier graph.
By any measure it's a record of failure. But taking the full circumstances of the relative times into account Sturgeon's leadership has been little short of a disaster, a catalogue of missed open goals, and unless the Supreme Court shocks everyone on Wednesday there's precious little to look forward to for at least two more years.
It'll be interesting to see what the reaction is in three days' time. The independence industry is frantically trying to whip what's left of the moribund indy movement into life, with thrilling opportunities to listen to speeches from members of the SNP's censorious and abusive Twitler Youth, probably about how the Court's use of pronouns failed to centre transgender people.
But the SNP's approach to the decision appears to have been very carefully and deliberately designed to fail. In particular, if the court rules that it cannot make a decision because the referendum bill is only a draft, then months will have been wasted by the SNP's tactics and there will be no excuse, because that was the exact argument it used when opposing Martin Keatings' attempt to secure a ruling on the same point almost two years ago.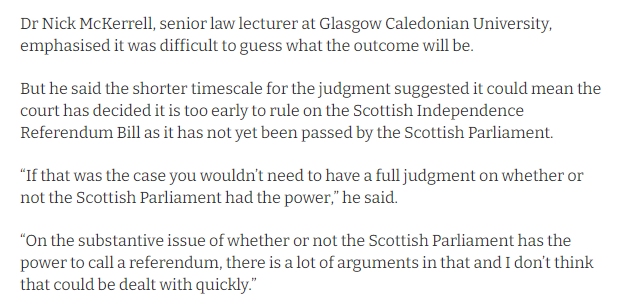 But that would be an outcome wholly in keeping with the eight years that have been wasted by Nicola Sturgeon up until this point, so it'd be difficult to raise much of an eyebrow in shock.