As part of his Apocalypse Of Doom Revue this week, Gordon Brown provided the Daily Record with a no-questions puff-piece the paper summarised as, "we must continue to share costs of health care and welfare with rest of the union – or pay the price".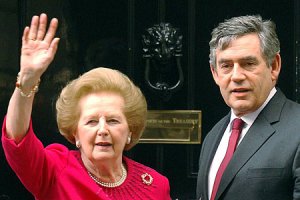 So that's nice and positive.
In the article, Brown wrote:
"Why should the people of Scotland throw away a system that we helped create, a system that benefits us greatly to this day? This question is particularly important when it is often a matter of life and death. 

"Our NHS is worth £176 a month to every single Scottish man, woman and child. That is £17 a month more than the £159 that the NHS spends on patients in England and £13 per month more than the £163 it spends on patients in Wales. It means that over a whole year, £200 more is spent on the health care of each of us in Scotland than on our English neighbours. 

"But the funding of our NHS in Scotland comes not just from money raised in Scotland by taxes levied here. It comes from money raised from all over the UK by taxes paid by every UK citizen."
But as usual, it's not true. While it may be correct that the money for the block grant comes from a central pot, we've detailed at length previously how the spending Scotland gets is more than met by the additional tax revenues raised in Scotland. In effect, the Scottish block grant comes solely from Scottish taxes.
Back in 2012 we noted that:
"The systematic privatisation of services, cuts to funding and promotion of public payment south of the border is set to have far-reaching effects on the Barnett Formula funding allocated to Scotland, since the Scottish block grant is based on a proportion of the spending by the Westminster government in England.

If spending in England goes down, the Scottish block grant does too. Under the coalition's austerity drive, spending south of the border is being severely curtailed and this is set to continue for at least the next eight years, causing the Scottish block grant to be reduced and threatening the viability of funding the NHS north of the border."
A recent statement from trade union Unison agreed:
Many Scots would like to think that if we stay in the UK the privatisation agenda could be halted, and the NHS restored to a fully public service for all people across these islands, but the truth is that UK political ideology is now so one-sided that such an outcome is all but impossible, and the main reason is the recent Transatlantic Trade and Investment Partnership (TTIP) deal between the EU and the US.
TTIP is the result of long-running negotiations between the EU and the US over trade liberalisation. One of its fundamental principles is that services, including state services, should be open to private competition from American multinationals.
Health services in Europe will therefore be opened to private competition, but only where privatisation is already established within a member state. In other words, where there is an existing state monopoly, TTIP won't apply – foreign companies will NOT be able to sue the government in question for unfair competition.
Historically, NHS services (being state-funded) have been classed as a social rather than an economic activity. As a publicly-funded, publicly-provided service offering universal access to healthcare on the basis of need and not the ability to pay, it was not possible to consider the NHS as commercial in nature. But the 2012 UK Health and Social Care Act has changed that by opening up the whole UK system to TTIP.
This is because it explicitly introduces a private market in health provision in England. As such there no longer exists a state monopoly on health provision, as the largest part of that state allows commercial interests to compete in an open market.
After a No vote, private providers and insurance companies are almost certain to argue that – since Scotland is not a sovereign state but merely a region of the UK – it cannot be exempted from competition for health provision, regardless of the UK's internal devolutionary arrangements. Only if Scotland is an independent member state can it show that NHS Scotland remains a state-run monopoly and exempt from TTIPl.
None of this is news to Labour. Andy Burnham, Labour's shadow health secretary, insists the coalition health reforms make it "compulsory" for all NHS contracts awards to be opened up to competition (allowing private firms to pick off the most lucrative contracts), and has explicitly said that TTIP threatens the NHS's existence as a publicly run, free-at-the-point-of-use NHS.
Mr Burnham also said he has seen no signs that the coalition has even tried to make a case to the EU for NHS exemption. This is important as TTIP negotiators are using a 'negative list' approach to determining which sectors are to be included in the treaty. This means that a member state must explicitly list the services they want excluded from the deal, before the deal is signed. Any services not listed will automatically be included for "liberalisation".
David Cameron recently answered a question in the House of Commons on whether the NHS would be excluded from TTIP by saying:
"[I'm] not aware of a specific exemption for any particular area, but I think that the health service would be treated in the same way in relation to EU-US negotiations as it is in relation to EU rules" (Col. 919)
Linda Kaucher, a leading expert on trade agreements has said of the TTIP deal that:
Investor State Dispute Settlement (ISDS) laws – the fundamental elements of the agreement – allow corporations legal protection for their profits regardless of patient care performance, with the power to sue any public sector organisation or government that threatens their interests.
Once these ISDS tools are in place, lucrative contracts will be underwritten, even where a private provider is failing patients and the Scottish Government wants a contract cancelled. In this case, the provider will be able to sue the Scottish Government for future loss of earnings, resulting in further costs to the taxpayer for legal and administrative costs.
ISDS also gives multinational corporations advantage over local providers because it gives overseas investors the exclusive right to commercial arbitration as a means of influence. Trade union Unite have said that TTIP will make privatisation irreversible as:
"US health companies will even have the right to sue a future UK government in secret courts if politicians try to reverse privatisation."
Patients for NHS, an England based pro-NHS lobby group, said:
"The treaty will change the whole emphasis of NHS health care: the priority will become the rights of transnational organisations rather than the care of patients."
For Scotland this is the worst of both possible worlds. Even if the Scottish Government is able to stave off attacks on the NHS by private healthcare providers in the courts, it will still nonetheless end up unable to fund it. The whole point of the TTIP system is to force the NHS in England into an American-style insurance-based system that would see Barnett funding slashed as government spending was replaced with private.
The real threat to the Scottish NHS is in staying within the Union.