It's hard to keep up with developments in Scottish politics these days, readers. We told you January 2021 was going to be a pivotal and explosive month but there's been more going on than even we expected, and that's despite the fact that Alex Salmond and Nicola Sturgeon's appearances before the Fabiani committee now both look like being pushed back to February.
So our apologies if we have to give some things rather more cursory coverage than they might ordinarily merit, or cram several stories into one post. For example, we're just going to link you to solicitor advocate Gordon Dangerfield's appearance yesterday on the Tommy Sheridan podcast, even though he said this non-trivial thing on it:
"There's a very simple answer to [why Leslie Evans is still in a job]. She says it herself constantly to the inquiry – civil servants only represent ministers. They have no status other than as the servants of the government.

Who is Leslie Evans' boss? Leslie Evans' boss is Nicola Sturgeon. Nicola Sturgeon was behind this from the outset. Leslie Evans was carrying out Nicola Sturgeon's instructions. And that's why she's still in a job. Because if she wasn't still in a job, neither would Nicola Sturgeon be."
The whole interview is pretty unmissable, so if you can find 24 spare minutes in your day try to give it a listen. But there's more.
One of the less-noticed stories of an eventful last 24 hours – it made hardly any impact on social media, although several papers did pick up on it – was a bombshell written submission to the inquiry from Police Scotland, in which the Deputy Chief Constable told the committee the Scottish Government had repeatedly ignored the police's advice when drawing up the anti-harassment legislation used to go after Alex Salmond.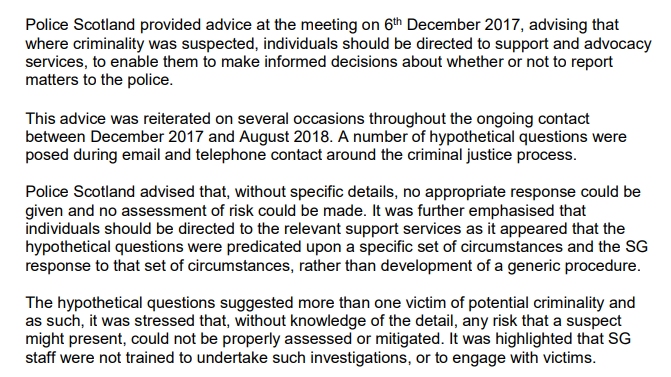 What that says is that the Scottish Government wasn't interested in developing a generic procedure to cover all possible harassment situations. It was only interested in "wargaming" a specific set of "hypothetical" scenarios – in fact the ones that were being used to pursue Salmond.
Police Scotland said possible victims should be directed to "support and advocacy services" who could help them decide what to do and whether to involve the police, and it said that the Scottish Government was not qualified or trained to undertake investigations on its own.
The Scottish Government, of course, did the exact opposite of that. It conducted its own illegal and biased investigations and found Salmond guilty, and then when that illegality was about to be exposed it reported the complaints to the police AGAINST the express wishes of the complainers, and also against the rules it had itself written after taking the advice of the employees' trade union.
Shamefully, the incriminating parts of the paragraph in question had been redacted by the Scottish Government in a Freedom Of Information response last July.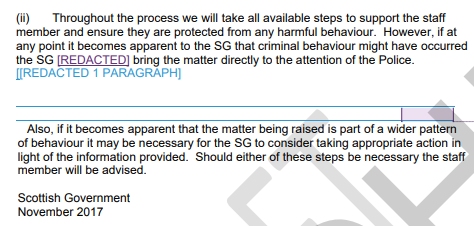 A whole new version had also suddenly appeared in August 2018 – seven months after the investigation began, but still dated "December 2017" – completely removing the line about not going to the police without the complainers' consent, and merely pledging to "advise" and "support" them while their wishes were being trampled over with potentially catastrophic personal consequences.
It wasn't the first time the Scottish Government had ignored advice about its illegal and unfair "procedure", of course. It had already been warned in 2017 by the UK Cabinet Office that the focus on former ministers "feels very uncomfortable", but it ignored that too, saying that Nicola Sturgeon and Leslie Evans were keen to hurry things along.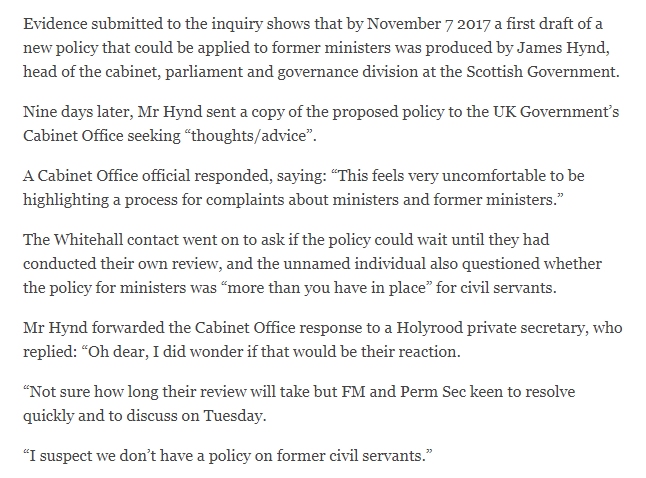 So we now know the illegal and unfair procedure was rushed into place by Evans, on Sturgeon's instructions, with the apparent intent of targeting a single specific case rather than harassment in general, and despite the clear warnings and objections of:
(1) The UK Cabinet Office
(2) Police Scotland
(3) The civil service trade union
(4) The Scottish Government itself.
So, y'know, no big deal there. And that, readers, is one of the smaller stories in the whole mess that's getting somewhat lost in the torrent of revelations.
But while we're doing a round-up, you may as well see something else too, which isn't related to the Salmond affair but is barely less disturbing.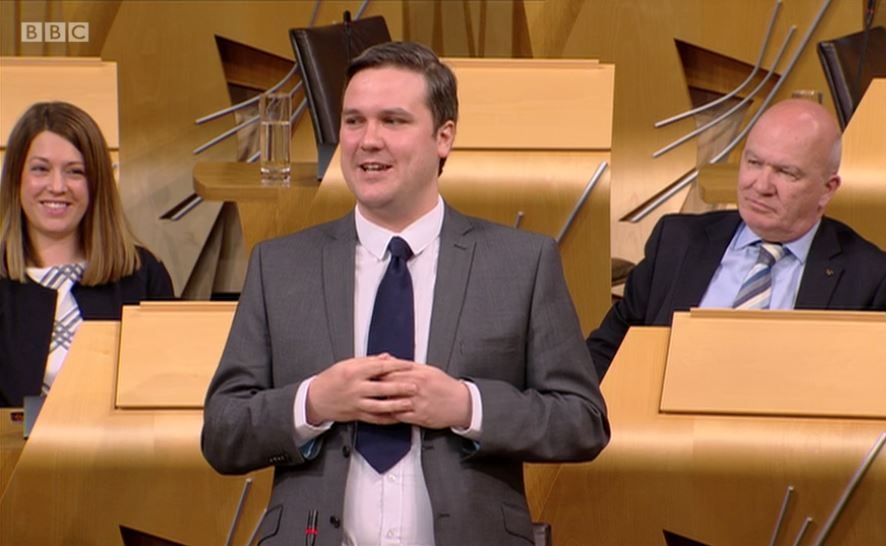 Tom Arthur (pictured above shortly after graduating from the Oliver Hardy Academy Of Tie-Wearing) has been an SNP MSP for almost five years without anyone noticing. Though he was elected in Renfrewshire South in 2016 we'd never heard of him until yesterday, despite spending all of our time immersed in Scottish politics for a living.
He'd finally piped up, bizarrely, to attack some activists from All Under One Banner who were planning a protest (whose purpose we must admit escapes us, but it's a free country) outside the UK government's large new headquarters in Edinburgh.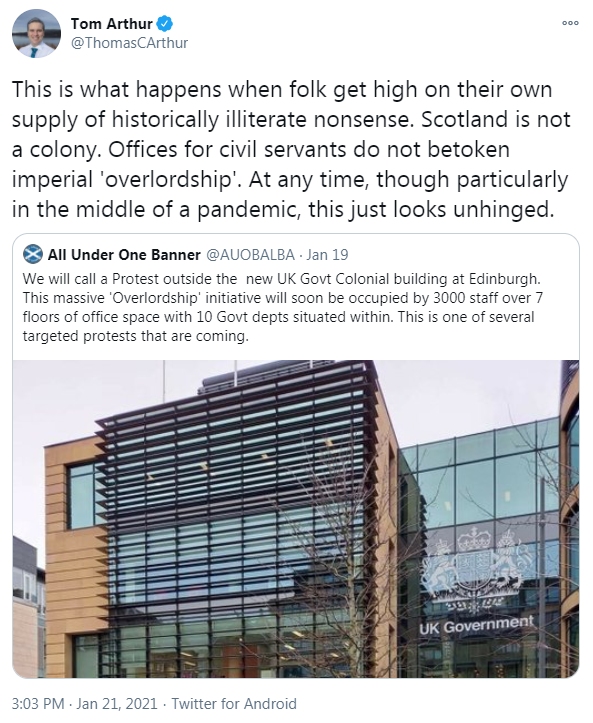 But it was what happened after some Yes supporters took him to task on Twitter over the outburst that was interesting. Because Arthur then got drawn into a rather shaky defence of what we'll generously call the SNP's independence strategy.
In the interests of fairness we'll show you the whole exchange.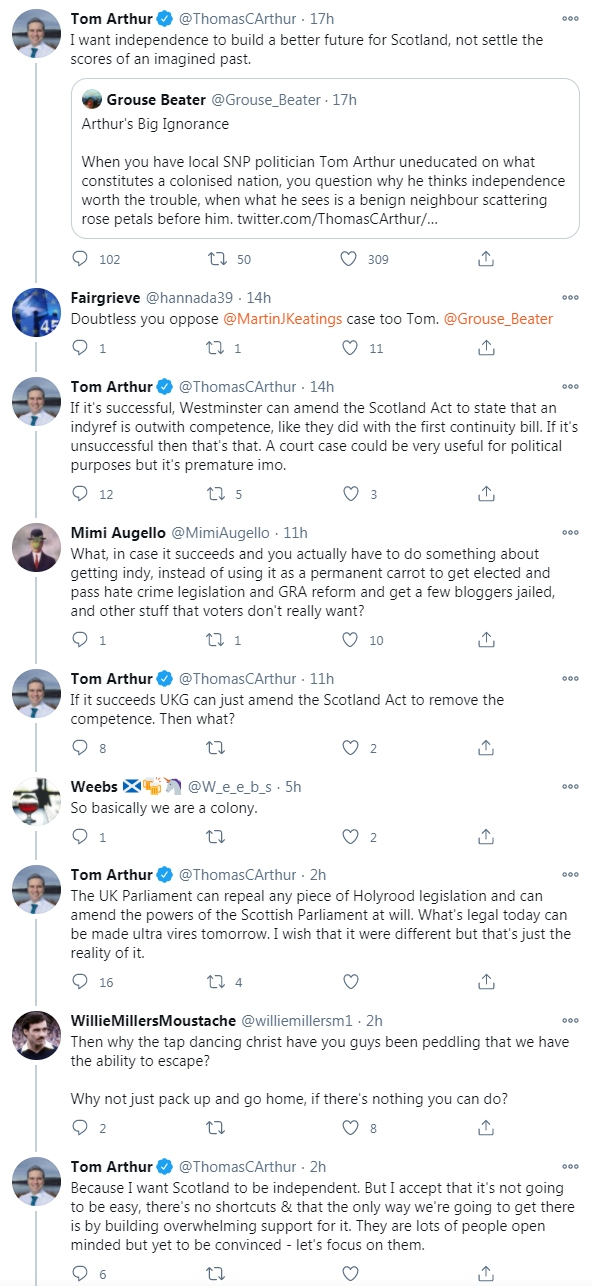 So let's analyse that. Arthur thinks – and it seems safe to say that as a Deputy Whip he's giving the official party line here – that if a court rules that Scotland does in fact have the right to hold an independence referendum whenever it likes, Westminster will immediately pass legislation to overrule the court.
Okay, fair enough. That's certainly something that's technically within Westminster's power, and while it would look absolutely dreadful to change the rules of the game just because a court found against you, we know that Boris Johnson doesn't much care how anything looks.
But to THEN argue that the very same Boris Johnson – someone who he's just told us is so desperate to stop Scotland having another indyref that he'd set the constitution on fire by trashing the rule of law to prevent it – is going to turn round and just hand us one anyway, so long as we get support high enough that he'd definitely lose it, is a truly breathtaking piece of reality denial.
It's an insult to the intelligence of even the dimmest reader. To all the less dim ones, it starkly reveals the current SNP's only true interest – staying in power by constantly dangling a referendum in front of Yes voters that it knows will never be delivered.
If the UK won't concede a new indyref even when the highest court in the land tells it to, it's sure as hell not going to do it just because we get a few more opinion polls – doubly so if they're "overwhelming" ones all but guaranteeing a Yes win.
We've been telling everyone that for a long time now. But maybe when it comes straight from the mouth of a loyal SNP whip, even some of the more blindly diehard Plan A apologists might actually start to believe it.