At a time of unprecedented political chaos and uncertainty, just about the only thing you can still count on is that for any given situation, senior Labour figures will issue proclamations both firmly in favour of it and stoutly opposed to it, usually the same day.
So the stories below, which are respectively from today's Scotsman and today's Times, won't come as much of a shock to anyone.
But against the odds, we think we've made some sense of it.
Because below the diametrically opposite spins from the two papers, the stories aren't actually all that different. Thornberry merely assumes that the SNP would meekly comply with Labour's wish to form a minority government:
"What we've said in the past is no coalitions. If we're a minority government, we're a minority government. It would be up to the nats to say, oh we didn't vote for Labour so the Tories have come back in again. We would assume the SNP would support us on a deal we would be able to come back with."
…whereas McDonnell DEMANDS it.
"We wouldn't have a deal with other political parties. We believe we will win the next election with a handsome majority. If things go wrong and we're the largest party we'll form a minority government. We will bring forward our transformative programme and if other parties support it that's up to them.

If they don't we'll go back to the people and explain that you could have had your lives transformed but for the votes of the SNP or the Lib Dems or whoever."
Now, that level of jawdroppingly arrogant entitlement is perhaps somewhat misplaced given that the latest polls show Labour trailing five points behind the Tories:
…but let's take it at face value for a moment and see if we can find any tortured logic (from Labour's perspective) anywhere in it.
The McDonnell quotes are taken from a lengthy interview with Kenny Farquharson in the Times, which in itself is a shambolic illustration of the absolute mess Labour is currently in about everything.
He starts off dismissing the independence debate as a "distraction":
But when Farquharson points out that telling Scots to shut up, eat their cereal and vote Labour like they're supposed to has relegated the party to a third-place irrelevance north of the border, McDonnell immediately U-turns and says the constitution is "back on the agenda".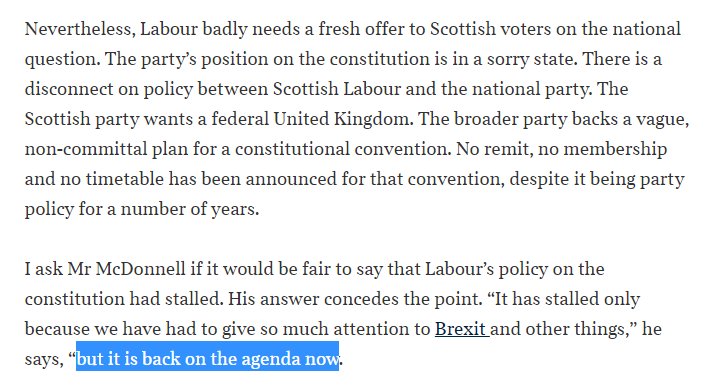 But all of this is standard Labour doublespeak of the sort they've been deploying to catastrophic effect in Scotland ever since the SNP came to power, in the apparent belief that their audience is comprised of idiots incapable of remembering as far back as the last sentence. No news there.
(A point McDonnell emphasises with an amusing insistence that Scottish Labour is an autonomous entity not controlled by London, issued on the very same day the party placed an advert for a Scottish policy director based in, er, London.)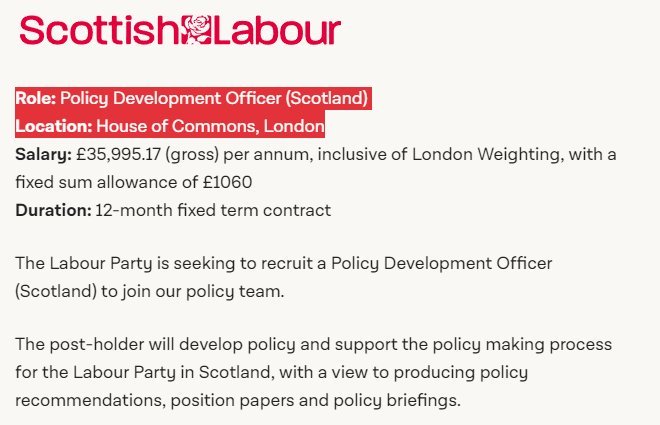 But what comes next is slightly more revealing.

Because what McDonnell's comments give away is that Labour are still clinging, in more ways than we may have previously realised, to the ghosts of 1979.
The party has always sought comically to blame the SNP for "ushering in" 18 years of Thatcherism, despite endless debunkings of the obviously-cretinous idea from its own senior figures.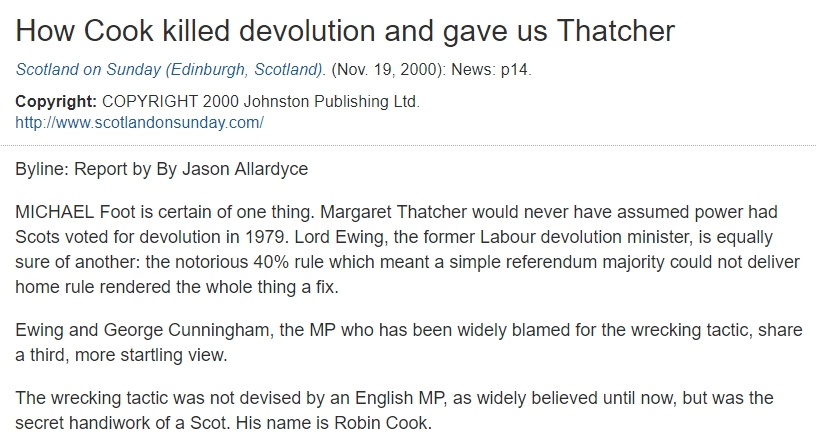 But the only atom of truth in the entire fantasy is that the Scottish electorate did punish the SNP at the ballot box for its minor role in finally bringing down Jim Callaghan's long-doomed government. The Nats saw their vote share almost cut in half, from 30% to 17%, and lost nine of their 11 MPs.
(They fell even further, to under 12%, in 1983, and didn't begin to seriously recover until the 1990s. In fact it would be 41 years before they regained – and dramatically surpassed – the heights they'd occupied in 1974.)
In so far as Labour has any kind of coherent strategy for anything, then, it can only be to rebuild its fortunes by engineering a repeat of 1979 in the belief that the outcome will be the same. Given McDonnell and Corbyn's evident attachment to the 1970s, it makes a sort of limited sense in its own bubble.
The problem is that – to put it mildly – politics is not the same now as it was then. Let's just play through that scenario in early 2019.
1. Labour get the most seats in a general election and attempt to form a minority government.
Now, as we've already seen, that's quite a big assumption to be starting off with. For a whole variety of reasons it's unlikely – for a start the Tories can use the Fixed Term Parliaments Act to resist any election before 2022 that they think they'd lose, and there's no easy majority to defeat them in a confidence vote.
But more importantly, if there's a single constant in British politics it's that the party with the least-preferred potential Prime Minister doesn't win elections, and polls have consistently shown Labour trailing on that front for almost Corbyn's entire time as leader, and getting further behind over the last 18 months.
Still, let's say it happens for the sake of argument. One recent ComRes poll did project 300 seats for Labour – 26 short of a Commons majority, but with the SNP on 47 and able to take them comfortably into Downing Street. So how would those negotiations go?
2. The SNP demand a second independence referendum – or the transfer of that decision-making power to Holyrood – as the price of their support.
This, one would have to assume, would be a non-negotiable red line for Nicola Sturgeon. And it's a perfectly reasonable and moderate demand – she has both an electoral mandate and a Scottish Parliament mandate for it, and it's her job.
It's also by far her best chance (arguably her ONLY chance) of delivering a new indyref within the next 20+ years, so it would be criminally irresponsible of her not to use the leverage while it existed.
3. Labour refuses, the SNP decline to back Labour's attempt to form a government, and with no viable administration another election is called.
We should perhaps note that we're not so sure that when push came to shove Labour WOULD refuse in this situation. Jeremy Corbyn himself has repeatedly been ambiguous to say the least on the subject.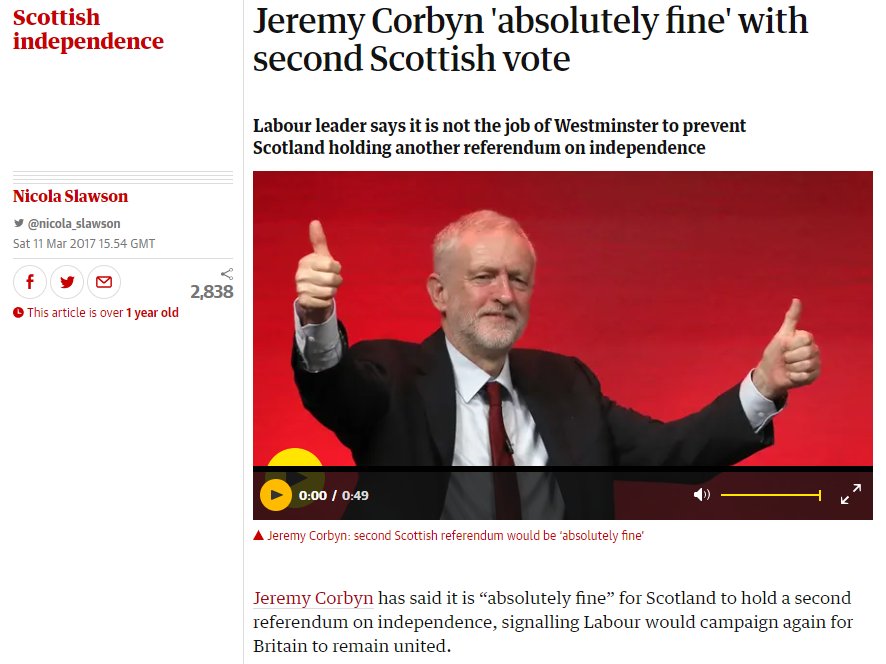 Scottish Labour would of course be incandescent with rage if they didn't, but their opinion would be irrelevant – on current polling they stand to lose most of their small handful of Scottish MPs whoever wins the election, so Corbyn could afford to ignore them – and more crucially the blunt truth is that UK Labour has absolutely nothing to lose from Scottish independence.
Firstly, if it granted Scotland a second referendum and No won it again, it could take the credit for destroying the independence movement for decades. It would be all but impossible to come back from two defeats in five years, especially when one of them was held in the shadow of Brexit.
But even if Scotland voted Yes, Labour would still be winners.
On the seat projections in that ComRes poll, for example, were Scotland to be independent Labour would then have an outright majority in the rUK parliament (because the Commons would have 591 seats, not 650, so Labour's 300 would take it over the line without needing any other party's help). Scotland is currently just an electoral irritation to Labour, and that torment would finally be over.
(And being freed from its slavish devotion to the Union would also give the Scottish branch office its only realistic hope of becoming in any way relevant again. As things stand it's trapped in a constitutional No Man's Land with no hope of carving out an electable position. Abandoning the blind pathological obsession with being tied to UK Tory governments is the only thing that might ever win them back a chunk of the voters they've lost to the SNP.)
But for the purposes of this hypothetical scenario let's say that McDonnell isn't just trying to placate Scottish Labour with empty words, and that the UK party would indeed reject the SNP's demands out of sheer petulance, forego regaining power at no meaningful cost to themselves, and trigger another election.
(Again, we can't rule this option out. As we've pointed out many times on this site, opposition is a very cushy gig, and taking control of the UK at this particular moment in time is a bit like being handed the wheel of the Titanic three seconds before it hits the iceberg. We shouldn't dismiss the notion that Labour simply don't want to be in power and carrying the can for what's about to happen.)
4. ?????
Labour's strategy, if we're to dignify it as such, is that an outraged Scottish public would then rise up and sweep Labour back to its birthright. But the unanswered question is WHY they would do such a thing.
It has to be assumed that the vast majority of SNP voters (though of course not all) vote for the party chiefly – especially at Westminster elections – because they want independence. They would have regarded Nicola Sturgeon's demands for a second indyref as not only reasonable but in fact the bare minimum they were willing to accept from her.
Indeed, if she directed her MPs to back Labour without securing such a pledge, she'd face a revolution inside her own party (which is already quite agitated at the lack of progress towards its primary goal since 2015), and almost certainly from her own voters.
So it seems stupendously implausible to imagine that if she'd stood firm on the demand, SNP voters would desert her for a Labour Party which had behaved in a manifestly, irrationally, anti-democratic and anti-Scottish way. The reverse is more likely to be true. Try as we might, we can't see an election in such circumstances delivering anything but increased support for the SNP.
So if that's Labour's plan, it's a really really stupid plan. But if we've learned anything since 2007 it's that a plan being stupid is no barrier to Labour doggedly pursuing it for year after year anyway.
The inescapable conclusion, then, is that they're either lying about refusing to deal with the SNP, or they're completely incompetent imbeciles who shouldn't be put in charge of a cake shop, let alone a country.
And that, unfortunately, is the one question we still can't answer.