We're on about Day 79 of NoScottishPoliticsNewsGate (today's big "EXCLUSIVE!" in the Herald is something we told you about last Friday, and was also an "exclusive" in yesterday's Scottish Sun), so we found ourselves getting diverted by something else in the papers this morning.
The Scottish Daily Mail had a piece on the cost of train journeys from Scotland, and living in Bath you don't need to tell us how scandalously expensive British railways are compared to almost any other country in the Northern Hemisphere.
But the Mail is the Mail, and it couldn't help distorting even an open-goal of a story like that until it had almost no relation to reality. And it's a very useful illustration, should anybody need yet another one, of how this country's newspapers vastly mislead their readers without actually technically lying.
The centrepiece of the article is this table: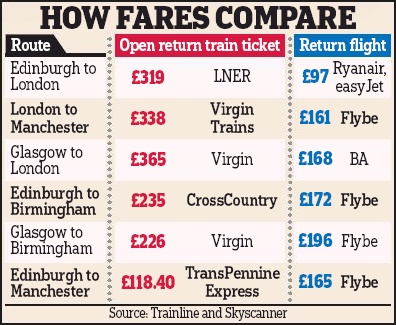 And even semi-alert readers will have immediately picked up on how dishonest it is.
For a start, no sane person who's paying for their own ticket ever gets an open return on a train. They're just unnecessary. A bog-standard off-peak return is highly flexible (you can come back on any off-peak train within a month) and half the price.
For example, a train from Edinburgh to London tomorrow, coming back on Thursday, will cost you £142.90, not £319, even if you want to leave at the crack of dawn.
And even at less than 24 hours notice you can cut that by £25 if you're prepared to tie yourself to a specific return time. Otherwise you can come home whenever you feel like it up to the start of January.
To fly, on the other hand, the cheapest RyanAir will do the trip for is £107.24 for two singles, flying out in the middle of the afternoon and coming back at dawn, meaning that you only really get one day in London – you're not in town until gone 6pm on the Tuesday and you'll need to be up by 6am on the Thursday.
That's because RyanAir actually flies to Stansted, almost 40 miles outside London.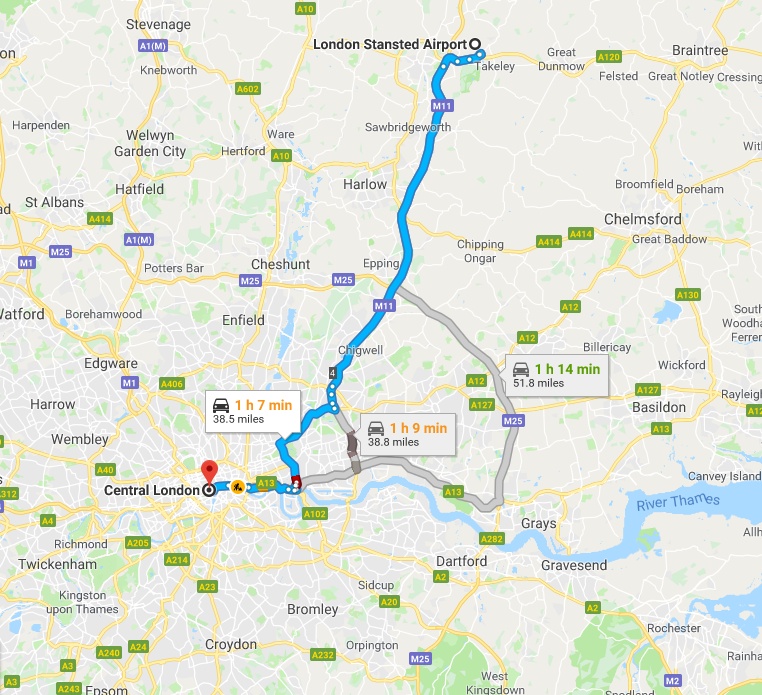 So to get to and from actual London you'll need a train. The Stansted Express takes 50 minutes each way and costs £29 for a return, making the total cost of the journey £136.24 – barely a fiver less than the flexible train from Edinburgh.
Plus an extra tenner if you don't want to be in security all day.
And another £8.50 return for the 41-minute tram ride to Edinburgh Airport.
And for that you can only take one tiny bag with you, barely enough for a change of socks. If you want to take enough luggage for a couple of nights or for bringing back any souvenirs, you're talking another £30 to £53 each way.
So all in, from central Edinburgh to central London, you're looking at:
RAIL: £118
(most comparable option, fixed times)
AIR: £144.74 (cheapest) to £215.23 (more comparable)
(depending on baggage and security speed)
Which isn't very much like the Mail's claimed £319 vs £97.
And it's not like you save on time. The tram plus the flight plus the train from Stansted totals just shy of three hours in pure journey time, plus transfers and however long you spend in the airport taking your shoes off and getting rid of all your snacks and drinks in case they're bombs – let's conservatively say another hour including a sensible contingency allowance, so four hours in total. But realistically more than that.
On the train you'll get from Waverley to Kings Cross in 4h 19m, with as much luggage as you can carry, all the 2-litre bottles of Pepsi you want, and the absolute minimum of hassle – just sit down, relax and go. You'll get two full days in the UK capital for your money, and for a couple of quid less than the cheapest air fare you can also make your return journey on any train you like for a full month if you want to extend your trip.
(With the fully comparable ticket flexibility, baggage options and so on, the respective totals become £143 on the train vs £258 by air.)
Nothing the Mail's article says is technically untrue. But it's a wildly unfair portrayal of the reality, and that's just for a simple bit of travel. So just imagine how much they're misleading you about anything that actually matters.