Yesterday we reported how the only people who were risking the privatisation of key ferry services to the Western Isles were the Scottish Labour politicians and media crowing about how the decision to keep them in the hands of publicly-owned operator Caledonian MacBrayne had been made for political reasons.
(Which, were it true, would render the award of the contract illegal under EU law.)
We had no idea how low they were about to sink.
In a wild orgy of self-congratulation, the Daily Record devotes no fewer than SEVEN of the first 11 pages in today's edition, including the front cover, to the story, all blared under the header "VICTORY FOR THE RECORD CAMPAIGN".
There's only one possible implication that could be drawn from such a claim – namely that the decision was made as a result of the political pressure exerted by the paper and Scottish Labour.
The Record's Westminster editor Torcuil Crichton makes it explicit:
Not a single word of Crichton's article offers even a single atom of evidence for the assertion that Serco would have won the contract if not for the campaign. As we noted in our piece yesterday (and as picked up by the Herald today), Serco itself had issued a statement to the Stock Exchange yesterday morning saying it had never expected its bid to succeed.
In trying to square these two incompatible facts, Crichton turns corkscrews:
Right, so let's just get all of that straight: according to Torcuil Crichton, the Scottish Government was definitely going to award the contract to Serco (for unexplained reasons, and despite having consistently publicly said that it didn't want to), but then under political pressure it illegally changed the rules so that Serco couldn't possibly win, but then it delayed announcing the decision in case Serco somehow did win even though it had just guaranteed that it wouldn't.
We feel sorry for the Daily Record's remaining readers having to try to make sense of such incoherent drivel. But not nearly as sorry as we feel for the CalMac employees justifiably celebrating something that the Record is now attempting to undermine and endanger by bellowing to anyone who'll listen that it was won unlawfully, and giving Serco grounds to challenge it in court.
But the Record wasn't done there. It also ropes in poisonous former Labour minister Brian Wilson to insist that the decision was made on illegal political grounds: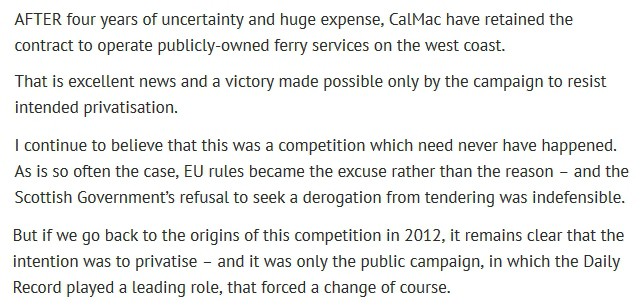 Wilson rants across a two-page spread that the contract should never have been put out to tender at all, an argument diametrically at odds with the Labour-led Scottish Executive who originally put the tendering process in place in 2005 and insisted that there was no alternative to doing so:
Wilson even goes to far as to explicitly say Serco have a legitimate grievance:

Short of offering to pay their legal fees, it's hard to see what more Wilson and the Record could do to urge Serco to challenge the decision. That'd be a win-win for the paper, of course – it could fill pages for months with crusading (and accurate) rants about "private-sector asset-strippers", it could blame the SNP for the whole process being snarled up in costly court wrangling, and then explode in indignant fake outrage should the outcome be in Serco's favour.
Let there be no doubt: the actions of the Daily Record and Scottish Labour are placing CalMac's contract in peril. Should it choose to – and thankfully there's no sign of it yet – it could point to the Record's coverage in support of a claim that it lost the contract unfairly and illegally, since that's precisely what the paper is saying has happened.
Crichton, Wilson and editor Murray Foote are playing games with the livelihoods of CalMac staff and lifeline services to some of Scotland's most remote communities, all driven by nothing other than blind hatred of the SNP. It can only be hoped that they don't succeed in snatching a bitter defeat from the jaws of victory.