Some quick thoughts on the EU elections, then.
Despite in some ways being the most tumultuous election result in UK history (in terms of the near-destruction of the two main parties), it also changed almost nothing.
In England and Wales, despite the success of the Lib Dems and Greens, the overall vote share of pro-Brexit parties went up to around 58% – an increase of 6 points on the 2016 referendum result. The Brexit Party got noticeably more votes than UKIP did when winning in 2014, and UKIP also held onto a few points.
Remainers like Alistair Campbell and the leader of Plaid Cymru attempted to put a positive spin on the figures by refusing to acknowledge Labour votes as being for a Brexit party – despite Labour's official policy of carrying out Brexit being clearly and repeatedly stated in manifestos and by the leadership – and arguing that both Labour's voters and MPs back Remain by large majorities.
But while perfectly true, that was already factored into the result. Labour Remainers defected en masse to the Lib Dems, Greens and SNP tonight, hence the slashed share. It seems a fair supposition that those who stuck with Labour at this election would have been largely from the sizeable minority within the party that's pro-Brexit, and can therefore be legitimately counted towards the Leave total.
GOOD NIGHT (rUK)
1. Brexit Party
2. Lib Dems
3. Greens
4. Plaid Cymru
5. Labour
6. Conservatives
7. Change UK
8. UKIP
BAD NIGHT
In Scotland, the result was almost identical to the EUref itself, at around 62% Remain. The SNP and Lib Dems gained about 8 points each (+/- 1), while TBP increased the 2014 UKIP vote by about 50%. All three will feel justly pleased with themselves.
The Greens, whose vote shot up by around 50% in England (from 8% to 12%) stalled in Scotland, their share basically unmoved since 2014 despite surprise backing from a major Sunday tabloid. Voters refused to engage with what many saw as a cynical and transparent attempt to split the pro-independence vote.
The Tories were relegated from 3rd place to 4th, but the evening's biggest losers were Scottish Labour, who shed close to two-thirds of their vote and ended up dropping from a close 2nd to a distant 5th place with a humiliating single-figure share, only barely managing to pip the Greens thanks to the aforementioned stalling
(Had the Scottish Greens mirrored the UK Greens' rise, they'd have beaten both Labour and the Tories, which would have been quite something.)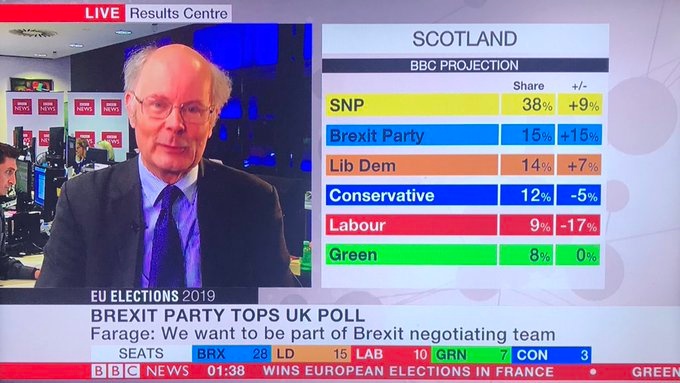 So really, the two sides merely rearranged the deckchairs. The Brexit Party took all the headlines but largely just resprayed the UKIP vote. The SNP gained a seat and pretty much held their current polling figures for Westminster and Holyrood, which is actually an unusually good performance for them in a European election (where they normally tend to get less than in domestic votes), but still not exactly earth-shattering.
The Lib Dems will be disappointed to have been pipped to 2nd but pleased to now have an MEP – the most they could have hoped for – and the Tories will at least be happy to have narrowly held onto their solitary one. Labour, who previously had two, were wiped out, losing in David Martin one of their least incompetent, least viciously tribal representatives in Scotland. (Which admittedly isn't saying much.)
GOOD NIGHT (SCOTLAND)
1. SNP
2. Brexit Party
3. Lib Dems
4. Conservatives
5. Greens
6. UKIP
7. Labour
BAD NIGHT
All of this may be academic. The MEPs elected tonight may never take their seats. But either way it doesn't change our assessment of what the current state of the parties means for UK politics. This result only strengthens the probability of a no-deal Brexit.
Because if this is what English and Welsh voters do to the major parties as a warning, God knows what they'd do if Brexit ended up not happening at all.