Having once been a Scottish Labour MEP, I joined the SNP 10 years ago because I believed we needed the party to secure independence. I was warmly received by local and national members including Alex Salmond.
I became an active member in Edinburgh West and represented them at conference, became a member of the National Council and almost became the MP for Kilmarnock, losing narrowly to Alan Brown (now the MP) in the selection.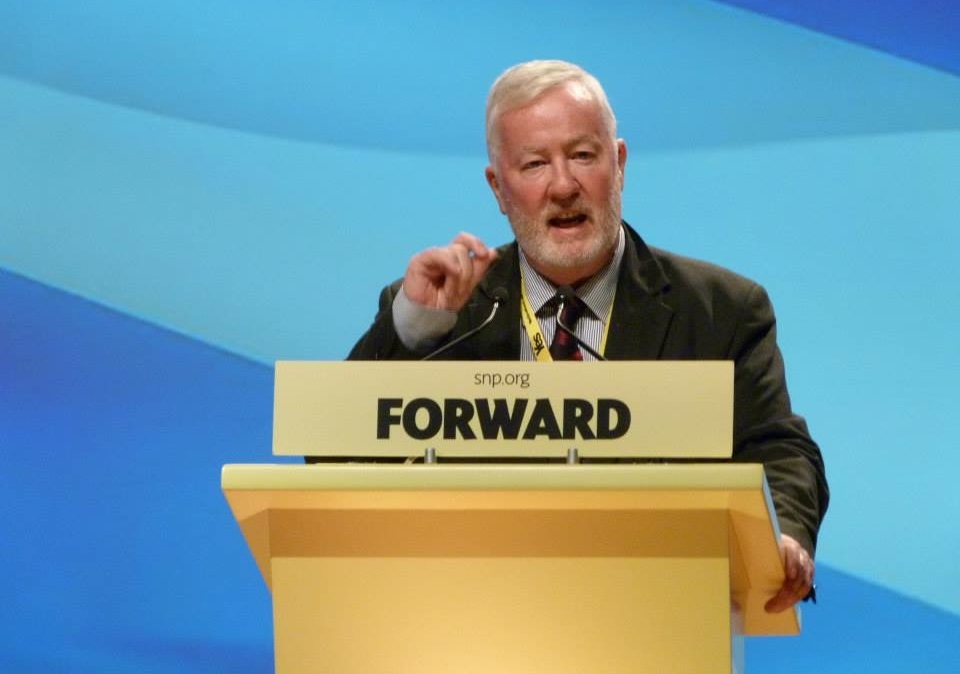 (I was incidentally almost blocked from running because I wasn't "sufficiently loyal". I was allowed to stand on appeal because Kenny MacAskill on the appeal panel said, "Well Hugh if you don't agree with a vote in Parliament couldn't you just go to the opera instead?" I agreed and was approved accordingly.)
My relations with the SNP have not admittedly always been plain sailing. I resigned once, when Nicola Sturgeon held up the front page of the Sun during the 2016 election after it tactically decided to back the SNP in Scotland (whilst supporting the Tories in England) because Murdoch always liked to back winners.
This raised serious questions about Nicola's judgement and made me suspect she isn't as smart as she thinks.
Since re-joining the SNP I haven't been as active as I was previously, but did join with the critique of the Growth Commission and participated in the SNP Socialist Group, although the impact of the latter group was largely neutralised by the career ambitions of some of its members.
I've been disappointed recently by the success of Angus Robertson in securing the SNP's nomination to contest Edinburgh Central, a result whose credibility – given the unusually strong local support for his main rival Marco Biagi – is ill-served by the total lack of transparency in the SNP's procedures for scrutiny of internal elections.
When I first joined the SNP there was a pretty healthy democratic culture. There were lively debates at conference and the leadership were often defeated in votes, although even then I worried about the Standing Orders Committee having too much power and allowing too many speeches from MPs and MSPs.
(Also with Derek McKay as Business Convener I rarely got called to speak – we didn't get on, largely on political grounds. I had to resort to opposing motherhood-and-apple-pie motions in order to get to speak, and he didn't like that either.)
However in the last few years – in fact since Nicola Sturgeon became First Minister with her husband as chief executive of the party – debate has been closed down. Branch motions are ignored, or even rewritten at conference without the knowledge or agreement of the branch that submitted – even New Labour didn't do that.
The party is increasingly being treated simply as foot-soldiers to raise money, which is all too often spent without accountability to the members – the £600,000 so-called Referendum Appeal Fund which has mysteriously disappeared is a case in point. I asked one leading member recently how they would describe democracy inside the SNP – they thought for a minute and said "Stalinist".
Many years ago I managed to recruit the great BBC broadcaster Colin Bell to the Scottish Socialist Party. He'd been in the SNP previously but tellingly said "Hugh, the SNP used to be seen as a cause; now it seems to be more of a career path".
The process of instutionalisation, which had afflicted Labour in the past, has now overtaken the SNP. The jobs of the MPs, MSPs, councillors and all their staff have it seems become more important than the struggle for independence – yes, we go through the motions and Nicola mentions it once a year at conference, but even Mike Russell's elaborate 11-point plan amounts to no more than asking for a Section 30 vote again with no Plan B when it is refused again.
The final straw has been the attempt to jail Alex Salmond. Like many I found it hard to believe initially that Nicola was involved, but when the details unravelled I became convinced that it could not have happened without her knowledge and approval.
Alex's crushing victory at the judicial review, his innocence at the criminal trial and his magnificent testimony to the Holyrood inquiry have only reinforced that belief. As Alex memorably said during his evidence, "the institutions of the government of Scotland haven't failed, the leadership has."
Also the absurd attempts to muzzle people sympathetic to Alex, such as Craig Murray and Mark Hirst, show that the Crown Office of Scotland needs a serious clean-out and hopefully all three will sue for malicious prosecution successfully after things settle.
Nicola's performance yesterday didn't convince me to change my mind. It was in the words of Professor James Mitchell's account in Holyrood Magazine "a masterclass in obfuscation and deflection". Her constant attacks on Alex Salmond showed that to her this is war, and to paraphrase the words of Leslie Evans – she may have won the battle to stay on, but she hasn't won the war.
Recently I've had to respond to English friends who are worried that the Alex Salmond case may damage the independence movement. And indeed the latest poll shows some reduction in support, but this is hardly surprising.
I think the SNP will still do well in the constituency votes, winning most seats there. However there is a real chance of getting more pro-independence, non-SNP MSPs elected on the list, particularly if Alex Salmond backs one of the alternatives.
In my view the most credible of these is Action for Independence (AFI), which stands on a cross-party and non-party basis. The AFI only has one policy: independence. Wings commissioned a poll a few months ago which showed that a list party could win up to 28 seats if backed by Alex Salmond, leading to a big pro-independence majority in Parliament.
Imagine if Labour and the Tories were reduced to a rump in the Scottish Parliament, with the AFI as the main opposition. If Alex Salmond decides at this late stage to stand, he might even be leader of the opposition, but will Nicola still be First Minister?
.
Hugh Kerr is a former Labour councillor and MEP, expelled from Labour for his opposition to Blair. He helped to found the Scottish Socialist Party and became its first chair and press officer. He's now a member of AFI and will be campaigning for it in the Scottish Parliament election.