In all the excitement of the torching of the devolution settlement, we forgot to mention a curious piece of data from our recent poll of English voters.
Of all the people south of the border who would gladly throw Scotland and Northern Ireland under the bus (and more to the point, out of the UK) in order to ensure England left the EU, by far the most willing were the voters of the only UK party which expressly identifies itself as standing FOR the Union – the Conservative And Unionist Party.
More than half of Tory voters were happy to ditch Scotland for Brexit (54% vs just 27% who weren't, an exactly 2:1 margin), while supporters of the other two main UK parties didn't think it was worth losing Scotland for – especially the Lib Dems, whose opinion we're sure wasn't coloured by the fact that Scotland provides a third of its current MPs.
And the Tories were almost as happy (this time by 52% to 28%) to wave goodbye to Northern Ireland, although this time Labour and Lib Dem supporters were – albeit very narrowly – with them. Poor old Northern Ireland.
Which means that the Tories in Scotland and Northern Ireland – both of whom are the groups in their respective countries most devotedly attached to their "fellow Brits" in England – are clinging to a nation from which their own Conservative colleagues would drop them like a ticking time-bomb out of a hot-air balloon at the first inconvenience.
Imagine for a moment being a Scottish Tory, knowing that only Labour and Lib Dem supporters in England would miss you if Scotland was independent, while your own party's supporters enthusiastically waved you "good riddance".
And worse yet, imagine being a Unionist in Northern Ireland, endlessly and violently proclaiming your undying and passionate love to a country that basically wants nothing to do with you, and would gladly toss you overboard solely in order to make more room to take a shotgun to its own hull.
Like one respondent to an extensive Lord Ashcroft poll published yesterday who put their opinion regarding the people of Northern Ireland and the potential obstacle they pose to Brexit quite bluntly: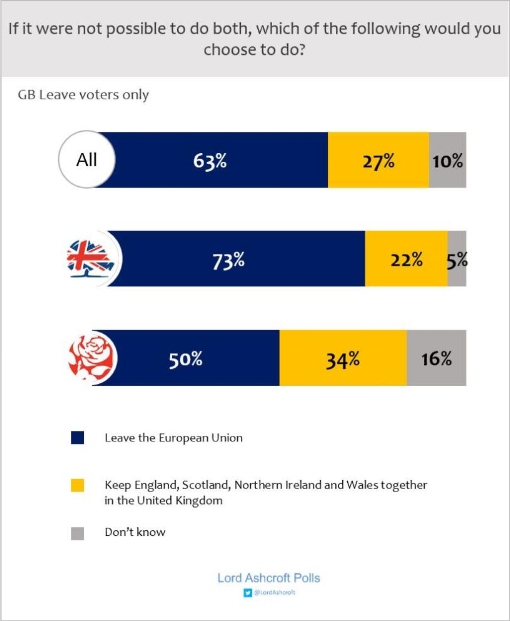 And yet nothing seems able to dent the plainly-misguided conviction of the Unionists of Scotland and Northern Ireland that they're cherished and beloved Celtic cousins in a partnership of equals, rather than the ugly, unwanted mutant stepchildren their English brethren openly and unambiguously regard them as.
It's a mystifying and tragic tale that someone would make a Hollywood movie out of, if only it wasn't so creepy and sad and all the protagonists weren't so horribly unlikeable.