Yesterday, whatever the merits of the actual decision involved, we saw an admirable attitude to transparency and accountability from NHS Greater Glasgow And Clyde in their handling of our Freedom Of Information request about the renaming of the South Glasgow University Hospital. An extremely comprehensive response arrived promptly and without any attempts at evasion.
Today was different, because today we were dealing with the BBC.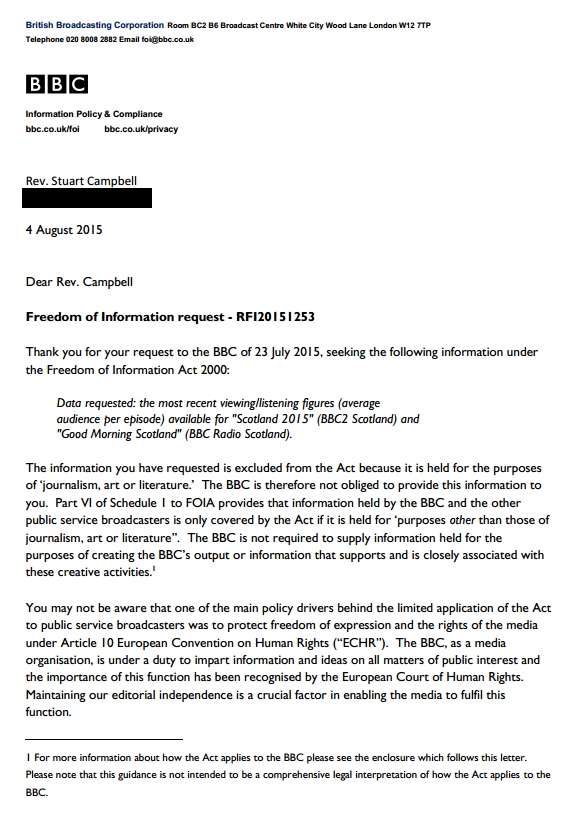 Our request couldn't have been more straightforward or reasonable. All we wanted to know were the most recent available viewing/listening figures for two programmes we pay for, in order to ascertain how successfully they're reaching the Scottish public.
The BBC, however, has a culture of flatly refusing almost any FOI request, citing the same exemption every time: that the information sought is "held for the purposes of journalism, art or literature". This is meaningless waffle at the best of times, but in relation to viewing figures it's entirely nonsensical.
You don't need to know your viewing figures in order to go and interview John Swinney or Kezia Dugdale. The content of that interview should not be affected by how many people you expect to be watching it. If you're making a current-affairs show the size of your audience is not "closely associated with these creative activities". People knowing the viewing figures does not impact on your editorial independence.
We suspect we know why the BBC doesn't want us to know the stats for Scotland 2015 especially. A little over a year ago, within days of its launch, it was recording figures as low as 22,000 viewers a night. (The BBC is so hardwired to automatically refuse any FOI request that it didn't even divulge those as the "most recent figures available", even though they're already in the public domain.)
Since the refusal to answer this query is so obviously ridiculous and unjustifiable, we'll be pursuing it with the Information Commissioner. (The BBC itself, unlike most bodies subject to FOI, has no appeal process.) We're not holding our breath, though. Merely being the people who pay for the state broadcasting service, under penalty of law, doesn't seem to entitle Scots to even the simplest of answers about its activities.