Unalert readers will have been startled to read in much of the media this morning – including a front-page piece on the Daily Record – of the "shocking" £100,000 cost of renaming the new Southern General hospital in Glasgow after the Queen.
That, of course, is because all the alert ones read it on Wings two days ago.
It's not just that the press has been rather tardy in picking up the story. When they eventually did, some of them – with the honourable exception of STV – credited the source of the information as the Scottish Greens rather than this site, although the Greens hadn't said a word about it until 24 hours after we did.
The party's website ran a strangely carefully-worded press release giving their reaction to the news "in response to a Freedom of Information request", without actually saying that they'd made the request in question, which one might normally expect.
The party's spokesman, ambitious wannabe politician Ross Greer (he's top of the Green list for West of Scotland at Holyrood next year, and also garnered 804 votes in the East Dunbartonshire seat in this May's UK general election, losing the party's deposit by a large distance), has spent much of the last two years publicly smearing and attacking Wings Over Scotland.
Greer was employed by Yes Scotland during the referendum, during which time he upset numerous activists whose characters he didn't consider personally acceptable by doing everything in his power to obstruct their campaigning for a Yes vote.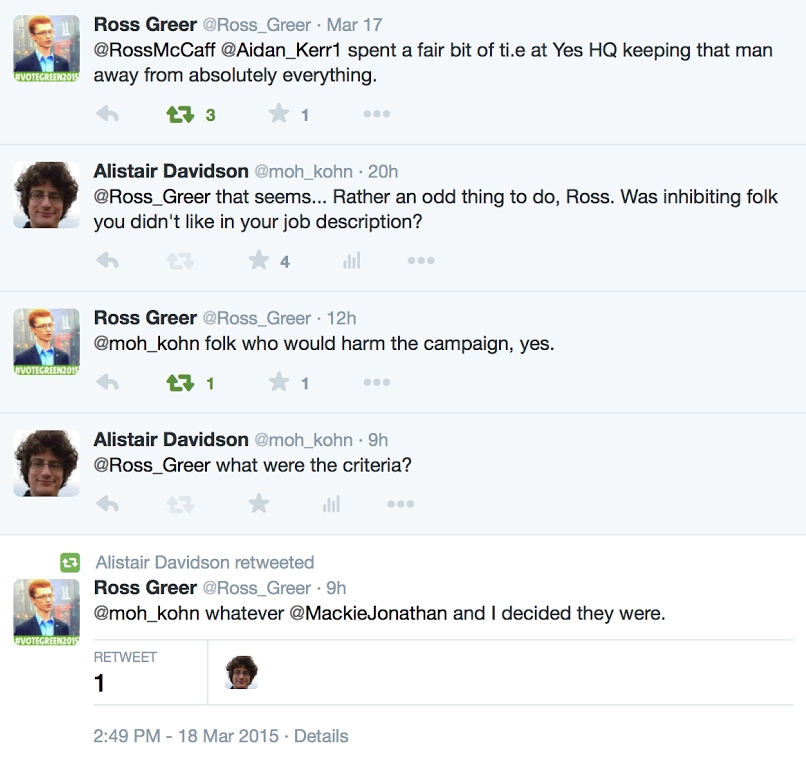 So it wouldn't be particularly surprising that he'd want to avoid giving us credit for the story. But when challenged by a couple of readers last night, Greer went further than the evasive website phrasing, suddenly claiming it had been the Scottish Greens' FOI request all along and posting what he called an "email chain" as evidence: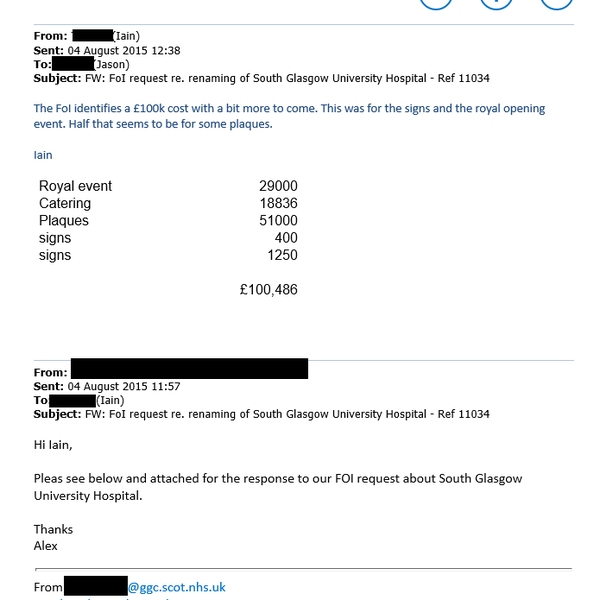 Readers may note that the "evidence" is somewhat sketchy. It appears to comprise two internal Green emails, dated 4 August (the day after we published our story), with half an NHS Greater Glasgow And Clyde email address stuck on the bottom.
They might also ponder whether, if asked for evidence that you'd had your own FOI response, you wouldn't just publish the actual email from NHSGGC – it being the simplest and most comprehensive way of proving your claim – but Greer has refused repeated requests to do so, referring them to the inconclusive image above instead.
Now, it's entirely possible that the Scottish Greens submitted their own FOI over the renaming. Our own reply from NHSGGC noted that they'd received several requests about the matter from various sources. It's attached below (click to enlarge).
But in that case it's strange that Greer wouldn't just post the equivalent of the image above. It's weird that the Greens press release would be so ambiguously worded. It's odd that with such a newsworthy story having landed in their laps on Monday, neither Greer's nor the Greens' Twitter feeds would mention it at all until Tuesday teatime, 24 hours after Wings had posted it.
(One would presume NHSGGC emailed everyone their response at the same time, and indeed Greer expressly stated that that was the case.)
Of course, at the end of the day it doesn't actually matter who gets the credit for breaking the story. Nor will it be of any interest to the vast majority of Scots that a supposedly pro-Yes campaigner and would-be politician has expended (and continues to expend) so much time and effort to attack other Yes activists, including by far the most popular and widely-read Yes-supporting website. It's he-said-she-said stuff.
But it's a little depressing that Scotland's professional media, whose content already comprised 80% stories ripped from rival papers and 18% things people said on Twitter yesterday, is now too lazy and incompetent to even steal the news effectively. We ran the story at teatime on Monday, plenty of time to get something in Tuesday's papers or evening news bulletins, but readers had to wait until it was TWO days old and the Greens had spoonfed them a pre-written piece.
More than one-third of Scots have given up reading daily newspapers since the turn of the millennium. It doesn't take much of an investigative journalist to figure out why.