Oh dear God in Heaven, not THIS again.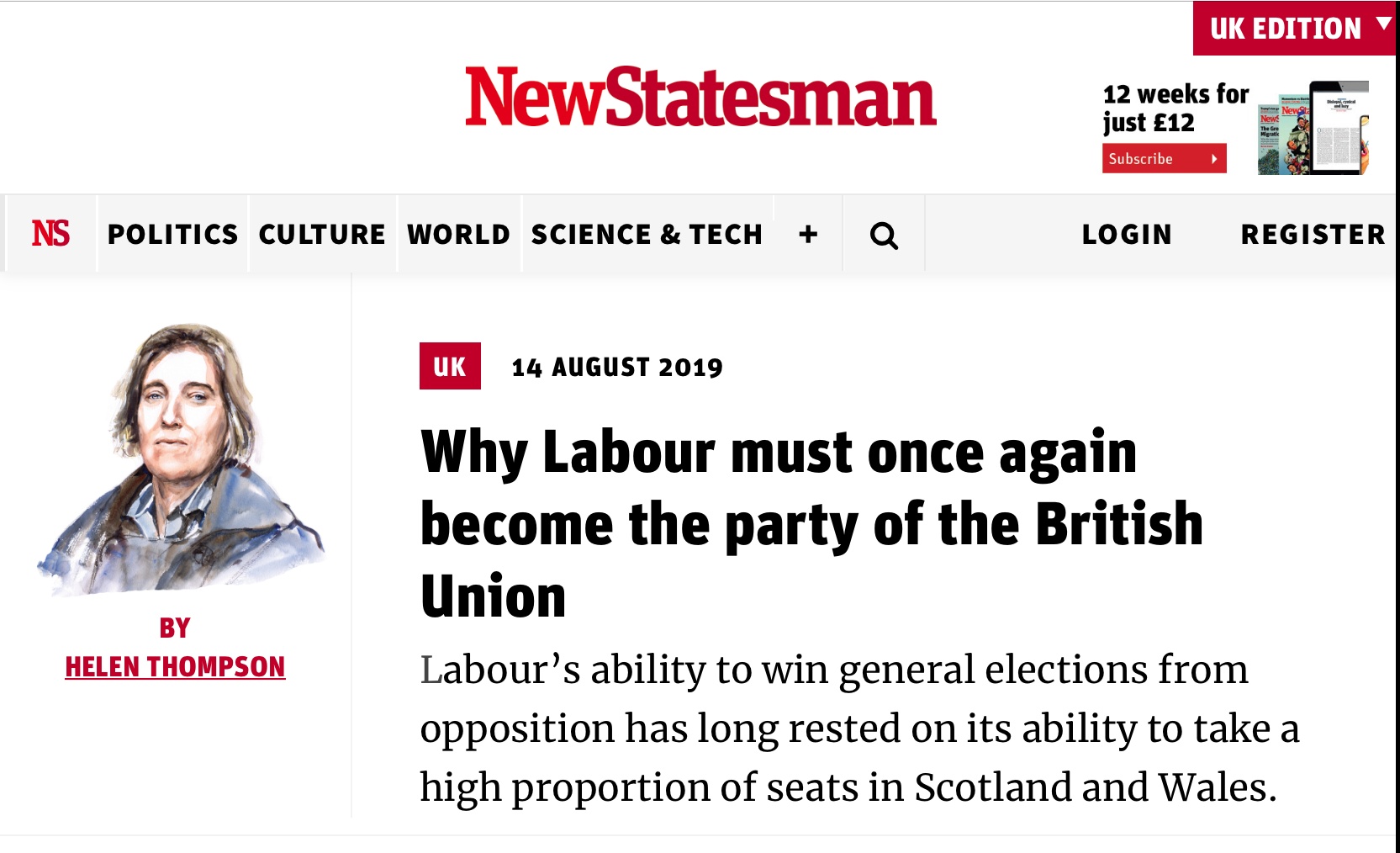 Helen Thompson is apparently the "Professor of Political Economy" at Cambridge University. No wonder the country is being run by imbeciles.
Let's speak really slowly and see if the idiots can get it into their thick heads this time.
Wings readers know, and have known for many years, that Labour does NOT need Scottish seats to win UK elections. Scottish seats have essentially NEVER made a meaningful contribution to a Labour win.
We assume that Professor Thompson is aware of that, because she tries to hide the premise of the article behind weasel words: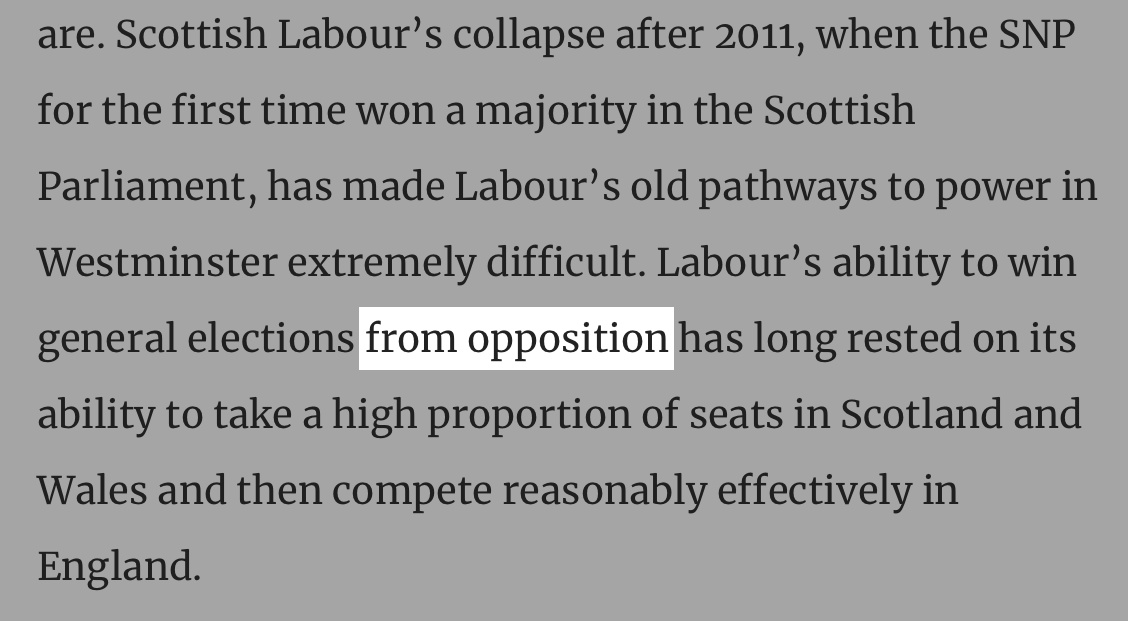 Oh, so now winning only counts if it's from opposition? Okay, fair enough – that's the situation Labour is in now so it's the pertinent comparison. Talk us through it, Prof.
Oh dear. So of the four cited examples, HALF of them are wrong straight off – Labour won in 1945 and 1997 without needing a single Scottish or Welsh seat.
It's perhaps worth pausing for a moment to illustrate just HOW little it needed them. Labour's majority in 1945 was a crushing 146 seats – 393 to 247. But out of that 146 majority, just THREE came from Scotland, where Labour only just squeaked it, winning 37 seats against opposition parties who took a combined 34.
Wales was a bit more fruitful, providing 25 Labour MPs against 11 opposition ones, making a net contribution of 14. So without Scotland and Wales and counting England alone, Labour would still have had a huge majority of 129.
(In fact, even if every single Scottish and Welsh seat had been won by the opposition parties, Labour would still have had a decent majority of 22.)
Similarly, even in the 1997 super-landslide where Labour swept 56 of the 72 Scottish seats (a "Scottish majority" of 40), and 34 out of 40 in Wales (a net contribution of 28), lifting the two countries out of the equation altogether would still have left Tony Blair sitting comfortably on a huge England-delivered majority of 173.
(This time, even if both countries had in fact returned 100% non-Labour MPs, the party would still have secured a vast 105-seat absolute majority.)
So that leaves us with 1964 and 1974. And while removing the Scottish and Welsh votes would in those two years have put a Tory PM in Downing Street rather than a Labour one, it's a big stretch to say that Labour really "won" either election.
In 1964 Harold Wilson got a majority of just ONE seat, an unsustainable position which saw the administration collapse just 17 months later in March 1966.
And in 1974 he didn't even get a technical majority, far less a solid one, winning just 301 seats out of 635 and leading to a new election after barely seven months. (In which Labour again got a majority of just one seat.)
Even in those two elections which were notionally (but inadequately) swung by the Scottish and Welsh votes, the Celtic contributions weren't all that dramatic. In 1964 Labour won Scotland by just 15 seats (43 vs 28).
While in 1974, Labour's net Scottish majority was a mere nine (40 vs 31).
So even by Prof Thompson's massively skewed criteria, her argument is nonsense on the basic arithmetical level, never mind the political one. But boy, is the political one ever worth a chuckle anyway.
Skipping several steps of logic entirely, she simply ignores the proven material fact that Labour can only meaningfully take power from the Tories by winning convincingly in England, and concludes that it must instead somehow win back support in Scotland by becoming even more stridently Unionist – a strategy the party has been doggedly following for the last 12 years, with a truly spectacular level of epic failure.
At no point, impressively, does she ever attempt to explain how this miracle of winning Scotland by doubling and tripling down on the Union would be achieved. There's not a word on how all those lost seats would be brought back to the Labour fold by an approach Scotland has rejected in the most unequivocal terms imaginable.
At the end of the day, all we get is the eternal shrill insistence that Scotland must cast its own interests aside and ride to Labour's rescue, even though it has neither the power nor the inclination to do so.
Scots are to serve as nothing more than a bargaining chip in Labour's game of power, even though the SNP have already and repeatedly offered to put Jeremy Corbyn into No.10 without even asking anything in return.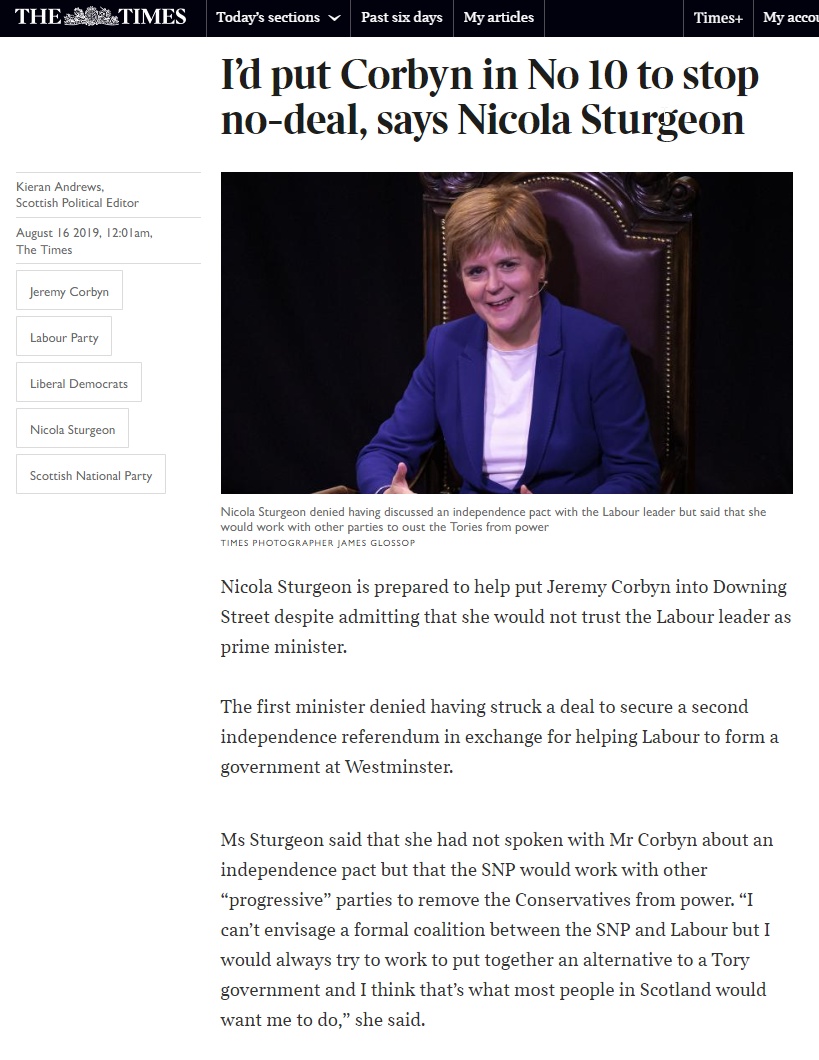 (It may be worth pointing out at this stage that Scotland under the dominance of the SNP returns fewer Tory MPs than it did in three of the four years Prof Thomson cites as proving the importance of Labour winning Scotland. Even the current total of 13, which looks a lot like a freak blip, is well below the 27 of 1945, the 24 of 1964 and the 21 of 1974, even after allowing for the lower total number of Scottish MPs nowadays. Scotland under the SNP is simply far more effective, arithmetically AND politically, at opposing the Tories than it was when Labour ruled it.)
To both Labour and the clueless English commentariat, Scotland is still seen as a rightful feudal possession of the Labour Party, its duty simply to shut up and deliver truckloads of MPs to Westminster. We're not sure how long it's going to take for them to realise that we're not their meek and obedient servants any more.