The Daily Mail, having unaccountably failed to notice the slew of Unionists who tried to blame the SNP for Charles Kennedy's death before the body was cold on Tuesday, suddenly remembered to look at its Twitter timeline again today.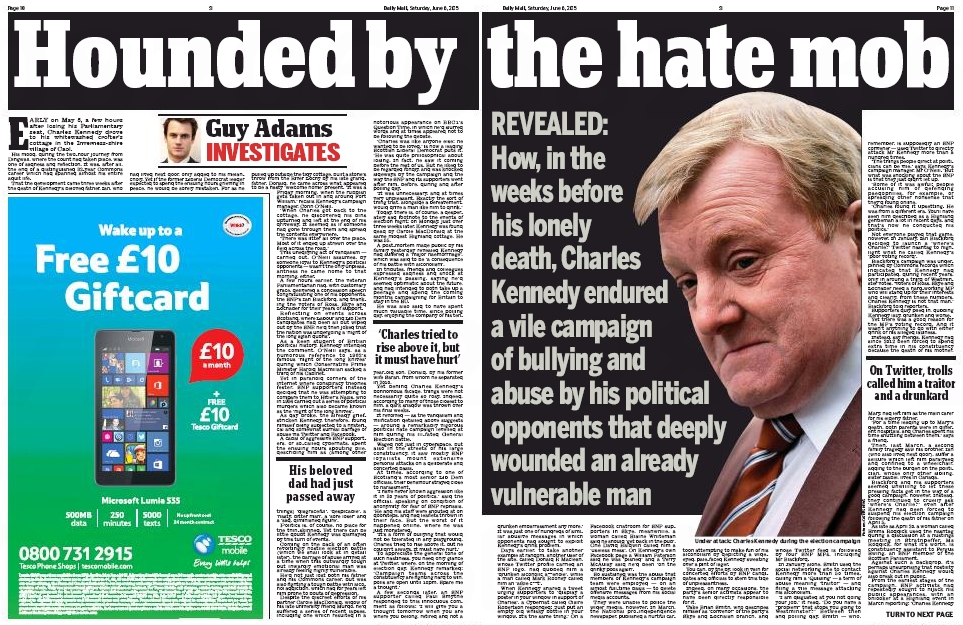 There, it conveniently found that vile cybernat hate mobs had hounded the former Lib Dem leader into an early grave (rather than the alcoholism-induced haemorrhage that the post-mortem concluded was responsible).
We suppose they'd know all about that sort of thing, right enough.
Reporting the aftermath of Kennedy's election defeat, the Mail claims:
The paper then goes on to quote a handful of nasty tweets and Facebook comments of the sort that any public figure on social media gets every day, tying them together with the disturbed bins, one frame of a Greg Moodie cartoon published in The National several weeks ago and some unattributed quotes making allegations of "bullying and intimidatory behaviour" to build the whole thing into a co-ordinated "hate campaign" which threw a "dark shadow" over Kennedy's final weeks.
The implication which leaps from the article, cobbled together from scraps of nothing, is that the SNP and its supporters partly brought about Kennedy's death. The Mail repeatedly points an accusatory finger, quoting one unnamed source saying Kennedy:
"was knocked sideways by the campaign and the way the SNP and its supporters went after him, before, during and after polling day. It was unnecessary, and at times very unpleasant. Exactly the sort of thing that, alongside a bereavement, would drive a man like him to drink."
(Emphasis ours.)
The claim comes despite no known complaints having been made to police about any "intimidation", and despite Kennedy making no reference to anything unpleasant in his concession speech. Elections are by nature combative affairs, and Charles Kennedy had been involved in them for decades. He gave no indication – publicly or, as far as we know, in private – of having found 2015's especially vitriolic.
(The anonymous sources in the piece are all quoted in weasel words about how he "might have" felt it to be so, rather than reporting anything actually expressed to them by the man himself, or even second-hand.)
And the bins? Alert readers might reasonably wonder why "cybernats" would bother going through Charles Kennedy's rubbish on election day, when it was far too late to glean any information which could have damaged his chances.
But there IS a group in society which is well-known for raking through politician's bins for juicy gossip and dirt that might sell a few papers whether the subject was an MP or not, and whether they were alive or dead.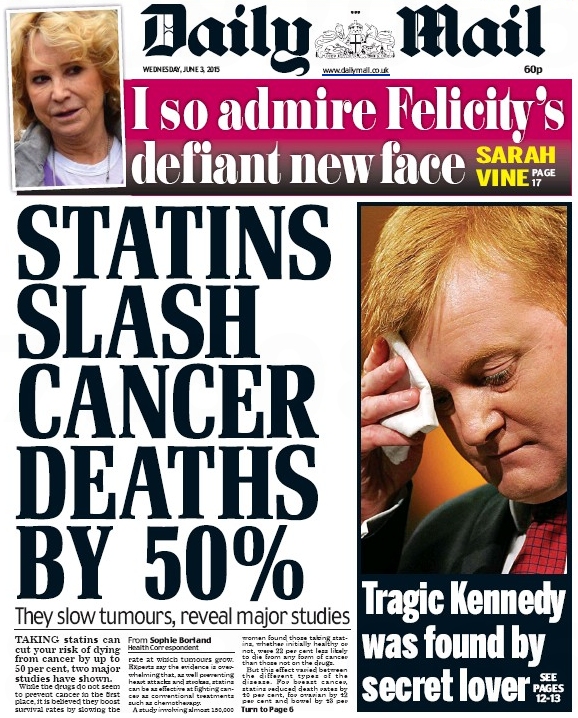 The words "secret lover" suggest that Charles Kennedy wanted his private life kept private. But the Mail, along with several other papers, just couldn't resist reporting his death with a side-order of salacious tittle-tattle.
(The article in question spoke of his "contented private life", expectations of his being made a peer and of him looking forward to campaigning in the EU referendum, not of a man tormented beyond endurance by some tweets.)
We have no reason to believe that such information was gleaned from rifling through his bins, of course. Indeed, we don't know that ANYONE went through his bins. They may have been disturbed by foxes, or simply blown over in the very windy weather Scotland's been experiencing recently.
But for the Mail – a paper which loves nothing more than to muckrake about political opponents and intimidate ordinary members of the public it's chosen to "monster" for holding political views the Mail doesn't like – to allege, without the slightest shred of evidence, that SNP supporters were responsible, and that it was part of a co-ordinated campaign that drove Kennedy to the bottle and by implication to his death, is journalism which would lower the tone of a sewer.