We'll be honest with you, readers, we're not looking forward to 2017 one little bit. It's going to be the most tedious year in Scottish politics since we started this website, and perhaps since the advent of devolution.
Other than the mild distraction of the council elections in May – which are likely to be a bit of a damp squib due to the deadening effect of STV and the propensity of Labour and the Tories to do deals to keep the SNP out of power – pretty much nothing even a little bit interesting is going to happen.
All we ARE going to hear about is Brexit and the EU, over and over and over and over again, and everything we're going to hear is the same empty, pointless, space-filling speculation we've already been hearing since June. So let's just get it down, and then we can link to it every week and go and do something useful with our time instead.
1. THERE WILL BE NO SEPARATE SCOTTISH DEAL
You know there won't, we know there won't, everyone and their dog knows there won't. The Scottish Government is obliged to put forward proposals for solutions that respect Scotland's almost-2-to-1 vote to stay in, but however sincerely it does so they'll be ignored. The UK government has made that abundantly and repeatedly clear:
The practicalities for such an arrangement would be extremely challenging even if there was political will for it outside Scotland, and there isn't.
The EU is extremely sympathetic to Scotland's desire to stay in, and would welcome an independent Scotland with open arms.
But it can't do it from inside the UK. Which means…
2. THERE WILL BE A SECOND INDEPENDENCE REFERENDUM
Because there can't NOT be. In 2014 and 2016 Scots voted for two things that they can't have both of, so sooner or later they're going to have to choose one or the other. Nicola Sturgeon couldn't hope to survive failing to bring forward another indyref after the inevitable failure of "special deal" proposals, and the UK government refusing one would be political suicide.
It's no use Unionists whining that Scotland voted to stay in the UK so it has to accept UK decisions. Scotland voted to stay in a UK that was a member of the EU, and that UK no longer exists. The 2014 decision was made on a blatantly and unarguably false premise and has been overtaken by events.
If Scotland wishes to stay in a Brexit UK – and it may well do so – its people must be given the opportunity to make that decision based on the truth about what they're choosing. And they will, most likely in spring 2019. But that's a while yet.
3. THE ARGUMENTS OF 2014 WILL BE TURNED UPSIDE DOWN
In the second independence referendum, a Yes vote will beyond any shred of rational or credible doubt be the stability vote, the internationalist vote, and the economically sensible vote. (Many of us will of course feel that it was those things in 2014 too, but now the counter-argument will simply look farcical.)
Bizarrely, the main Unionist position against this is to endlessly repeat the mantra "but Scotland trades far more with the rest of the UK than it does with Europe". and insist that there would be a damaging "hard border" between Scotland and England hurting that trade, even as they insist that there WOULDN'T be one between a post-Brexit UK and EU-member Ireland.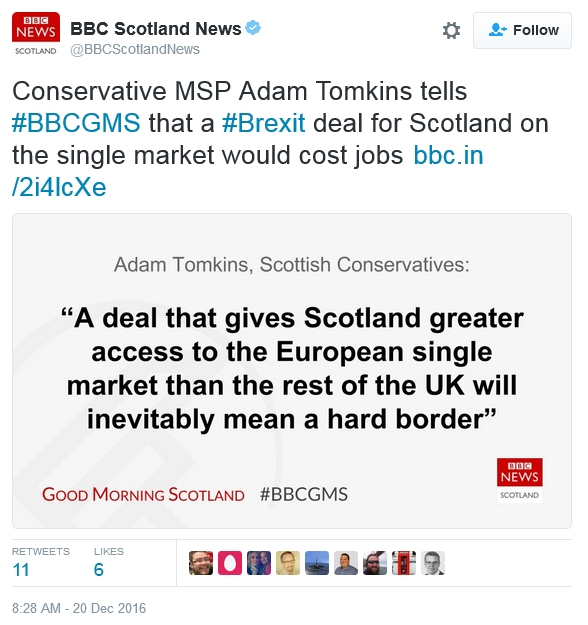 But even if it were true that Scotland trades more with the rUK than the EU (and it's far from clear that it is, because nobody's sure how much of Scotland's "UK" trade is actually goods simply stopping off in England on the way to Europe), so what? Why would Scotland and the rUK stop trading with each other – or impose punitive tariffs – if Scotland either had a separate EU status or was an independent country? In whose interests would that be? Certainly not the rUK's.
(It's sometimes been suggested that there would have to be border posts because of immigration, but the same Ireland point still applies, as does the fact that immigration policing doesn't start and end at border crossings. And how many immigrants would in any event want to leave Scotland, where they were wanted by the government and welcome to stay and work legally, in order to get to an England where they'd be hated, hunted, vilified, attacked and even murdered?)
Amid the thousands of acres of newsprint and uncountable hours of airtime that will be devoted next year to Brexit and its implications for Scotland, nothing will change any of these three fundamental facts.
Everyone knows them already, but pages and schedules will have to be filled so we'll have to endure the same old faces honking the same old lines on all sides for month after month until we're ready to hurl ourselves off tall buildings at the first mention of the words "EU" or "Brexit", if we're not already.
2017 will be a year of going through the motions, an elaborate and hollow charade in which pretty much every participant knows they're wasting their time for the sake of appearances before knuckling down to the reality in 2018 and 2019. Get yourselves a few good books, folks.