Some random unordered thoughts on this evening's events at Westminster.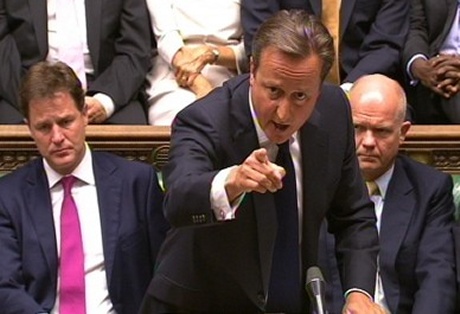 1. Somehow, democracy won tonight, while all of its main protagonists lost. The Conservatives, Lib Dems and Labour were ALL defeated, and by some freakish fluke the will of the British people triumphed over that of their representatives.
2. All three parties fundamentally backed armed intervention – the coalition openly, Labour with qualifiers and conditions – yet contrived implausibly to foil themselves. Tory backbenchers voted against the government. Dozens of Labour MPs didn't turn up to support their party's amendment. Liberal Democrats voted FOR war. Everything's upside-down.
3. Labour types are reacting with furious indignation to equally-furious Tory allegations that they're "giving succour to Assad". We're not sure why. They clearly ARE doing that – Assad will be greatly relieved tonight. But that's fine, because this isn't about Assad's ego.
This is about doing the best thing, or more accurately the least bad thing, for the people of Syria and elsewhere. Making Assad happy is bad. But the cost of making him sad would have been horrendous, and counter-productive in all sorts of ways. It's a price worth paying, and it's petty to pretend it hasn't been paid.
Anyone who voted against military action should wear Assad's happiness as a badge of honour, to show that they were prepared to make a difficult and painful choice because it was the right thing to do.
4. In itself, it's really not THAT shocking that the government was defeated. It's a coalition with a fairly narrow majority voting on an issue of conscience that the public was strongly opposed to across the board. If it couldn't lose tonight's vote, we might as well have bulldozed the Palace of Westminster and turned it into a car park or something else more useful.
5. Cameron's political mistake, for which he might yet pay highly, was to reject Labour's amendment. Had he accepted it, he'd have secured a conditional mandate for intervention. By arrogantly trying to steamroller the vote, he shot himself in both feet. But there's no chance he'll resign.
6. Miliband's "victory" will be greatly muted by the number of his own MPs who didn't back him (one resigned from the shadow cabinet over his unconvincing position), and by the fact that it relied on Tory rebels and the hated nationalists.
If the SNP and just a single Plaid Cymru MP had backed the government, the motion would have been carried. Labour on its own would have been embarrassingly impotent even against a deeply divided administration – as we write this, it appears that over 40 Tories and Lib Dems rebelled.
7. And where was Gordon Brown? What a disgrace to the people of Britain, and in particular the people of Kirkcaldy, that the most recent ex-Prime Minister couldn't be bothered to get off his backside and turn up at his supposed place of work even for this. He'd better have an amazing excuse.
8. We still find it hard to believe that the UK won't end up bombing Syria sooner rather than later. But Cameron's post-vote comments might yet mean that this is one of the stupid messes the Americans get into by themselves without our help.
British democracy is horribly, fundamentally broken. Tonight Parliament reflected the will of the people – a rare achievement – almost by accident and in spite of itself. It wasn't just greater than the sum of it parts, it was the nemesis of the sum of its parts. But reflect it it did all the same, and it'll be fascinating to see the consequences.