You know everything's definitely going swimmingly for Nicola Sturgeon when the white knight riding heroically to her defence is… [checks notes twice] Duncan Hothersall.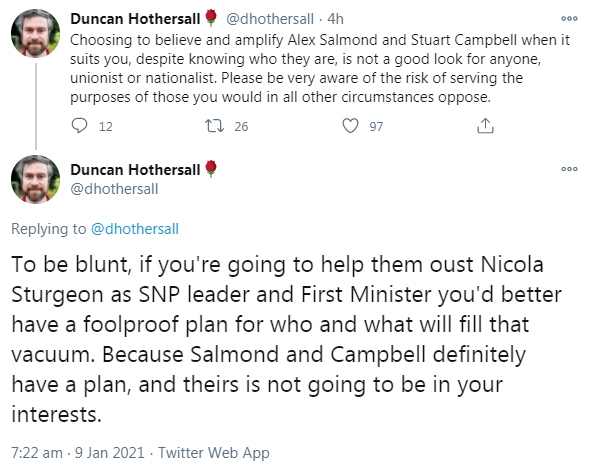 We're very excited to find out what our secret plan is.
(We must apologise to readers at this point for the late arrival of this week's typically splendid Chris Cairns cartoon, which in fact arrived entirely on time from our hard-working crayonist but which we've put on hold for a bit while we cover last night's major breaking story and its immediate aftermath. Now on with the show.)
Onlookers can only speculate as to why such a frenzied Unionist as Hothersall would be so keen to keep the First Minister in office. But as this site has spent much of the last year pointing out, there's no need to believe either Alex Salmond or ourselves if you want to know the truth about the Scottish Government's failed stitch-up of the former SNP leader. You can see it for yourself at the click of a mouse button.
Because the Scottish Government itself has already published the evidence which proves Nicola Sturgeon definitely lied to Parliament about what she knew and when. She repeatedly insisted in the Holyrood chamber and in the press that she knew nothing until an April 2018 meeting with Salmond at her private home in Glasgow, and the Scottish Government was still sticking doggedly to that story in FOI requests as recently as a few weeks ago.

Yet the Scottish Government has also published the fact that in reality Sturgeon knew days before that, from a meeting that took place not at her home but at her office in the Scottish Parliament (and which she comically claimed to have forgotten, despite its earth-shattering revelations about her friend, colleague and mentor of over 20 years).
There is nothing to believe or disbelieve in these facts. They simply ARE the facts, as agreed by all sides in the dispute and written in the public record. What Sturgeon told Parliament was not true, and she knew it wasn't true.
(And it's not a trivial matter of getting a date wrong. The initial lie was told to cover up another breach of the Ministerial Code, which was itself done to conceal a conspiracy and protect the identity of a conspirator. The problem with lies is that you have to tell two more lies to hide the first one, then four more lies to hide those two, and so on until pretty much everything you're saying is a lie and none of it matches up.)
Something else that's written in the public record is that Alex Salmond was found innocent of every single charge of misconduct against him by a judge and jury of his peers. Yet you wouldn't know that from the Twitter accounts of some SNP MPs today.
But the reality is that no women were "abused" by Alex Salmond and nor did he ever "admit" such a thing. The mostly-female jury found all of the women's allegations to be false. It takes no "bravery" at all to tell lies from behind a shield of anonymity, knowing that you'll be protected no matter what the verdict.
We do agree wholeheartedly with Blackman that they shouldn't be "shushed", though. They should be made to answer for their false allegations from the dock of a perjury trial, and Blackman should face a defamation suit.
Other SNP figures had a different explanation for events.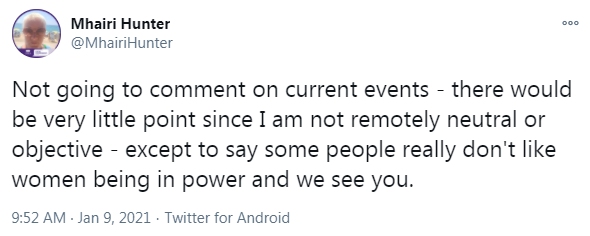 Ah, but of course. It's all bEcAuSe pEoPle HaTe WiMmIn! (Though we should note in passing that we're pleased Cllr Hunter at least acknowledges the existence of women as a concept again.)
It might have been better if her tweet from this morning had ended on the word "objective", because sensible readers might feel the second part was a self-evidently absurd line to take against a man who mentored Nicola Sturgeon for the role of First Minister for years, and people who supported and defended her in that position for a long time. But it's the one you're being asked to swallow all the same.
Some other stupid people took even dumber angles on the same spiel.
Hmm, yes. Scottish Tories hate female leaders. Makes sense. We presume that must be the reason why the Scottish Conservatives have only been led by women for 14 out of the past 15 years, and also why every female Prime Minister the UK has ever had has been a Tory – one of whom most of the party still worships as a goddess 30 years after she left office and eight years after she died.
Pension Pete had his 2p-worth, of course (though we'd want change from that 2p):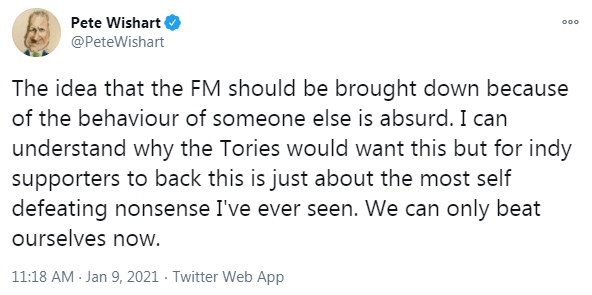 Now that's a particularly strange contribution. Who could he mean by "someone else"? Alex Salmond was acquitted in court of any improper behaviour and is now merely co-operating with a Scottish Government inquiry like any good citizen, so it can't be him.
And even the normally sharp-witted academic Aileen McHarg had dismayingly sunk to Wishart's level, on the same theme.
If Nicola Sturgeon is brought down in relation to any of this it'll be expressly because SHE engaged in a conspiracy to imprison an innocent man and SHE lied to Parliament about it. Nobody else made her do those things. There is no "injustice" here. Alex Salmond was held accountable to the allegations against him, by a jury who (unlike McHarg) heard all the evidence, and they acquitted him. The rules should be the same for Sturgeon. If she's done nothing wrong she shouldn't fear the truth coming out, and she and her government should stop obstructing it.
And it probably goes without saying that Scottish political Twitter wouldn't be Scottish political Twitter if we weren't somehow to blame for everything.
And obviously the transactivists tried to make it all about them, as always, because nothing has ever happened in human history that wasn't really about trans people: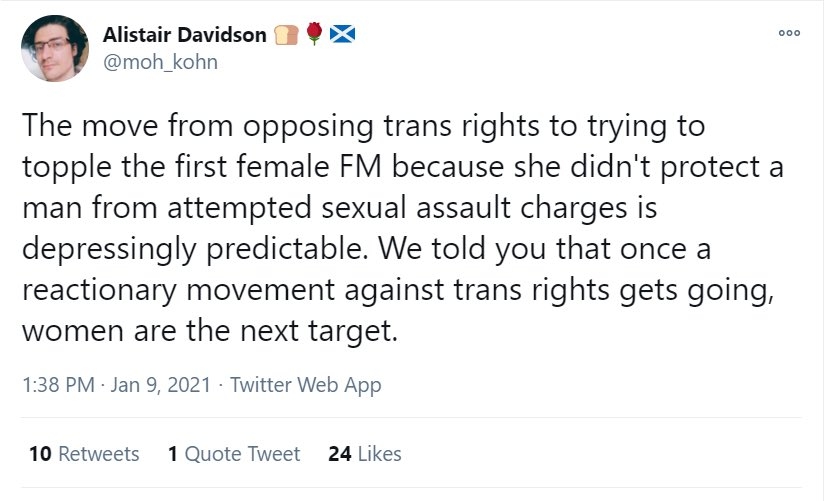 (Nobody EVER asked Sturgeon to "protect" Salmond from anything. She was warned, correctly, that an investigation was being conducted in a totally unlawful manner, and was offered several alternative routes to addressing the complaints, none of which would in any way have prevented the women from subsequently going to the police.)
But the most common refrain from the intellectually sub-par was this one:
And that's idiotic because of course, it wasn't Alex Salmond who instigated either of the current inquiries. Both of them were the sole creation of Nicola Sturgeon, and Alex Salmond can only provide responses to them when he's asked to.
Both inquiries are required to produce their findings before the election, for blindingly obvious reasons, so asking him to somehow withhold his evidence until afterwards takes an extra-special level of stupid, yet it was still all over the dumber regions of social media last night and this morning from people whose brains are even now sprinting in a desperate and forlorn attempt to catch up with their typing fingers.
We could spend all day quoting moronic reactions like the above to last night's news, and we still wouldn't have scratched the surface of it. But we can tell you this much: get used to it, folks, because the storm has barely even begun.