Nobel Prize-winning economist Joseph Stiglitz gave an interesting interview to Good Morning Scotland just after 8am today, in which he expressed a number of careful, measured and qualified views on a variety of subjects including currency.
But obviously Scottish people are much too stupid to understand stuff like that, so the BBC quickly dumbed it down for them.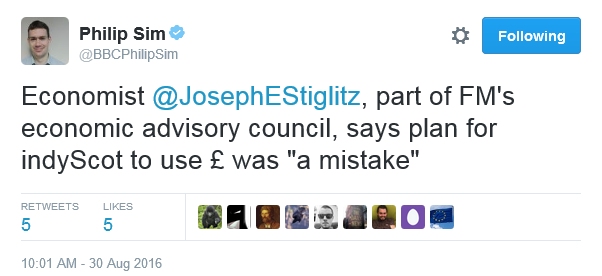 The problem is that there's a difference between simplifying and falsifying.
Because what Stiglitz actually said was that the currency-union proposal MAY HAVE been an error:
"The reason they wanted to link the economy to the pound was that they wanted the smoothest transition possible, they wanted to say we can move from the current economic arrangement while keeping our currency and keeping other institutions.

I think in hindsight that may have been a mistake."
It's not a trivial thing to turn a qualified statement of possibility into an unambiguously definite assertion. Scottish journalists reporting a "not proven" verdict in a murder trial as a guilty one wouldn't last long. And Philip Sim wasn't just trying to save characters on Twitter, because the BBC web page he was linking to repeated the falsehood in both its headline and opening paragraph.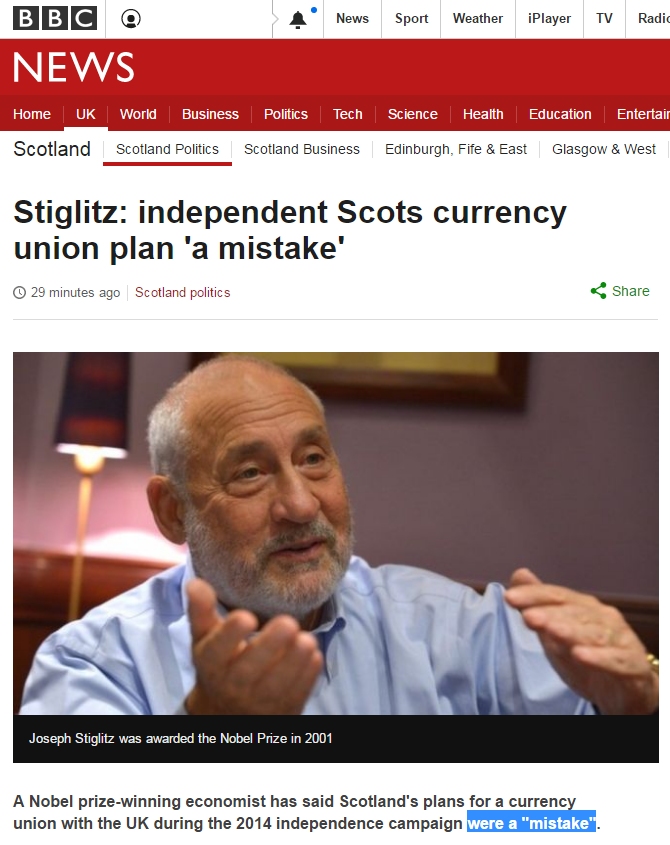 It's halfway down the story before we get the actual quote, but as we all know a large percentage of readers have drifted away by then.
We go on about this phenomenon a lot, but that's because it's so important. The BBC can protest against accusations of bias by saying "Oh, we printed the real quote down in the middle somewhere", but they know full well that by then it's too late – the distortion is halfway around social media before the truth has its boots on.
If you categorically lie in the tweet, the headline and the opening paragraph of a story, "We eventually got it right by the time 50% of people had stopped reading" is a poor defence. It's a lesson the BBC has no apparent interest in learning, and people can be forgiven for wondering why that is.