We've highlighted some truly gruesome displays of anti-Scottish bigotry on this website over the last couple of years, the large majority of them from right-wing English newspapers. But today sees perhaps the worst case we've ever seen, and we're sad to report that the blame for this one lies squarely at Scotland's own door.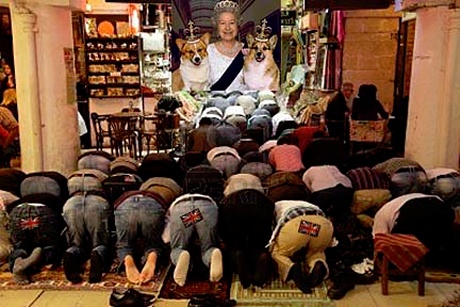 We hope you have a strong stomach.
It appears in this morning's Herald, under the headline "Why the Saltire makes me cringe", and it's part of a sudden flurry of media interest in the story Wings Over Scotland broke on Tuesday about Stirling Council's attempt to fly the Union Jack above the statues of William Wallace and Robert the Bruce at the council's offices.
You can read the full story at the link above. But it's worth picking out a few lines.
"Even though I'm a Scot, the Saltire makes me cringe. Every time I see a crowd of people waving it above their heads, I feel embarrassed for them – the crudeness of the gesture offends me"
That's a pretty extraordinary statement straight off. Every time? At a Scotland match at Hampden or Murrayfield? When Andy Murray came back to Dunblane as Wimbledon champion? You feel embarrassed because your countrymen and women are waving their own nation's flag in celebration?
"I also have a problem with the flag's role in the debate on independence. The fact that Yes campaigners have been shamelessly fluttering the Saltire about the place"
Shamelessly? The word implies that there SHOULD be shame. Why on Earth should Scots who want Scotland's politics decided and controlled by people who live in Scotland, who want Scotland to be a sovereign nation, feel ashamed to illustrate that with the national flag of Scotland?
"if Nationalists are going to be allowed to use the Saltire for political ends, then all of us need to talk about the place of such symbols in our national consciousness"
Allowed? Allowed? In whose gift is it to permit or refuse the right of a people to fly their own country's flag? Is Mark Smith suggesting that there should be some sort of prohibition? Should Yes supporters (or anyone else) have to apply to the police in advance, like protestors?
"at the moment, there is a one-sidedness to the relative positions of the flags that is disturbing. This is probably because many Scots feel negatively towards the Union flag"
And? What is it that Mr Smith thinks "many Scots" need to cure them of these feelings? Re-education, perhaps in some sort of boot-camp until they love Big Brother? If "many Scots" feel negatively towards the Union flag, there's presumably a reason.
"if the Union flag has negative historical associations so does the Saltire, which has been flown at the front of many an invader's army"
It has? When did that happen? How many hundreds of years is it since Scotland invaded any other nation under its own flag? The Union Jack is flying in other lands, against the will of the people of those lands, right this minute. (And indeed, against the will of the people of the UK.)
There's nothing "historical" about its negative associations, they're current. Armed intervention in foreign countries remains the policy of the UK's main political parties.
"That apparently-benign cross of white on blue, and in particular the way it is being used by supporters of independence, represents a narrowing of perspective, a separation, a reduction of identity from a large friendly group of nations to a single small one.

The merged colours of the Union flag, on the other hand, are much more positive; by definition they are about coming together"
Dear God, what manner of unholy pish is this? An ancient blue-and-white flag is about narrowing and separation, but add a bit of red and suddenly it's cuddly and positive? How do you even begin to critique that level of stupidity? The Nazi swastika had three colours (including lots of red) and represented a "coming together" of European nations into a single great Reich, so presumably Mark Smith has one in his bathroom.
(One might of course argue that was a bad analogy as the Nazis took over the nations of Europe against their will. Because, of course, there was no conflict at all over the territory of the UK. No colonial Empire, no riots against the Union in Scotland or Wales, no violence in Ireland, no war with Argentina, no disputes with Spain, etc etc.)
"On the wall of my bathroom at home, for example, I have the flag of Vietnam, a souvenir of my trip there a few years ago."
Oh, right. Our mistake.
"Vietnam is a united country and its positive sense of nationalism, symbolised by its beloved king, impressed me when I was there"
Vietnam has a king? Huh? Last we heard it was a socialist republic, and has been one since 1945. Its flag is red with a yellow Communist star. Mark Smith's picture on the article is small, but we feel safe in saying he didn't visit Vietnam in 1944.
We're done with this. But imagine, if you can, any other nation on the face of the planet we all share whose people would be happy to publicly assert such abject, wretched, miserable, cap-wringing, forelock-tugging shame in their own country. Don't be angry at Mark Smith, readers. Don't shout at him. Pity him, for he is to be pitied.
—————————————————————————————————————
ORIGINAL SOURCES: [1], [2], [3], [4]