We felt sure that our awarding of the inaugural Thickest Politician In Scotland title this morning would be taken as the throwing down of a gauntlet, and we weren't wrong. Because within just hours, the Prince Regent had staked his claim to the crown.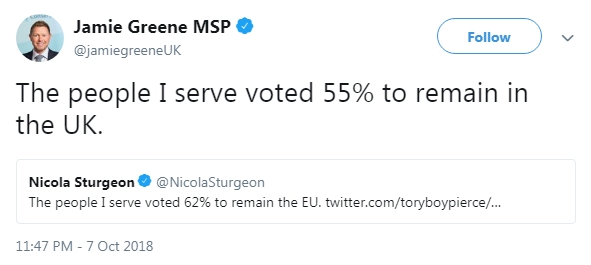 Greene – who was rejected by the voters of Cunninghame North by almost 9,000 votes but sits in Parliament anyway – is in fact supposed to serve the people of the West Scotland region as a list MSP, not the whole country, and we're not aware of any breakdown of how Scotland's eight list regions voted in 2014 so we have no idea how many voted No in WS. But that's by far the least idiotic part of the tweet.
Because of course, the point of Nicola Sturgeon's tweet was that the people she represents as First Minister aren't getting the thing they voted for. Scotland is being dragged out of the EU against its will and it's her job to speak for its people.
Greene points out that a smaller majority of Scots voted to stay in the UK than for the EU. But of course, Scotland is still in the UK and there is currently no process under way to change that. It's not being forced out against its wishes, and we're pretty sure that Jamie Greene would be screaming from the rooftops if it was.
The comparison, then, is as idiotically witless as his inability to understand even the most elementary principle of his job. Ladies and gentlemen, we have a new champion.