A famous quote commonly attributed to Albert Einstein (and hotly disputed, as always, by point-missing Quote Nazis), runs that "the definition of insanity is doing the same thing over and over and expecting different results".
It's been bouncing around our heads for the last couple of days, because with the SNP annual conference in full swing in Glasgow, Scottish political pundits have taken it upon themselves to start issuing bizarre assertions/advice about the party's strategy for securing a second independence referendum.
This version, from the Herald's cut-price David Torrance knockoff Mark Smith today, is no more than we'd expect from that source: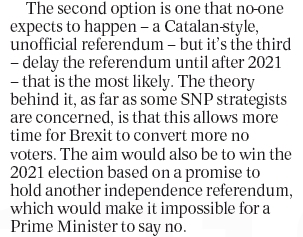 But we were a lot more surprised to see the notion also being taken up by someone we'd previously credited with a lot more insight and intelligence.
Because the same idea was also put forward yesterday by the SNP's highly-regarded former director of strategic communications, Kevin Pringle, in the Sunday Times: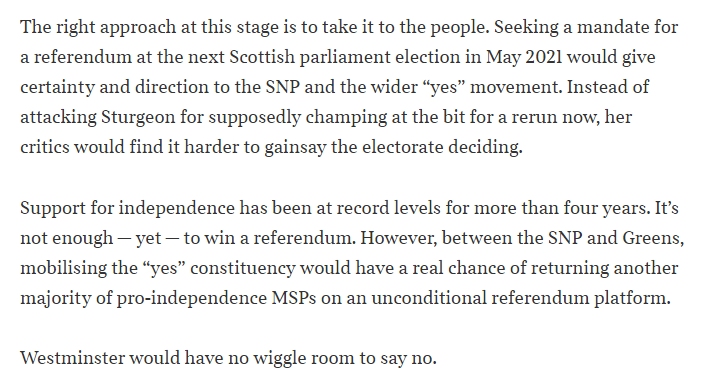 And it's such startling obvious nonsense that we're not quite sure what's happened.
Because of course, there's ALREADY an electoral mandate for another referendum, a parliamentary majority for it, and an actual vote of that parliament demanding it. The UK government has nonetheless felt entirely able to flatly refuse: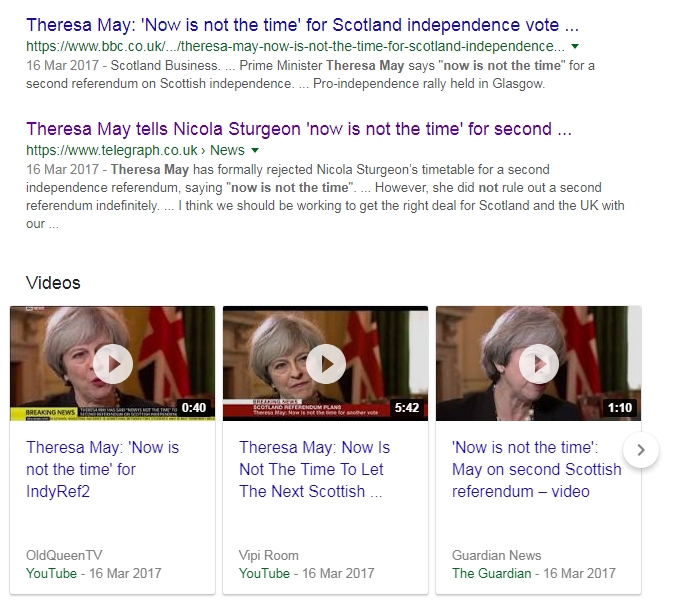 The Unionist parties have repeatedly made it clear that even if the SNP won more than 50% of the vote in a new general election with a second referendum in their manifesto, they would continue to refuse it:
And both main UK parties have reiterated that position explicitly in the last few days, with Ruth Davidson insisting that any vote in the term of the next parliament would also be rejected, and Labour saying that they'd put a ban in their manifesto.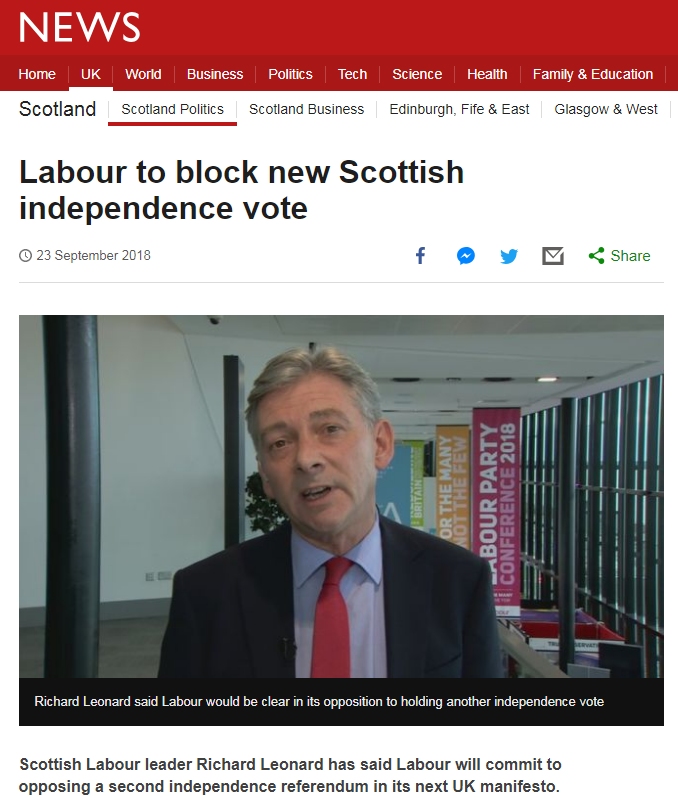 So we're at a loss as to why a smart guy like Pringle would imagine that anything would change, particularly as polling currently suggests that the SNP would see their 2021 vote share decline compared to 2016, and the pro-indy parties would lose their Holyrood majority.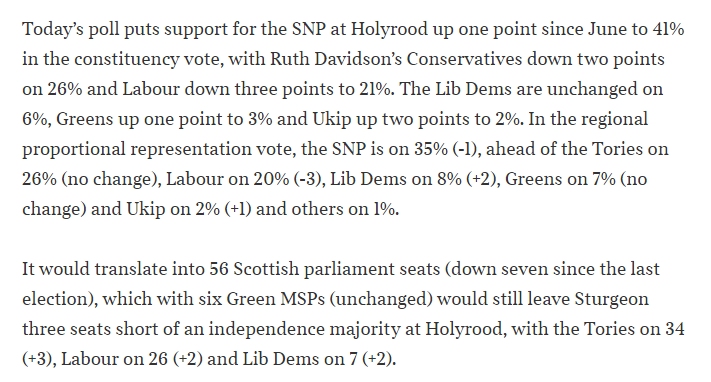 By any measure that would be a very significantly weaker position for the pro-indy parties to be arguing from, and it's very hard indeed to imagine how – with no leverage whatsoever – it could persuade the UK government to change its mind.
(Indeed, the stated foundation of Pringle's position is that the UK government would only ever grant a second referendum if it was completely certain it would result in another victory for No. Whoopee.)
Moral arguments hold no sway at Westminster. Even when Scotland returned 56 SNP MPs out of 59 in 2015, having indeed given the SNP an unprecedented half of the popular vote, the UK government simply trampled all over them with the crushing weight of English numbers – rejecting every amendment tabled for the Scotland Bill, including one to give Holyrood power over future referendums, even though that power is consistently backed by a very large majority of ALL Scottish voters.
Westminster understands only the language of force, which means there are only two possible practical ways to bring about a second indyref. One is to hold the balance of power in a minority Labour government and dare it to refuse power in the name of blocking Scottish democracy: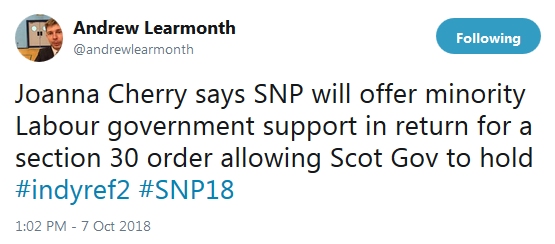 (It can only work on a minority Labour government, because the SNP couldn't under any circumstances vote to put the Tories in power. This, incidentally, is also why it's just monumentally stupid to vote Scottish Labour if you want independence – you'd be actively throwing away your own bargaining chips, because obviously Scottish Labour MPs won't make a second indyref a condition of installing a Labour government.)

And the other is to secure a legal decision on the matter of competence which the Edinburgh Agreement of 2012 kicked down the road – the approach this site has advocated for some time. (And which has the benefit of being a free hit – if we win it's an absolutely huge victory, if we lose and the Court says it's Westminster's decision to make then we're no worse off than we are now.)
Either of those strategies is valid, and both can of course be pursued at the same time. But sitting on our hands for several more years just hoping for the UK government to have an inexplicable and irrational sudden change of heart after we're already out of the EU is a level of madness you don't need to be Einstein to spot.