It is our grave duty to inform readers that Kenny "Kezia Dugdale will be the next First Minister" Farquharson of The Times has done a tweet again.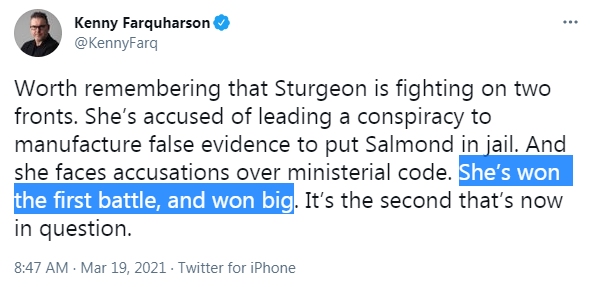 It's a curious thing to say before either of the inquiries has delivered its report. The only people who are asserting that Sturgeon has been somehow cleared of involvement in a conspiracy are the SNP, and even their own voters are split down the middle on it.
But let's just check on how big the SNP are winning right now.
The inquiry began at the start of August last year.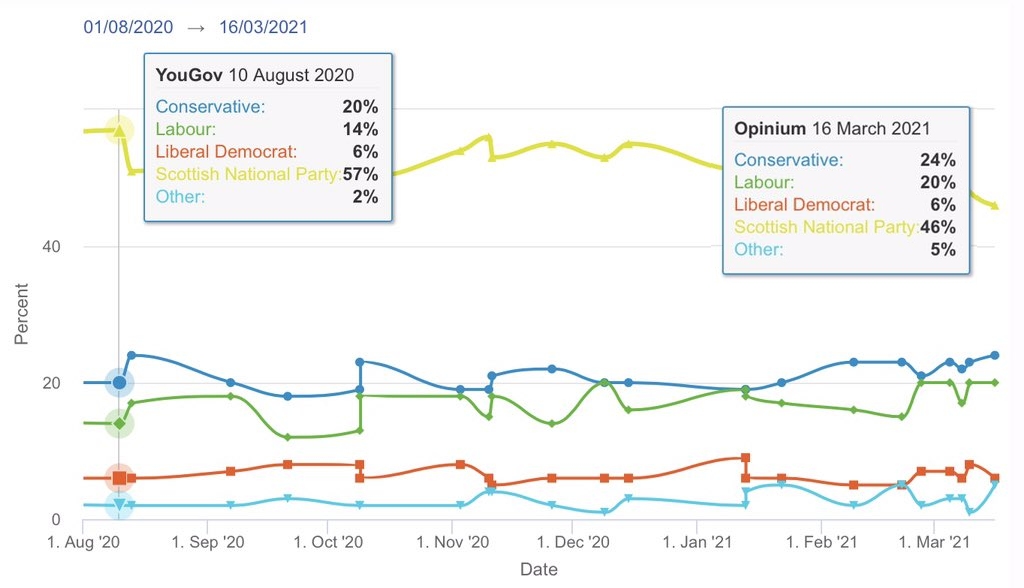 At that point the SNP had a 37-point lead over the Scottish Tories, and a breathtaking 43-point lead over Scottish Labour.
(Even as recently as mid-November, when the inquiry had failed to attract any serious public attention, the SNP's polling had barely been grazed, with those leads standing at 37 and 41 points respectively.)
Three days ago, before last night's bombshell revealing that even the almost-toothless Holyrood inquiry had found that the First Minister misled Parliament, those leads were down to 22 points and 26 points – huge drops of 15 and 17.
An SNP majority that had looked to be an absolute nailed-on certainty on constituency seats alone is now teetering on the brink – the most recent poll shows them falling short by one and relying on the Greens again.
More importantly, it suggests that the pro-Yes vote in the election will fall below the critical 50% required to provide a "moral" imperative for a new referendum. If a majority of Scots vote for Unionist parties then regardless of how seats may be allocated Boris Johnson will feel absolutely secure in refusing permission.
(The sane among us know that he will anyway, but it'll be an even easier sell if he can simply point to a majority of Unionist votes.)
The reason Kenny Farquharson is bigging up Nicola Sturgeon is because he wants her to stay where she is, and he wants that because he knows she's now absolute poison to any chance of a >50% Yes vote.
It would take quite the spectacular optimist to imagine that the news is going to get any better for Sturgeon in the next few days, and the last thing any Unionist wants is for the Yes movement to get a last-minute chance to regroup and reorganise.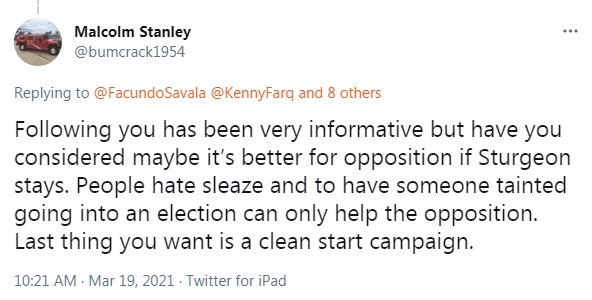 This site and others have been warning independence supporters for at least a year now that EXACTLY this scenario would play out. It suited almost everyone – opposition parties, Unionist media and an SNP leadership that has no remotely credible plan for independence, has no money to fight for it, and no desire to derail a very comfortable devolution gravy train anyway.
We've all had nothing but endless torrents of horrific abuse for our trouble. If it comes to pass the way it looks more and more likely to, we will be accepting precisely none of the blame. We told you until we were Saltire-blue in the face.
Your betrayer lives in Bute House, and the barely-concealed joy and celebrations of the Unionists at her continued survival are your evidence.