The furore over a declaration signed by a number of Scottish organisations which appears to clearly call for the age of sexual consent to be reduced to 10 continues today, with a couple of appallingly biased articles in the Scotsman and the Times which attempt to use the controversy to attack both the Alba Party (as a distraction from its powerful key manifesto release on women's rights) and this website.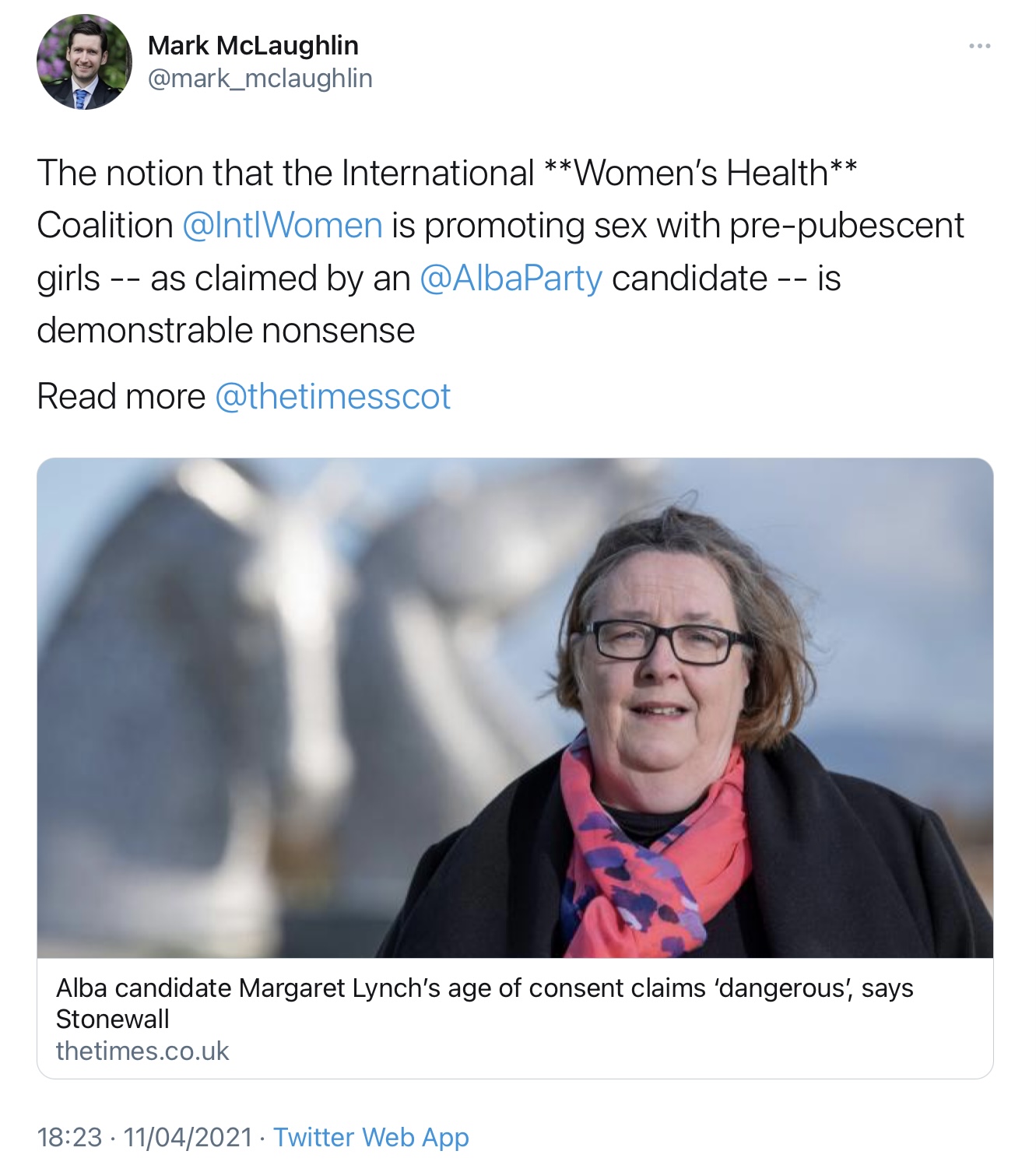 Even just the tweet above by the author of the Times piece fails all kinds of basic journalistic standards of impartiality, but the article itself is vastly worse.
At its core is a "clarification" of the declaration:

But that's an extremely disingenuous framing, because every known reputable organisation on Earth defines the starting point of adolescence as at or around 10 years old and ending at 19, and those are, in fact, numbers. But even taken at face value the line suggests that what the declaration is demanding is the decriminalisation of sex with people who are "in between childhood and adulthood", which is exactly what most people would have understood "adolescent" to mean in the first place.
Or in other words, calling for the legalisation of sex with people who aren't adults, which again is exactly what most people already understand by the word "paedophilia".
But then it got even weirder. Because unusually for a Scottish mainstream-media hack, McLaughlin has been engaging in social media debate on the article. Which is when this happened: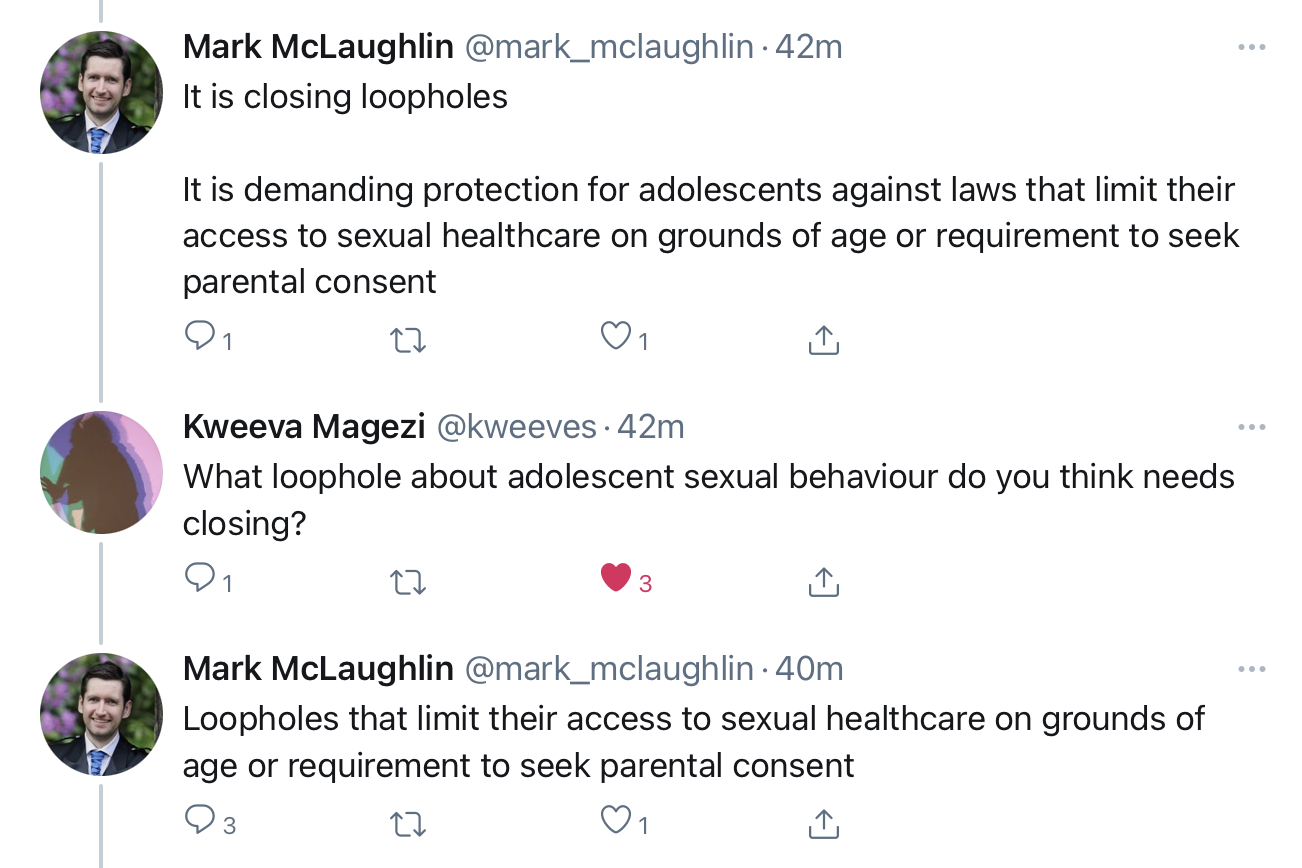 Which is a quite extraordinary interpretation of these words:
The declaration certainly does mention healthcare. But only as one of a list of things unambiguously including the right to "provide consent to sex". You don't need to have sex with someone to give them healthcare. To pretend that the contentious lines are ONLY about healthcare is a quite astonishing level of flagrant misinformation, and what Mark McLaughlin's motivation might be for doing that – and for defending it at such length – is quite beyond our imagining.
But as obviously absurd as it is, it's a line that's being widely punted by apologists, including by the co-chair of the extremely toxic Aberdeen Independence Movement.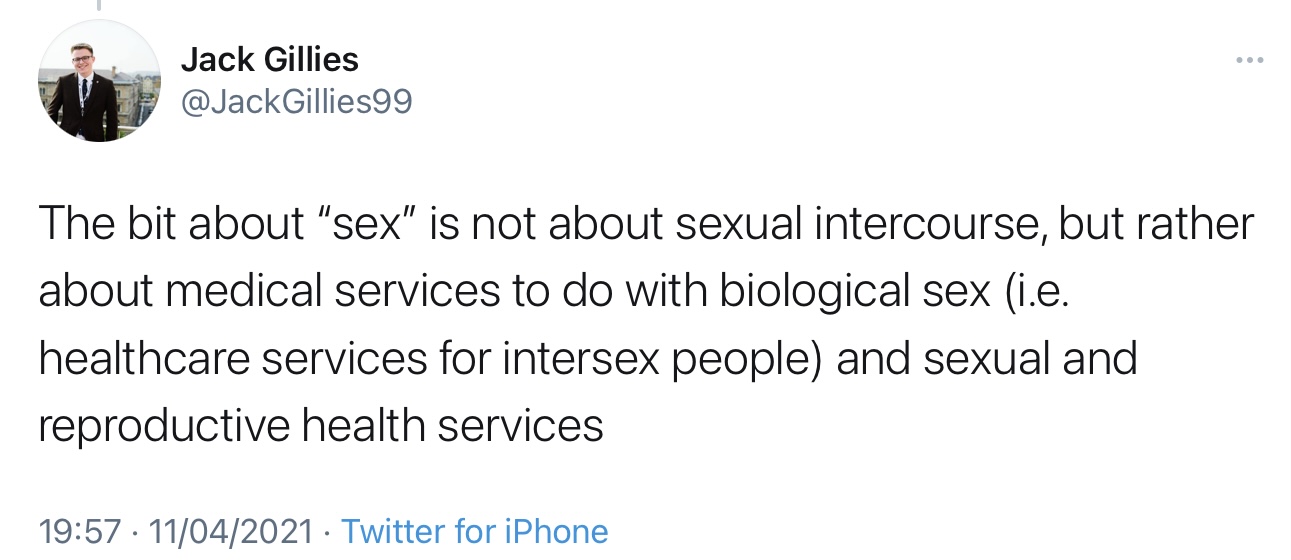 Gillies also, however, appeared to contradict himself in the same thread, when he stated that the object of the declaration WAS about the age of consent, specifically to allow adolescents to have sex with each other, which as our original piece noted would mean 19-year-olds being able to legally have sex with 10-year-olds.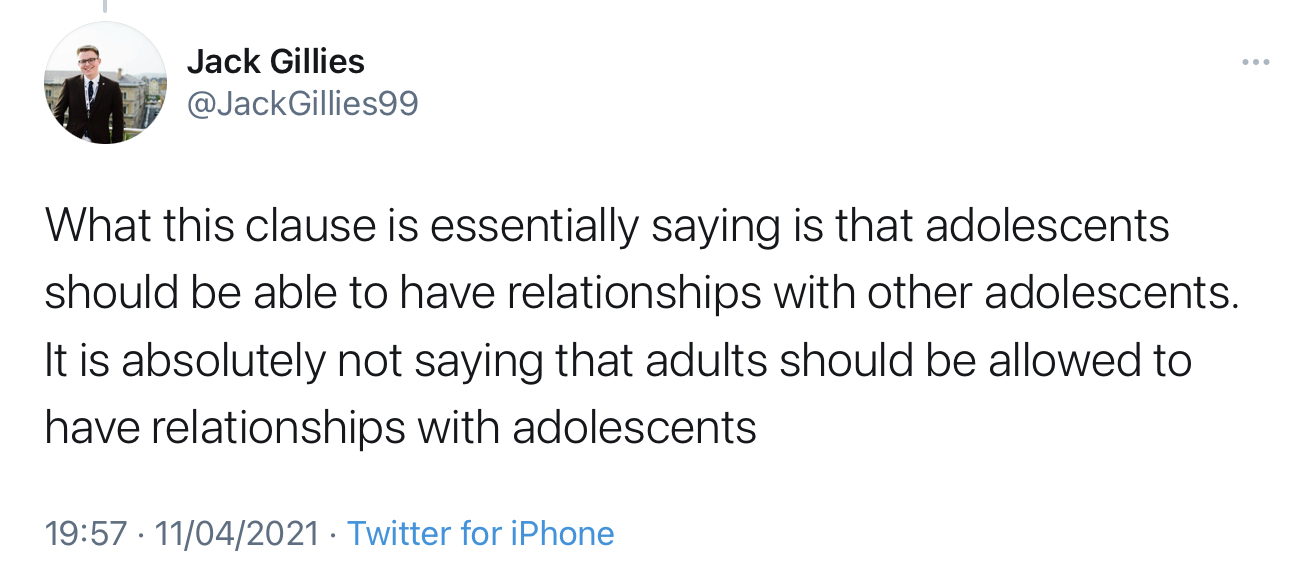 All that's required to definitively clear up the matter is for a journalist to ask the organisations who've signed the declaration to give a simple and direct answer to this question, which is entirely quoted from it:
"Do you or do you not wish to eliminate all laws and policies which limit the legal capacity of adolescents to consent to sex?"
(To which the obvious follow-up, were they to answer "No", would be "Then why have you signed up to a document that says you do?")
To furiously wriggle and squirm and evade making such a straightforward clarification, and embark instead on a slew of hysterically-worded attacks on the people asking the question (as has been happening all weekend), is deeply, deeply suspicious, as is the failure of supposed professional journalists to ask that question.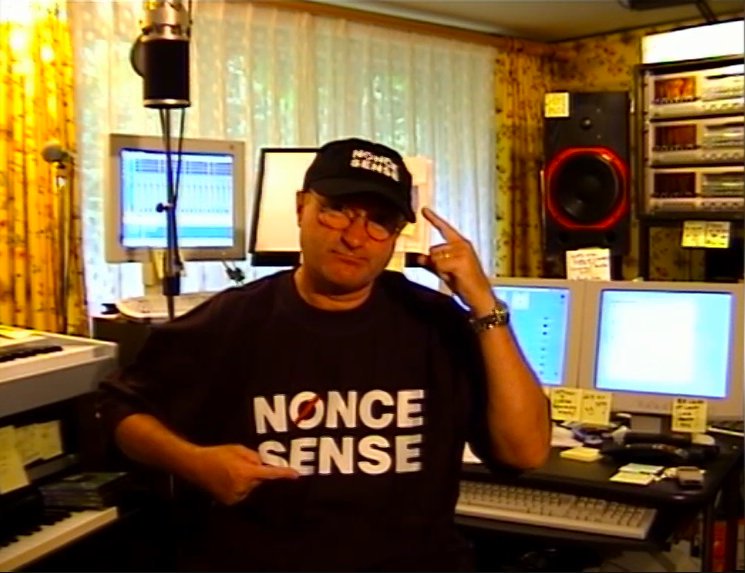 It's popular these days to call such behaviour "gaslighting", a horrible and non-intuitive word this site is on record as loathing. So we'll use a term that's a bit earthier but a lot more self-explanatory: pissing on your shoes and telling you it's raining.