When we commissioned our latest poll, the candidates for the Scottish Labour sort-of leadership hadn't yet been finalised. In fact, we're not even sure whether the post of deputy "leader" was up for grabs at that point, with Anas Sarwar having said that he had no intention of stepping down, shortly before stepping down.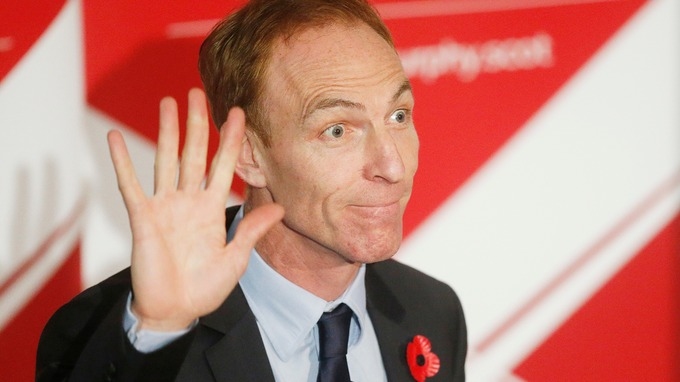 But in any event we thought it'd be much more interesting to see who people actually thought should be the leader, rather than just who they regarded as the least-worst option out of whoever put their head above the parapet and took on the least attractive job prospect in Scottish politics.
So we picked the ten most prominent serving Scottish Labour MPs and MSPs we could think of (as well as anyone we expected to run), and asked respondents to pick who they think was best for the job regardless of whether they were actually standing or not. And the results made for fascinating reading.
BEST LEADER FOR SCOTTISH LABOUR (all voters)
Don't know/don't care: 45%
Jim Murphy: 18%
Gordon Brown: 18%
Alistair Darling: 4%
Someone not listed here: 3%
Sarah Boyack: 2%
Neil Findlay: 2%
Douglas Alexander: 2%
Kezia Dugdale: 2%
Anas Sarwar: 2%
Margaret Curran: <1%
Ian Davidson: <1%
Ouch. Two of the actual candidates for leader and one of the two candidates for deputy scored lower than "someone else", and the joint favourite is someone who isn't standing, with well under half the vote of "Don't know/don't care".
Of course, that's a little unfair as it includes voters of rival parties, so let's only ask those who voted for Labour in the 2011 Holyrood election:
BEST LEADER FOR SCOTTISH LABOUR (Labour voters only)
Gordon Brown: 29%
Jim Murphy: 28%
Don't know/don't care: 28%
Alistair Darling: 4%
Someone not listed here: 2%
Kezia Dugdale: 2%
Neil Findlay: 2%
Douglas Alexander: 2%
Ian Davidson: 1%
Anas Sarwar: 1%
Margaret Curran: <1%
Sarah Boyack: <1%
Wow. It can't be a healthy sign for a political pseudo-party when the two most favoured candidates for the leader's job only just manage to outpoll "Don't know/don't care" among its own voters, and when that latter option gets at least FOURTEEN TIMES as many votes as anyone else who's actually standing.
But what's interesting about those two lists is that Jim Murphy tops the first one because he's the preference of SNP and (particularly) Tory voters, rather than Labour ones. Murphy is backed by 29% of Tories, over 24% who choose Gordon Brown, and the SNP's voters plump for Murphy by 14% to 12%.
There's also a significant gender gap for Murphy. Only one other candidate has more than a 2% difference between the percentage of women and men who prefer them (though admittedly most of them struggle to get 2% at all), but 23% of all male voters choose Murphy over just 14% of women. Brown's gender gap is just 2%.
Both are most popular with older voters – Murphy's strongest demographic is men over 55, whereas Brown scores highest among women over 55. Young women in particular really seem to dislike the East Renfrewshire MP – he's preferred by 26% of men over 55 but just 8% of female voters aged 18-34, whereas Brown's support is much more evenly spread at a high of 23% (old women) and a low of 16% (old men).
(Curiously, the candidate with the second-biggest discrepancy between the sexes is Kezia Dugdale, and not in the way readers might expect – she also does very poorly with women, with almost 80% of her backers being male. Given her miniscule overall support, though, those numbers are based on a very small sample.)
Finally, it's basically a dead heat regardless of whether Yes or No voters are polled. Brown edges Yes voters by 12% to 11%, whereas Murphy reverses the margin by taking 25% of No voters to Brown's 24%.
These figures suggest that our scepticism about the easy Murphy victory most of the press is predicting may be misplaced. Murphy already has the parliamentary third of the Scottish Labour electoral college pretty well sewn up, and on this evidence he's going to run away with the grassroots vote too, making Neil Findlay's strong backing from trade unions irrelevant. And poor Sarah Boyack, bottom of the lot with just ONE vote out of 251, may as well save herself the bus fare to any hustings.
What we can say for sure, though, is that whoever's leading Scottish Labour at Christmas will be the first choice of, at the very most, just over a quarter of the party's rank-and-file membership, and in a race with only three runners that's some way short of a resounding seal of approval to unite a party in turmoil with.