Here's a picture of Jim Murphy campaigning for a No vote a few weeks ago.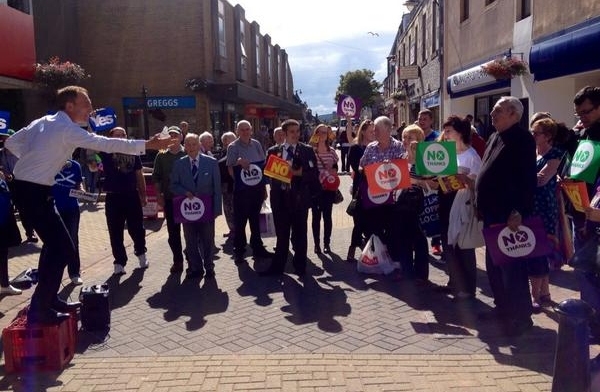 Except it isn't, is it?
Alert readers will have noticed that almost every single person in the shot above, taken from Murphy's tour of 100 street corners on an Irn-Bru crate, is already holding a No Thanks placard. It's the literal definition of preaching to the converted, and even with the combined strength of Labour, the Tory and Lib Dem activists from the "Better Together" campaign to draw on he's struggled to pull a crowd of a dozen people.
We know the story was the same all over Scotland (until some idiot hit him with an egg and unleashed a massive media blitz that lasted several days). Discounting party workers paid to be there and often shuttled to several "events" in succession, the East Renfrewshire MP was speaking to audiences in single figures.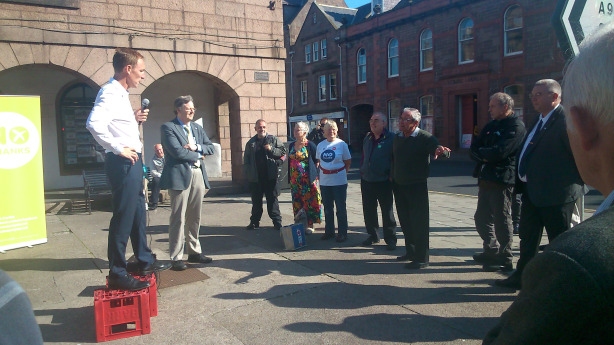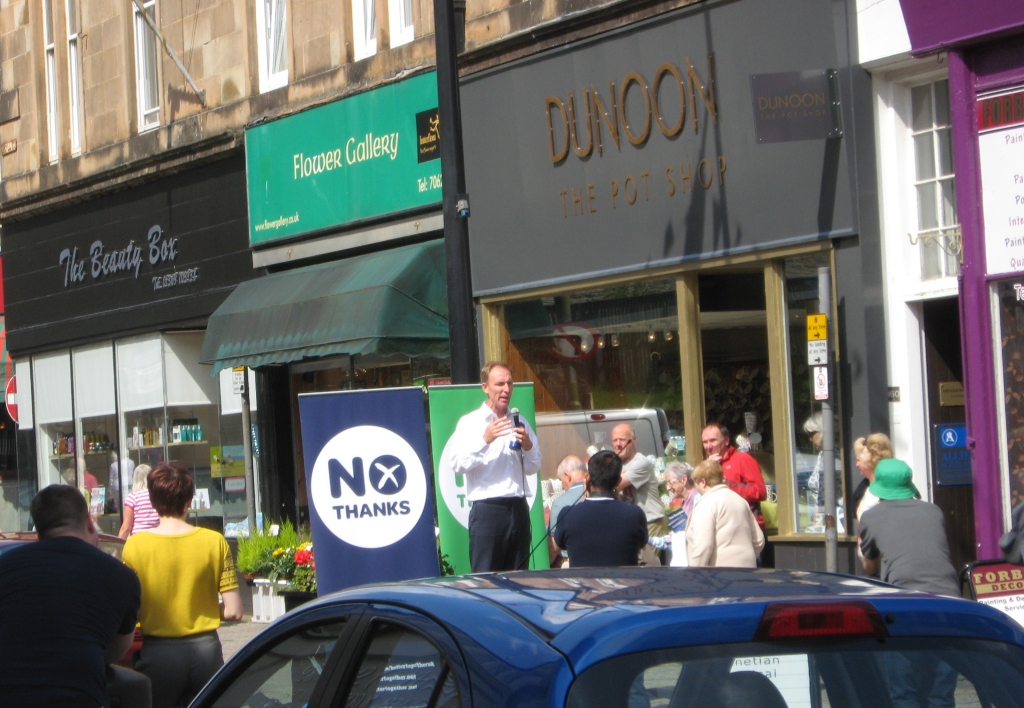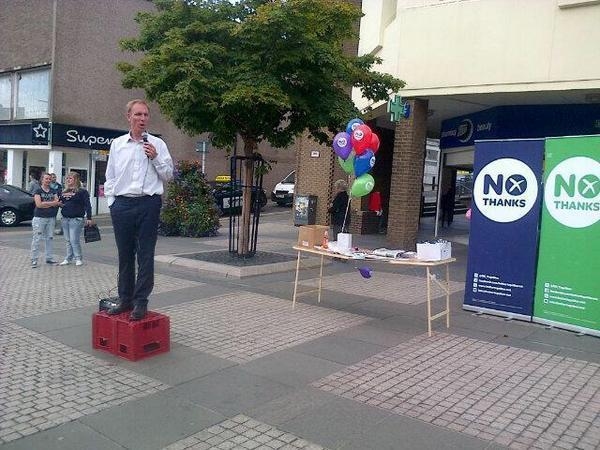 It's not exactly box-office. Anthea Turner would have been embarrassed to pull so few punters. And yet to read the Scottish media this morning, you'd think that Murphy's coronation as the new pseudo-leader of Scottish Labour was a mere formality.
Former Labour adviser Catherine McLeod coos all over him in this morning's Herald, dismissing opponents Sarah Boyack and Neil Findlay with "both have strengths but few can imagine them surviving the heat of First Minister's Questions" – apparently unaware that Murphy wouldn't be able to appear at FMQs at all for at least 18 months.
(Unless a tame MSP could be persuaded to stand down and trigger a by-election, of course, which would be a strategy fraught with enormous risk. Murphy's no gambler, which we suspect is why he waited to declare his intent until there were at least two other candidates standing to split the "not-Murphy" vote.)
But while we're no experts on the internal turmoil of Scottish Labour, we're not at all sure we can see such an easy path to victory as most of the press and broadcast media. Murphy inhabits the extreme right wing of Labour – he sits alongside the likes of Tom Harris, a similarly sneery, abrasive Nat-basher who stood against Johann Lamont in 2011 and was roundly thrashed, securing less than 8% of the vote.
Scottish Labour still chooses its leader through an "electoral college", with the vote split into three equal parts comprising rank-and-file members, elected representatives (MPs, MSPs and MEPs), and affiliated trade unions. And we're having some trouble working out which of those Murphy could expect a lot of votes from.
The unions seem to offer slim pickings – they're widely expected to heavily back the left-wing candidate Neil Findlay. And we're not convinced that Labour's rank-and-file are going to be super-keen on a pro-Trident, anti-Palestine, pro-war Blairite like Murphy – they certainly didn't turn out in their thousands for his tour, and he doesn't cut a likely figure as the man to win back the swathes of working-class Labour voters in places like Glasgow who voted Yes in the independence referendum.
That only leaves the M/S/EP group, and as a long-running factional war seethes between the party's Holyrood and Westminster representatives it seems a stretch to imagine a great deal of MSP support for bringing about a situation where both Scottish Labour's leader and deputy would be male Westminster MPs. Nicola Sturgeon, we're certain, would be delighted to spend every FMQ right up to the 2016 Holyrood election mocking the fact that whoever was facing her was, at the very best, Labour's THIRD-choice frontperson.
Even in the London redoubt there's some pretty public distaste for Murphy among the party's old guard. So while Findlay should be able to count on the left and Boyack occupies the favourable centre ground, for Murphy to get elected seems to be reliant on a very sizeable proportion of Scottish Labour's remaining grassroots members being a lot more right-wing than most observers imagine.
The only other factor that could work in his favour is if the media succeed in painting him as "the man the SNP are afraid of", winning over both rank-and-file and Holyrood support (and probably pointing to articles like this one). But frankly, if we were the SNP we'd be praying he won, and we're not sure anyone's going to swallow that line no matter how hard the Scotsman or the Spectator pushes it.
(Indeed, one could reasonably argue that a Scottish Labour leadership candidate needs the backing of the Spectator like they need an anvil dropped on their heads.)
The battle to save the soul of Scottish Labour has six weeks to run. There may yet be more players, although we'd be surprised if anyone else joined the fray now. In this site's view Sarah Boyack remains the only sane choice, as we noted way back on Saturday morning when not a single other pundit was mentioning her name – both Findlay and Murphy, for different reasons, will only amplify the destructive tensions between Labour in Holyrood and Westminster, not soothe them.
But Scottish Labour has been a stranger to sanity for a long time now. Only time will tell if it regains its senses and turns back from the abyss, or whether it charges headlong and irretrievably into it, enraged by the shadow of the SNP on its walls.