Alert social-media users couldn't have failed to notice Unionist activists and hacks working themselves up into a very great lather last night over (currently former) SNP MP Michelle Thomson. The ex-director of Business For Scotland has resigned the party whip and is now sitting, at least temporarily, as an independent while police conduct an investigation into some property purchases in which she was involved.
As yet no criminal activity by anyone has been alleged, and Police Scotland has said that it has no plans at the moment to even interview Ms Thomson, let alone arrest or charge her. As yet it's a political non-story.
But the mere proximity of the member for Edinburgh West – previously the victim of a smear related to the Ashley Madison website hacking – to even a sniff of impropriety has triggered a paroxysm amongst the media and the beleagured opposition.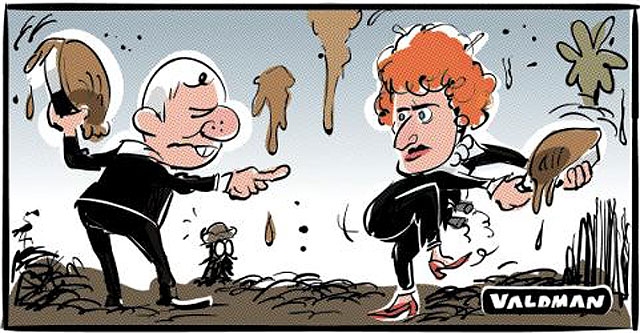 Amusingly, some senior journalists have even tweeted an accusatory blog written by Labour activist and regular BBC pundit Ian Smart, whose own membership of the Labour Party remains a subject of uncertainty after a series of abusive incidents – Scottish Labour have persistently refused to confirm whether he's been expelled, despite having been "investigating" him since April.
But that's not the most interesting piece of hypocrisy on show.
The Herald's coverage notes that one of the transactions under investigation is one where a pensioner, Sarah Capper, "sold her home in Stirling to former journalist and business partner of Ms Thomson, Frank Gilbride, for £64,000 in 2010. Ms Thomson bought the property for £95,000 the same day, and received a 'cashback' of £28,181.80 from Mr Gilbride."
The Express also runs an innuendo-laden piece on the allegations, but neglects to mention Mrs Capper's story, which is slightly curious as it's been the most prominent in most of the reporting on the story because Mrs Capper is distinctly disgruntled by the circumstances around the sale of her house.
We can only speculate as to why the Express has left this juicy detail out. But we're almost certain that it's NOT because the Frank Gilbride mentioned by the Herald (who runs a media agency and whose CV notes that "My other professional interests lie in property. I once helped investors source good value property to add to their portfolio but now manage property portfolios") by chance happens to be the brother of the Express' long-serving Scottish political reporter Paul Gilbride.
We are, of course, not alleging any sort of improper conduct by either man. Unlike some people, we prefer to wait for the law to run its course before we judge anyone.
But when engaged in the generally unseemly and desperate practice of attempting to prove guilt by association, we'd perhaps point out that both political parties and the press might be advised to be mindful of how close they're standing to the fan when they're busy hurling a certain product at it.