Alert readers may recall some articles last August in which we highlighted the total pig's breakfast Scotland's media had made of reporting ScotRail punctuality figures, centred around mistaking the "on time" figures (trains arriving within 59 seconds of their scheduled time, ie at the advertised minute) for the "PPM" figures (trains arriving within five minutes) which are the basis of official punctuality targets.
Several newspapers, including the Herald, Courier, Daily Record and Daily Mail, had to publish corrections after our articles, so we can be pretty sure they won't have made that mistake again with the latest stats.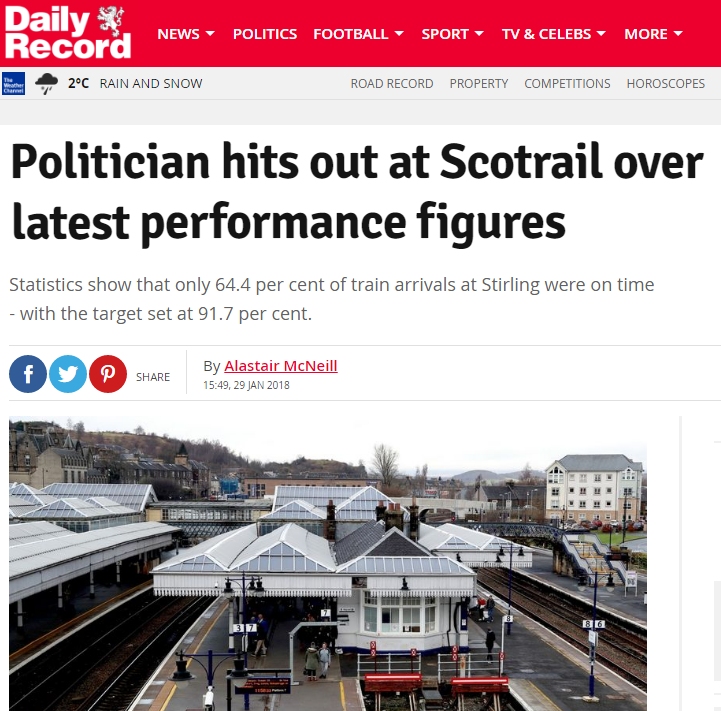 Can't we?
A Daily Record piece today starts by reeling off a list of terrible PPM target failures for trains in the Stirling area "in recent months".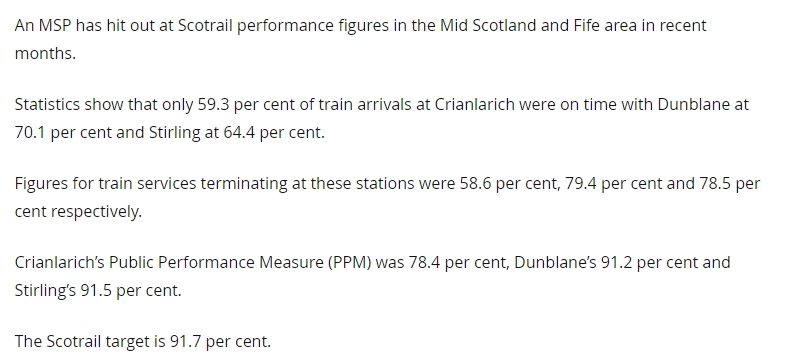 But the problem – yet again – is that those AREN'T the PPM figures. The most recent ones published by ScotRail for the stations cited in the article, as always in the form of a 12-month rolling average, are:
Crianlarich: 78.4% (not 59.3%)
Dunblane: 91.2% (not 70.1%)
Stirling: 91.5% (not 64.4%)
So just some idiot hack who doesn't know what they're talking about? Nope. The very next paragraph shows that the Record IS aware of the difference between "on time" and PPM, but has mixed them up anyway.
Which means that while the Record's headline covers itself by blaming it all on an idiot Tory MSP, the strapline – "Statistics show that only 64.4 per cent of train arrivals at Stirling were on time – with the target set at 91.7 per cent" – is a deliberate flat-out lie.
That's because the 64.4% figure has absolutely no relationship to the 91.7% target. They are completely different measures. For the 91.7% target, the figure actually achieved was 91.5%.
Of course, falling short of your target by 0.2% doesn't make much of a story. So even when you know you're lying to your readers, you can spice the story up by giving them the wrong stats, knowing that you'll get away with a tiny correction later in the week that nobody will notice, and readers will be successfully given a false impression of a rail service doing a lot worse than it really is, and which is in fact the best-performing anywhere in the UK.
But we should give the Scottish media credit for one thing, we suppose – it delivers misleading, inaccurate stories about rail punctuality (and apologies for them) with a flawless regularity and reliability that ScotRail could only dream of.