Earlier today we reported on the mysterious failure of the Herald to notice that its front page lead story about supposedly poor ScotRail punctuality figures made a number of serious errors with regard to the facts, most notably confusing the excellent figures for last month with a 12-month rolling average which was significantly worse.
But as we read the rest of the papers, we noticed the oddest thing.
Because every single one that reported the story made the exact same mistake.
It wasn't like it was difficult to spot which period the figures – which were published openly on the ScotRail website – referred to. The word "Annual" was in big purple text right at the top of the table.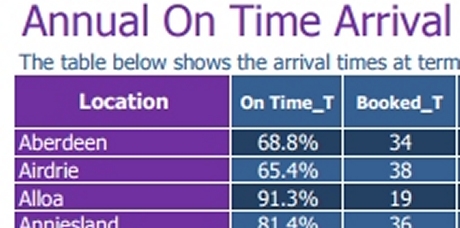 And immediately below that the measured criteria were explained even more clearly.
Yet bizarrely, when the Daily Record investigated the story in its prime page 2 politics slot, it missed both of the data stipulations, falsely reporting that 43 of Scotland's 73 terminal stations had missed the PPM target "last month":
Amazingly, the Courier, which also made the news its front page lead, did the same:
Somehow the paper's political reporter also managed to misread "Annual" and "rolling 12-month average" as "July". And it just kept getting spookier.
Because the Scottish Daily Mail (page 3) suffered the curious visual impairment too, also attributing the stats to "last month":
Remarkably, FOUR completely different, independent Scottish political journalists had all inexplicably managed to seriously misunderstand a very straightforward chart in completely identical ways. They hadn't taken it from a newswire – they were all original articles – yet all made the same basic error. And all of their reports featured extensive "SNP BAD" quotes from Scottish Labour list MSP and transport spokesman Neil Bibby (pictured below pulling his very cleverest expression).
It was almost as if, cynical readers could be forgiven for thinking, Bibby was too dim to understand the table but had written it up anyway as a press release, sent it to all the papers and they'd all rewritten it and published it as their own self-penned truth without even the most cursory of checks to see if it was total thicko cobblers or not.
We're sure there's another explanation, though.