We're STILL officially on holiday, readers, and that means that for the last four months we've barely watched the news or looked at a newspaper, because who wants to be depressed by being lied to by a never-ending parade of scumbags when they're on holiday? Not us, and we'll tell you that for nothing.
So we're grateful to alert readers who still point us to stuff like this.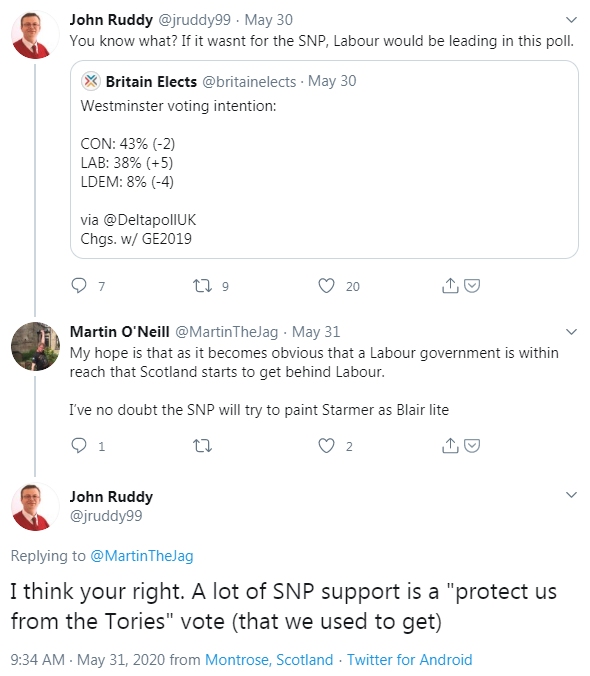 EIGHT YEARS since Scottish Labour got into bed with the Tories to ensure the Tories kept ruling Scotland, and they still haven't grasped why they don't get the "protect us from the Tories" vote any more. Honestly, folks, if it wasn't so tragic it'd be hilarious.
Because the inconvenient reality is that Scotland DOES still remember the thing that a Scottish Labour activist urged it to keep in mind just a few weeks after the Brexit vote: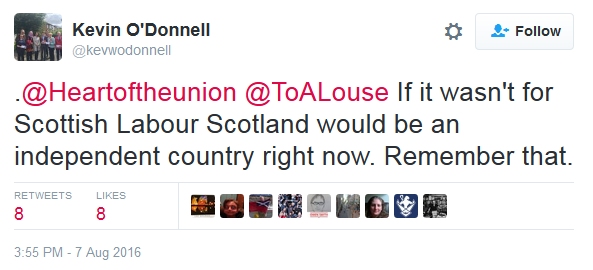 Indeed it would. It would also still be in the European Union, and it wouldn't be entering a second decade of Tory rule. (It's now more than 10 years since David Cameron walked into 10 Downing Street and basically set everything in the country on fire.) It sure is a mystery why people aren't more grateful to Scottish Labour, eh?
And a third decade of Tory rule is highly likely too, because the current government has almost five full years to run, and Labour would need the biggest swing in its history to prevent it from securing another five years after that (breaking the all-time record for continuous Tory governments, the 18 years from 1979-1997).
We were helpfully reminded of that fact by a truly demented interview in the weekend's Herald On Sunday with Labour's sole surviving Scottish MP (again), Ian Murray.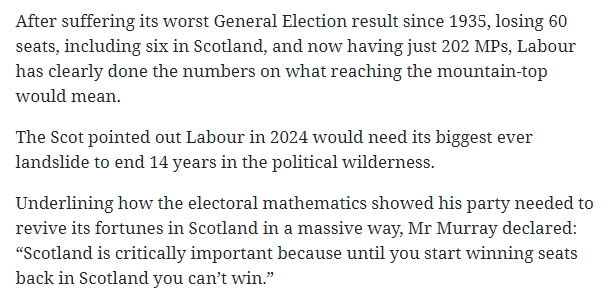 It's now more than eight years since this website comprehensively shattered the absolute lie in the last of those paragraphs. Labour does NOT need, and has NEVER needed, Scottish seats to win a UK election. Tony Blair is the only Labour leader to have won a UK general election in the last 46 years, and every single one of his administrations would have had a comfortable majority if Scotland was independent and sent no MPs at all to Westminster.
1997
Actual majority: 179
Majority without Scotland: 139
2001
Actual majority: 167
Majority without Scotland: 127
2005
Actual majority: 66
Majority without Scotland: 43
Indeed, in 1997 and 2001 Labour would have had a large UK majority (of 67 and 55 seats respectively) even if Scotland was still part of the UK and every single seat in it had been won by the Tories.
So it's quite bold of Murray to still be trying to punt that ridiculous and easily-disproven falsehood after all these years. The fact is that if Labour wins England it wins the UK, and Scotland has never made any meaningful difference to a UK election outcome – hardly surprising when England provides 82% of MPs and Scotland just 9%.
But it's far from the most jaw-dropping line in the interview.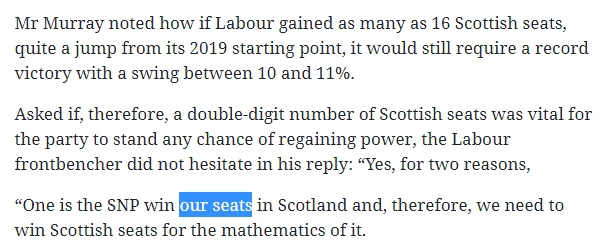 "Our seats". Wow. That's the same overweening, oblivious entitlement that we saw oozing from John Ruddy's tweet at the top of this piece. Three absolute thrashings in a row, in which Scottish Labour have returned a total of NINE Scottish MPs compared to 138 in the previous three elections, has done nothing to dent it.
It still thinks Scotland is its property – even though the most recent Westminster poll put it THIRTY-SIX points behind the SNP and 10 behind the Tories – and it still thinks Scotland has a duty to vote Labour to get the Tories out for England's benefit, rather than to vote for what Scotland actually wants for itself.
Murray went on to completely rubbish the idea that Scottish Parliament elections counted for anything at all. Were the SNP to secure a majority in 2021 on a platform of a second independence referendum, Murray insisted that it would be meaningless and irrelevant until the UK election three years later.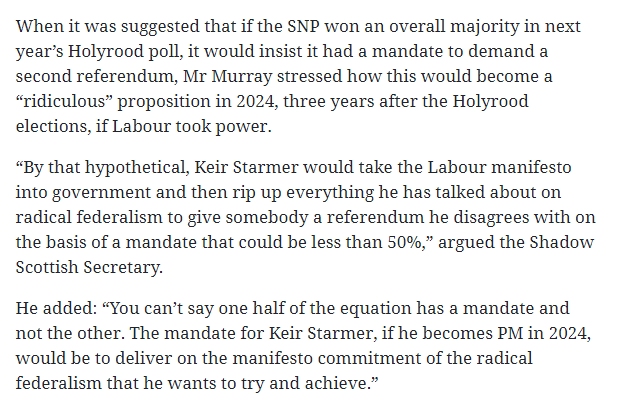 "You can't say one half of the equation has a mandate and not the other"? Um, that's exactly what you ARE doing, Ian. You're saying Starmer's victory would be a mandate but the SNP's wouldn't, you great twit.
But what that actually means is that Scottish elections are meaningless and irrelevant forever. Because Murray's argument is "If Scotland votes for a second referendum in 2021, and then Labour wins at Westminster three years later, there'll be no referendum. But if the Tories win, there'll also be no referendum. And the SNP can't get a majority at Westminster, so there's nothing the people of Scotland can ever vote for peacefully and democratically that will get them a referendum".
We already knew that, of course. And we knew what it meant, from Murray himself:

We'll gloss quickly over Murray's unambiguous and alarming implication that only an armed revolution therefore offers Scotland a route to its independence, and instead muse on whether "vote for us and we guarantee that you'll never get democracy as long as you live, because you can't be trusted to vote Labour like you're supposed to" is really the surefire election-winning slogan Ian Murray appears to imagine it to be.
Because it seems to us that there's a rather obvious logical flaw in it.