So, the wait is over. Two full years after announcing the setup of its "Devolution Commission" (comprising three MPs, three MSPs, one MEP, a pair of general-purpose office wonks and one increasingly-unhinged councillor), this morning Scottish Labour unveiled its final report, strikingly clad in the flag of, er, Shetland.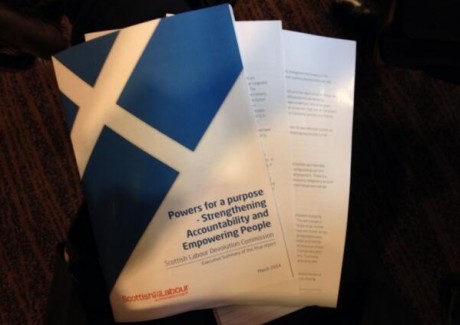 As we write, only the executive summary has been made available – a slim 14 pages including the preamble, reasoning and recommendations. These are our observations.
—————————————————————————————————————
1. Most glaringly, throughout the report there's no reference whatsoever to the UK Labour Party – which would be solely responsible for actually implementing the recommendations – committing itself to the findings. There is no pledge that the report will form part of Labour's 2015 election manifesto.
—————————————————————————————————————
2. The foreword contains the following paragraph:
"It was never the intention of devolution to devolve power to the Scottish Parliament, only to see it accumulate powers upwards. This has got lost in the mists of a political debate dominated by the issue of separation. Empowering communities means trusting people, and we set out in this report what I believe is an ambitious agenda for reinvigorating local democracy"
We're not sure what any of that means. How can the Scottish Parliament "accumulate powers upwards" if those powers were devolved to it in the first place?
But it's interesting to see that the core aim of the document is to "reinvigorate" local democracy. We noted in 2012 what we think that implies – Labour is convinced it can't win another Holyrood election for the forseeable future, so it aims to bypass Holyrood altogether and divert power to councils, where Labour still has a stronger presence.
—————————————————————————————————————
2(a). The foreword also contains this line:
"It is clear that the Scottish people do not want independence, and I firmly believe this will be proven – once and for all – in the referendum later this year."
If you only believe it will happen, then it can't yet be clear, you halfwit. How this woman was ever allowed to teach English to our children ought to be the subject of some sort of inquiry.
—————————————————————————————————————
3. The opening section claims the UK "is founded on a moral purpose – that no matter where you reside and what your background is, every citizen enjoys the dignity of not just equal civil and political rights, but the same basic social and economic rights."
This, of course, is plainly and demonstrably tommyrot. UK citizens do NOT all have the same "civil, political, social and economic rights". Those resident in Scotland, for example, are entitled to free prescriptions, university tuition and personal care in old age. Citizens of England do not share those rights.
Whether this is merely fatuous writing or a signal that Labour proposes to standardise English policy across the UK as part of its "One Nation" platform, we can't say. But as Johann Lamont only days ago insisted that she wasn't backing down on her anti-universalism message from 2012, evidence seems to point towards the latter.
"The Labour MSP for Glasgow Pollok insisted she would not move away from the 'something for nothing' stance she set out when launching the potential shake-up of Labour's policy on public services 18 months ago."
—————————————————————————————————————
4. The next passage of note is this:
"We take the view that the preference should be for home rule for Scotland, and that the Scottish Parliament ought to be funded by an appropriate balance of shared UK taxes, which give effect to social solidarity, and its own tax resources, to empower it and strengthen its accountability."
(We apologise, and our apology stands for the entire duration of this article, if readers are sent into a coma by the outpourings of vacuous, bloated and near-impenetrable wonkspeak contained in the report.)
Being responsible for collecting its own taxes may indeed increase a government's accountability, but it does not "empower" it, if said taxes only replace monies that it used to be given anyway. It's a bit like a child reaching the age where it's no longer just handed some pocket money, but is expected to go out and get a paper round in order to receive the exact same amount.
This is another premise we've been discussing in detail on this site for some time. "Responsibilities" and "powers" are not interchangeable terms. It's no good raising your own money if you still don't decide what you get to spend it on.
—————————————————————————————————————
5. We then come to the key section of the report.
Quite openly, the paper notes that Scotland cannot be allowed control of "financial and economic matters". We're not sure that needs any further elaboration from us. Scots cannot seek to enhance their own economy, and must rely on London to do it for the whole UK, and then trust it to share the proceeds equitably.
A whole raft of other areas are then similarly locked away, all the way from foreign affairs and welfare right down to lotteries and broadcasting. Readers of the list might be forgiven for wondering what of any value was left.
—————————————————————————————————————
6. But almost immediately we get to find out.
"The Scottish Parliament is a permanent feature of the UK constitution and that legal provision should be made to reflect the political reality that the Scottish Parliament is indissoluble and permanently entrenched in the UK constitution.

We also recommend that the 'Sewel convention' should be given a statutory basis. This should be enshrined in law to give effect to the convention that the UK Parliament regards the right of the Scottish Parliament to legislate for the matters it properly controls, and that its powers cannot be changed without its consent. "
This entire passage is meaningless. One of the most fundamental principles of the UK's system of government is that no administration can ever bind the hands of its successors. Labour could certainly pass laws to the effect of the quoted paragraphs, but any government which followed it could rip them up just as easily.
—————————————————————————————————————
7. But there's more!
"In addition, the Scottish Parliament should have administrative control over its own electoral system, as it has for Scottish local government elections, with the UK Parliament remaining responsible for UK General Elections and European Elections."
Try to contain your excitement, readers.
—————————————————————————————————————
8. Now for the explosive part.
"Partnership arrangements between Parliaments and Governments whose responsibilities will inevitably overlap should be established, so that they work together for the common good, safeguarding civil and political rights, and promoting social and economic rights such as welfare and full employment. 

There is a strong case for giving partnership arrangements a legal existence, in the form of statutory obligations on both administrations to co-operate in the public interest, or through the creation of a formal Intergovernmental Council or its equivalent with the duty to hold regular meetings. "
We're not sure, but we think that was the exact rallying cry of the French Revolution.
—————————————————————————————————————
9. What the Scottish media will have to try to sell as the thrilling new powers Labour will be offering in return for a No vote in the referendum comes next.
"There is scope to enhance the autonomy and accountability of the Scottish Parliament through an extension of tax powers."
Jolly good.
"Labour will give the Scottish Parliament the power to raise around £2 billion more in revenues beyond the recent Scotland Act, so that it raises about 40 per cent of its budget from its own resources."
This is an intriguing sentence. We don't think it could have been possible to phrase any proposal any more muddily, to obscure its true meaning any more effectively from voters. We can only assume it to have been done deliberately.
How many Scots would know, were you to stop them in the street and ask, how much in revenue was to be raised via the bewilderingly complex tax functions of the Scotland Act 2012, which haven't yet come into effect? We suspect almost none, and £2 billion is a totally pointless figure when robbed of that context. If you raise £20bn, another £2bn is a pretty trivial change. If it's £1bn, adding £2bn on top is a big deal.
The use of the phrase "the power to raise around £2bn more in revenues" is deeply misleading in any event. It suggests the Scottish Government having £2bn more in its coffers, when in fact by default its budget will be exactly the same – the "extra" £2bn is merely a replacement for £2bn in block grant from Westminster which Labour proposes to do away with. But more on that shortly.
—————————————————————————————————————
10. But then there's a weird bit.
"We will also introduce new Scottish Progressive Rates of Income Tax, so that the Scottish Parliament can increase the rates of tax in the higher and additional bands. For the first time, the Scottish Parliament will be able to alter both the level of tax and the progressivity of the tax system, but without the risk that a Scottish Government could force tax competition within the UK by cutting only the top rates, to the detriment of public services."
When we heard that in early news reports, we assumed the journalists in question must have misunderstood something, but there it is in black and white. Labour proposes, apparently with the expectation of being taken seriously by intelligent humans, that the Scottish Government will be able to INCREASE the top rate of tax without increasing lower bands, but NOT to then reverse the move.
In practice, what that means is that governments will never increase the top rate, because they'll be tying their own hands and creating a massive hostage to fortune if the policy leads to the creation of "tax refugees" as rich people hastily move to Newcastle to pay less tax.
—————————————————————————————————————
11. And of course, it's all nonsense anyway.
"Labour in the Scottish Parliament would be able to use these powers if a UK Government did not set fair taxes at these levels."
In other words, these powers will only come into effect if there's a Labour UK government, at which point there'd be no need for them because that government would be imposing the new rates across the whole UK. And if there wasn't a Labour government, the Tories would never give such powers to Holyrood. (Or would repeal them the moment they got elected.)
But as well as being pointless, idiotic and unworkable in practice, the proposal is absurdly and obviously undemocratic. What if Scotland elected a party who stood on a manifesto of cutting the top rate of tax (as Labour itself has done several times)? That party would be prevented from enacting something it had a democratic mandate for.
Labour, in short, is trying to enshrine its own ideology as a permanent article of constitution, ensuring that it effectively dictates policy even when it loses elections.
It's an embarrassing, juvenile, utterly inconceivable notion. The entire idea is a total waste of time, a trompe-l'oeil for the brainless and gullible. So expect to see it screamed like the Ten Commandments from every newspaper in Scotland tomorrow.
—————————————————————————————————————
12. Now for the sucker punch.
"The Barnett formula should remain as the funding mechanism for public services in Scotland. Under our proposal, as is the case under the Scotland Act, the Barnett grant will be reduced to take account of the fact that the Scottish Parliament will have a revenue stream of its own."
Sounds fair and harmless, right? But wait. Labour and the other No parties never tire of reminding us that through Barnett, Scotland gets more than its "fair share" of UK public spending. (For the purposes of this article we'll ignore the fact that that's a huge distortion of the reality.)
What that asymmetry means is that if you cut Barnett funding by half, you have to MORE than double the corresponding Scottish revenue stream to make up the shortfall. That means higher taxes (or spending cuts) in Scotland, and more money for England, as we've been telling you on Wings for almost a year now.
—————————————————————————————————————
13. And to soften the blow, the biggest attempted bribe:
"We are in favour of devolving Housing Benefit. This is the largest single benefit paid in Scotland after the state pension – amounting to £1.7 billion a year. We will use this power to abolish the Bedroom Tax, ensure secure funding for the provision of social housing and reduce abuse by unscrupulous private landlords."
As with the one-way tax-varying powers, this is an entirely hollow pledge. If a Labour government is elected in 2015 they've promised to abolish the Bedroom Tax across the entire UK anyway, and if a Conservative one is elected then Holyrood won't be getting the power, so devolving it makes absolutely no difference to anything.
(In any case, devolving Housing Benefit by itself does nothing to address the CAUSE of the problem. Without control of economic and legislative levers – eg increasing the minimum wage or imposing rent controls – the housing benefit bill will continue to soar, and all the Scottish Government will be able to do is rob other public services in order to mitigate the effects, as it's having to do now with the Bedroom Tax.)
—————————————————————————————————————
14. They're on a roll now. They've gone devolution crazy!
"We believe in the need to establish a Scottish Health & Safety Executive to set enforcement priorities, goals and objectives in Scotland.

This body would still be required to operate within the reserved health & safety framework and regulations, but it would be for the body – reporting to the Scottish Government, scrutinised by the Scottish Parliament and accessing funding provided by that Parliament – to set and achieve the health & safety objectives of most relevance and importance to Scotland."
Wow. More health-and-safety bureaucracy. Have the street parties started yet?
—————————————————————————————————————
15. Still not enough for you?
"We believe that responsibility for the operation of employment tribunals should be devolved to Scotland."
And to think YOU thought they weren't serious about this "more powers" thing.
—————————————————————————————————————
16. Stop! We can't take any more devolution!
"We see the case for establishing a Scottish model for the delivery of consumer advocacy and advice, one that would secure and build upon the strengths of the current providers of consumer advice and consumer advocacy respectively."
Not a clue, sorry.
—————————————————————————————————————
17. It could be argued that as the effective "manifesto" of the No campaign, in the context of the Labour voters who ultimately will in whole or large part decide the outcome of the referendum, Labour's Devolution Commission paper is the most important document in the 307-year history of the Union. So one would assume it would be clear, concise and powerful. If one had never met Scottish Labour.
If you've suddenly burst into tears trying to plough through all that pompous management drivel – which goes on for a whole further page in similar vein – let us helpfully summarise it for you, for by now we feel no pain or other human emotions.
It says "We'll give more power to local people, but we don't have the faintest idea which powers or how". Okay, let's move on.
—————————————————————————————————————
18. This next part is quite telling.
"Full devolution of responsibility for delivery of the Work Programme to local authorities on the basis that they are better placed to meet the requirements of local labour markets and this would enhance democratic accountability.

However, we believe it is essential and right that the Scottish Parliament play a key role in providing strategic oversight of local authority delivery of this service."
By common consensus the Work Programme has been a complete disaster, spending billions of pounds in order to achieve – literally – worse results that would have come from doing nothing at all. Does Labour propose to give the Scottish Parliament the ability to end it and use the money more wisely? No. It just wants to put poorly-paid councillors in charge rather than ministers. Awesome.
(Also, there, a sneak preview of Labour's attitude if it wins in 2015.)
—————————————————————————————————————
19. What about Scotland's abundant renewable resources? Do we get those?
"A Memorandum of Understanding between the Scottish Government should be agreed with the Crown Estate becoming accountable to the Scottish Parliament, with devolution agreed in respect of their common objectives on the development and management of the seabed and foreshore, and those local authorities with an interest in this area should be fully consulted throughout as to its contents."
Nope. We get to collect the Queen's money for her.
—————————————————————————————————————
20. Anyone for some more empty gestures?
"We recommend establishing a constitutional guarantee of powers to local government."
See (6).
—————————————————————————————————————
21. And at that point we're actually pretty much done. The remainder of the paper is just a recap, listing the recommendations in bullet-point form. But we'll have a quick scoot through them anyway just to see if we've missed anything, and because some of them sound even more ridiculous boiled down to a sentence, eg:
"RECOMMENDATION: Whilst it is inconceivable that the Scottish Parliament would be abolished, we believe the Scottish Parliament should become permanently entrenched in the constitution and indissoluble."
Translation: the Scottish Parliament will never be abolished, so let's waste our time legislating (as our first listed priority) to stop it from being abolished, even though that legislation itself could simply be abolished.
NB: The UK does not have, in any tangible form, any such thing as a "constitution". It has laws and conventions, any and all of which can be repealed and/or ignored as the government of the day sees fit.
—————————————————————————————————————
22. Now for something controversial:
"RECOMMENDATION: Partnership arrangements between Parliaments and Governments whose responsibilities will inevitably overlap should be established, so that they work together for the common good, safeguarding civil and political rights, and promoting social and economic rights such as welfare and full employment. "
Translation: it's probably best if governments co-operate with each other, as a general rule. We're not absolutely sure that it needed two years and a dedicated commission to come to that conclusion.
—————————————————————————————————————
23. You're right, that doesn't sound enough. Let's beef it up.
"RECOMMENDATION: There is a strong case for giving partnership arrangements a legal existence, in the form of statutory obligations on both administrations to co-operate in the public interest, or through the creation of a formal Intergovernmental Council or its equivalent with the duty to hold regular meetings. "
Translation: Let's make sure the simple principle of basic human co-operation is extensively codified, which will encourage people to look for and exploit loopholes in it, because that's how people think.
—————————————————————————————————————
24. Check priorities are in order.
"RECOMMENDATION: The following matters should remain reserved as they are key to the maintenance of the union: [long list of almost aspects of governance, from defence to regulation of animal medicine]"
Translation: Remember, above all else, that this isn't about what's best for the people of Scotland – it's about whatever will preserve and maintain the Union.
We must ensure, as a matter of deliberate and conscious policy, perhaps even law, that Scotland is never better off than the UK as a whole. If that means taking more money from Scottish taxpayers and giving it to the rest of the UK, thereby helping Labour win votes in English marginals, better still.
—————————————————————————————————————
And that, readers, two years in the making, is Scottish Labour's vision for a post-No Scotland. We get employment tribunals, a little bit of health and safety, and a cut in Barnett funding in exchange for taxation "powers" which never can and never will be used to do anything other than exactly mirror the UK tax structure, and the chance to take quite a lot of tedious paperwork out of Westminster's hands.
Even if we were to somehow grow our economy (a difficult task, as the paper expressly and explicitly specifies that "financial and economic matters" must remain reserved to Westminster), we'd hardly be able to do anything with the money, because 99% of welfare will also remain reserved, as will nearly everything else.
And of course, best of all, we get to keep paying for Trident and aircraft carriers and going abroad to shoot thousands and thousands of brown people, as the queues for foodbanks stretch the length of our High Streets.
It's quite the counter-offer, we'll give them that.