The New Statesman has been doggedly ignoring all our polite requests to release the audio of its controversial interview with Alistair Darling for several days now, but today it very quietly released the full text of it on its website.
Where previously it had reported the "Better Together" leader as having made an "inaudible mumble" in response to a question about whether the SNP were guilty of "blood-and-soil nationalism", apparently the mag had given its ears a good swabbing out with a cotton-bud and concluded that it HAD been able to hear him after all.
This was what it heard at 1pm: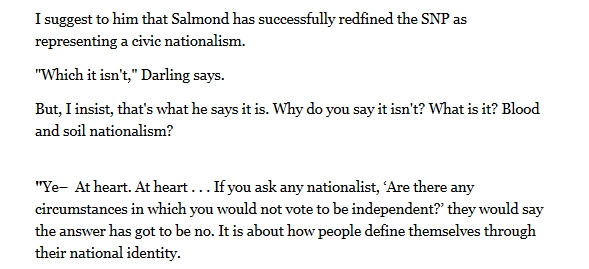 Click on the page now, though, and what you'll get is slightly different:

Alert readers will note that the second version contains a link in red. That leads, finally, to the audio, in which it's clear that the second "at heart" is spoken by NS editor Jason Cowley, not Darling, hence the correction to the 1pm version. But what's even clearer is that the words aren't even SLIGHTLY "inaudible".
There's simply no mistaking what Darling says, or the fact that he's agreeing with the proposition (although he tries to scurry away from it as quickly as possible). And we know that for sure, because Cowley manages to accurately repeat it back to him.
We're not sure why it's taken several days to arrive at this point and clarify exactly what was said, because it was demonstrably understood from the off. Had the audio been released at the time there'd have been no way for Darling to duck out of the allegation that he was accusing the SNP of being nasty racist ethnic nationalists.
Oh, wait, we may have just answered our own question.