Alert readers may have noticed that for a non-holiday period, Scottish politics is a deathly quiet place at the moment. Papers are struggling to find anything to write about at all, and were beside themselves with joy this week when presented with the chance to fabricate a ridiculous "anti-Semitism" story about an obscure blogger criticising a trade union and fill several pages with hysterical fauxtrage over it.
The sheer dearth of anything happening whatsoever is typified by the Scottish Daily Mail's front-page splash this morning.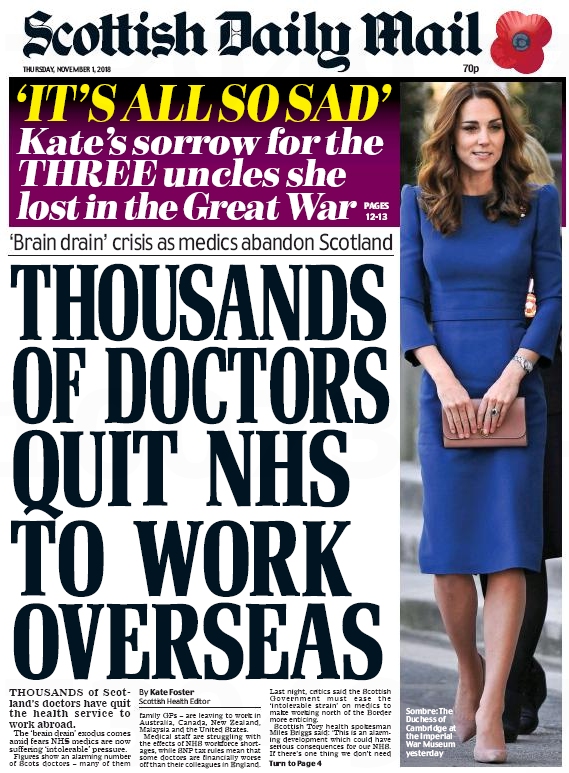 It sounds dramatic – a potentially catastrophic en-masse exodus of Scotland's doctors would certainly be a crisis. But anyone reading beyond the lurid headline will swiftly discover a rather less doom-laden reality.
Because in fact the entire piece is based on nothing more than a series of assertions and assumptions stacked on top of suppositions and guesses and possibilities, and it crumbles into something less than dust long before it's over.
It starts off rather oddly:
"Figures show an alarming number of Scots doctors – many of them family GPs – are leaving to work in Australia, Canada, New Zealand, Malaysia and the United States.

Medical staff are struggling with the effects of NHS workforce shortages, while SNP tax rules mean that some doctors are financially worse off than their colleagues in England."
Readers might be forgiven for wondering about the relevance of that second paragraph, since no claim is being made that ANY of these doctors have left to work in England. And of course there's an SNP BAD quote from an idiot Tory MSP:
"Scottish Tory health spokesman Miles Briggs said: 'This is an alarming development which could have serious consequences for our NHS. If there's one thing we don't need it's a brain drain of our top medics heading out of this country.

Perhaps if the SNP had planned its workforce better, easing the intolerable strain doctors are currently facing, we wouldn't be in this worrying situation."
Or perhaps if the Tories at Westminster weren't so hell-bent on keeping foreigners out of the UK, the NHS wouldn't be short of staff in the first place.
But IS it even a "development"? When did this happen?
"According to the General Medical Council (GMC), 5,044 doctors who trained in Scotland applied for a Certificate of Current Professional Status (CCPS) between 2008 and 2017. This allows medics to work abroad under a new employer."
Oh. For a start these figures go back over a DECADE, and we're given no clue as to whether numbers have increased or decreased in recent years. For all we know, 5000 of the 5044 could have shipped out in 2008, and since then almost no doctors might have left at all.
"Of those, 2,895 are likely to have left for other countries because they are no longer registered as practising medicine north of the Border."
Oh. So in the space of a sentence the 5000 figure has already dropped by 40%, to below 3000, and we don't actually even know whether they've "QUIT NHS TO WORK OVERSEAS" at all. We're just saying that it's "likely" for some reason and ignoring any possible alternative explanations.
For all we know they might have retired, or died, or become lumberjacks. It seems beyond any reasonable debate that at least SOME of them will have. We simply don't know what they've done or where they've gone or why.
"A total of 2,152 Scottish-based doctors applied for the certificates between 2013 and 2018. Of those, 728 are not licensed to practise in the UK, suggesting they are likely to have left."
And now the original 5044 in 10 years is down to just 728 over five years. We suppose "FEWER THAN 146 DOCTORS A YEAR OUT OF 19,000 (OR LESS THAN 0.8%) MAY POSSIBLY HAVE QUIT THE SCOTTISH NHS TO WORK OVERSEAS" would have made for a rather weaker headline, in fairness.
But wait – 2152? That would seem, based on the figures we're given, to suggest that 2892 applied for a CCPS in the first half of the decade in question. So this "exodus" has in fact SLOWED by a quarter in the last five years compared to the previous five, and significantly FEWER doctors are now leaving Scotland than before.
"The figures paint a bleak picture of doctors training at Scottish universities but failing to stay in the country, and medics who have actually worked in the NHS deciding to quit."
What? No they don't. We just don't have enough information to make that statement. And now the disclaimers and qualifiers start piling up:
"Simply applying for a CCPS does not mean the doctor has actually left the country. But the GMC figures are understood to give the closest picture of the number of Scots medics working overseas."
They're "understood" to, are they? By whom? Who says so? Maybe this guy:
"Dr Lewis Morrison, chairman of the British Medical Association in Scotland, said: 'It is professionally useful and desirable for some doctors to gain experience and particular skills working in other countries' healthcare systems before returning, which can be ultimately beneficial to Scotland."
Sounds grand.
"'But these figures raise a real question as to whether more doctors may now be considering leaving because they are unhappy in their current roles."
Do they? Based on what? How do we know that they're not just doing the thing you said – gaining experience elsewhere before returning? And what's the answer to that "real question", Dr Morrison?
"It isn't possible to know this for sure from these figures, but that is clearly a worry."
Oh. And he concludes:
"The pressures that doctors face while working in inadequately resourced and understaffed services, coupled with year after year of real-terms pay cuts for doctors – particularly for those in senior posts – may be one of the reasons these figures are rising.'"
May be, and therefore logically also may not be. But whether that's a reason or not, they're NOT rising, as far as we can tell. In fact they're doing the opposite. As we've just deduced, the numbers appear to have fallen considerably in the last five years compared to the previous five, and we aren't given any more detailed breakdown than that, so we can't tell whether (say) 2017 was worse than 2016.
So the entire article, we've now established, is based on no relevant or reliable statistical information whatsoever. It's littered from start to finish with "could be", "may be", "likely to" and "suggests", and in so far as there are any hard facts at all they strongly imply that the story's core claim is the exact opposite of the reality.
It's an extraordinary piece of fluff, distorting a tiny isolated statistic taken completely out of context through so much smoke and mirrors, and diluting it so heavily with caveats and provisos, that there's effectively no functioning data left. It's basically homeopathic journalism, practiced by unqualified quacks, and the more of those that leave the country the healthier it'll get.