Because we took a short break over the weekend, we sadly missed Labour's solemn commemorations of the 1979 confidence vote, and as a result we don't know whether anyone actually did don a black armband or lay a wreath to remember the miners that Labour didn't support when they went on strike a few years later.
But an alert reader did find this for us.

It's an extract from BBC reporter John Sergeant's book "Maggie: Margaret Thatcher – Her Fatal Legacy" and you can read more of it below.
There's also a fascinating 2009 account of events by the then-Labour minister Roy Hattersley for the Guardian, in which the SNP get barely a passing mention and he lays most of the blame for the collapse of the government on two Northern Irish MPs.

More recently in the same paper (just a couple of weeks ago, in fact), an obituary of a Northern Irish doctor, Bertie Irwin, arrived at much the same conclusion:
And of course we already know the views of the ousted Labour PM Jim Callaghan, who chiefly blamed rebel MPs on his own benches for bringing the situation about.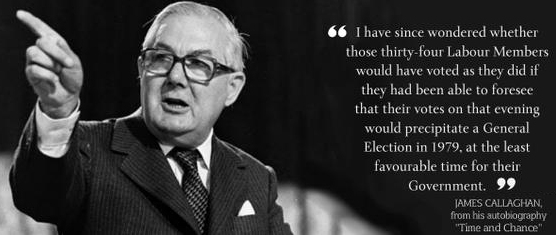 It's bizarre enough that Labour are trying to fight an election campaign based on something that happened 36 years ago. But it's especially bold of them to do so by going against almost every other historical account, including those of the party's own witnesses who were actually there in the middle of it.