Scotland on Sunday this week carries a piece interviewing No voters to find out why they're currently intending to keep Scotland governed by Westminster (following on from a similar article about Yes supporters last week). It's an interesting snapshot of both diehards and people who could yet be turned round.
Let's take a look and see who we're dealing with.
————————————————————————————–
CASE STUDY 1: RUTH
"Ruth McKay has decided to get involved in her first political campaign. The 32-year-old Aberdonian lives in Edinburgh, running a business helping small firms with their marketing. As of earlier this year, she is also on the front line of the city's Better Together campaign.

Scotland is a nation, and it "could" be an independent country, she acknowledges. And, she adds, her heart could be swayed to an independence vote. So why vote No? For her, the practical case falls short. "When you look at it from a marketing perspective, it makes more sense to stay together as one country. We have a Scottish brand and a British brand. It is just a much stronger offering."

Furthermore, she adds, there's no clarity about what a Yes vote might bring and, in its effort to reassure people, the SNP is offering "a Disney version of independence". She goes on: "This isn't about us being negative about Scotland. When you can have the whole cake, why run off with just a bit of it?""
Blimey, tough start. Ruth's position is a tangled mess of contradictions. Scotland is a "nation", but shouldn't get to elect its own governments? Her heart could be swayed to independence, but she's actively campaigning against it?
And what's with the cake metaphor? If Scotland can "have the whole cake" rather than just some of it, what's left for England, Wales and Northern Ireland? She appears to be literally arguing that we can have our cake and eat it.
And the gibberish about marketing and brands makes no sense at all, in common with almost anything that anyone working in marketing ever says. What does it actually mean? Who are we "offering" these "brands" to, and in what way would we stop doing so as an independent nation?
Conclusion: Ruth, clearly, is a winnable voter. Someone needs to engage her in conversation, establish what these meaningless slogans are actually based on, and then point out some simple pertinent facts. We suspect economic ones would be the most fruitful. She's going to be "on the streets" campaigning in Edinburgh for the next couple of weekends. Go and seek her out, Business For Scotland folk.
————————————————————————————–
CASE STUDY 2: RHONA
"OAPs are also disproportionally more likely to be a No. Rhona Young, 84, is a retired sub-postmaster in Old Kilpatrick, near Clydebank. Even if gold were found underneath Dumbarton Rock, she says she'd always back the UK.

"I am a Monarchist. I'm a Unionist. I'm dyed-in-the-wool. The motto here [in Clydebank] is 'strength in unity'. And I firmly believe in that statement. I've always been very conscious that I'm a Unionist, not a Nationalist. I think it is in-born. I think it is part of my way of life. It was the way my generation was brought up. The war had a lot to do with it.""
Zounds, the irony. The war was fought against fascism, for which "strength in unity" is a concise and accurate summary of the main founding principle and titular symbol. Indeed, Wikipedia's definition contains almost that exact phrase:
"The symbolism of the fasces suggested strength through unity: a single rod is easily broken, while the bundle is difficult to break"
In the graphic novel and film "V For Vendetta", the ruling fascist party, "Norsefire", adopts the same term in its propaganda.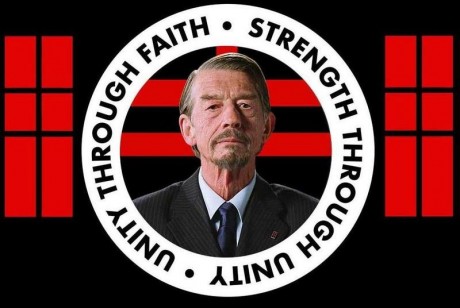 Monarchism, meanwhile, is founded on the irrational belief that a supreme being has handed down divine authority for an unelected ruler to reign over a people as a birthright. Rhona, logically, would vote Norsefire, just as BNP and EDL supporters use the war to justify their racism.
Conclusion: Rhona is a hopeless case. Move on.
————————————————————————————–
CASE STUDY 3: ADAM
"Father of four Adam Tomkins [is] a professor of law at Glasgow University. "I regard my country as Britain. I feel neither English nor Scottish. I was born in England and I lived there for 33 years. I know I am in a minority but I don't regard myself as English or Scottish," he says.

If Scotland were no longer to be part of the rest of the UK, he adds, "I don't know if I would feel comfortable staying." He "totally buys" the core message of the pro-UK campaign that Scotland currently "gets the best of both worlds".

He adds: "I have four young children and when I look at them growing up and then I look at friends in London and see the way of life down there, I thank God I don't live in London. That's because things have been devolved." The way Scotland has evolved since devolution is a success story, not a stepping stone, he argues."
Conclusion: as any readers of his website will already know, Prof. Tomkins is a hardcore ideological fundamentalist for Britishness, a true believer. A waste of time.
————————————————————————————–
CASE STUDY 4: OLIVER
"But for some Scots at least, those British ties are enough to tip them towards saying No. Oliver Milne 22, from Glasgow, currently a law student at Edinburgh University, remarks:

"My family are from Glasgow and worked in the shipyards. In my experience I have far more in common with someone from Liverpool or Sheffield than I do with someone from? Arran for example. With devolution, I have an ability to influence what happens in Sheffield for the better through working in the UK political system.""
This argument also makes little logical sense. Why Liverpool and Sheffield, not Ludlow and Saffron Walden? Why Arran, not Aberdeen? Scotland and the UK both have cities and remote rural areas.
Oliver simply hasn't thought his position through for a moment. He cannot influence what happens in Sheffield. He has no vote there, and as we've conclusively proved on this site previously, Scottish votes basically never have any impact on which party forms the UK government.
By staying in the UK and being governed by whichever party England votes for, Scotland props up a system in which there is no ideologial alternative to centre-right neoliberalism. An independent social-democratic Scotland could serve as a beacon to the rest of the UK, proving that a viable alternative does exist, and thereby doing far more for the people of Liverpool and Sheffield than an impotent Labour government which has already accepted Conservative ideology wholesale could ever achieve.
Conclusion: Oliver, too, has confused but notionally rational reasons for voting No, and anyone rational can be persuaded with pretty simple and concrete facts. Show him that Scottish influence in Sheffield is a total myth. Point out that Labour can easily win in the rUK without Scotland, like they did in 1997, 2001 and 2005.
Show him that working people in Perth and Dundee and Edinburgh DO need his help – they'll be ruled by Tories for six years in every 10 if Scotland stays in the Union, and roughly NO years in every 10 if Scotland is independent. Job done.
————————————————————————————–
CASE STUDY 5: ANDREW
"For many No voters, it isn't so much a pride in Britishness which is driving their viewpoint so much as a practical and pragmatic assessment of the risks and benefits of the choices on offer. The currency, the viability of pensions, the future of the single UK market – these are the issues that campaigners say are being raised on the doorstep.

Typical of such a voter is Andrew Skea, who runs an organic vegetable business in Alyth, and is – no pun intended – pretty down-to-earth on the issue. He remarks: "About 65 per cent of my trade is to the rest of the UK. About 5 per cent goes to Scotland. For me, it is absolutely essential that we have the same currency.""
Scotland WILL have the same currency as the UK – Sterling, which belongs to both nations and can be used by any country that wants to. Also, we can't help but do the arithmetic and work out that 30% of Andrew's business must be with countries outside the UK, who have different currencies. He seems to be coping fine with that.
(But hats off to anyone managing to sell 5% of their vegetables in Scotland.)
Conclusion: another essentially rational voter who can be won over by eliminating their fear. Point out that Sterling is staying for the forseeable future. Note that currency isn't a barrier to a third of Andrew's business at present, so even if Scotland's changed many years into the future, it wouldn't be a big deal. Remind him of how any trade conducted by credit card, debit card or money transfer already automatically handles all the currency issues invisibly at the bank level.
He has no reason to be afraid – except of continuing austerity within the UK, in which "luxury" businesses like organic farming suffer as people's belts tighten.
————————————————————————————–
It's an unscientific sample, of course, but that's three out of five No voters who are within the reach of reason, if we can simply make our case well enough. That's plenty to secure a very large margin of victory. Forget about Rhona and Prof. Tomkins, who are beyond logic. Get out there and talk to Ruth, Oliver and Andrew.