As part of their tireless campaign against abuse and threats on the internet, the Mail's ever-alert reporters will doubtless be wanting to run a major piece on the deputy leader of UKIP calling today on a widely-read website for Nicola Sturgeon to be killed.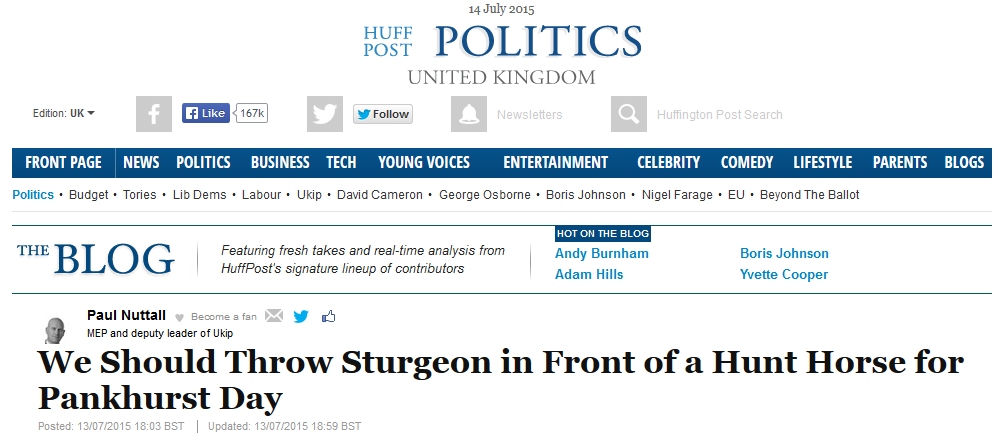 No need to thank us for the tip-off, guys. All part of the service.
The article by Paul Nuttall MEP is pretty unambiguous.
"Tuesday is Emmeline Pankhurst Day, and whilst I am not going to throw myself in front of a horse to make my point about British democracy on this occasion, this is a vitally important constitutional matter and perhaps we should throw Sturgeon in front of a hunt horse as part of the commemorations."
Throwing someone under a hunt horse is obviously highly likely to result in their death, and by citing Emmeline Pankhurst Day Nuttall is explicitly linking the comments to the Suffragettes, and the infamous death of Emily Davison under the hooves of the King's horse at the 1913 Derby.
So we keenly await the all-channels media hysteria as an elected representative calls for Scotland's democratically-elected First Minister to be murdered, akin to those we invariably see when a few random internet loonies tell JK Rowling or Michelle Mone to go and get knotted and such.
In the meantime, though, we can't help raising a smile at another line:
"Democracy means that you'll win some, you'll lose some, but at least the decision will be made by those whose constituents are effected by the outcome. That is the only way there can be democratic accountability."
Scottish matters being decided by MPs whose own constituents are not in Scotland, of course, is something that would simply never do.