A casual observer might perhaps wonder if JK Rowling, no longer writing books about wizards for children, simply wants to be noticed.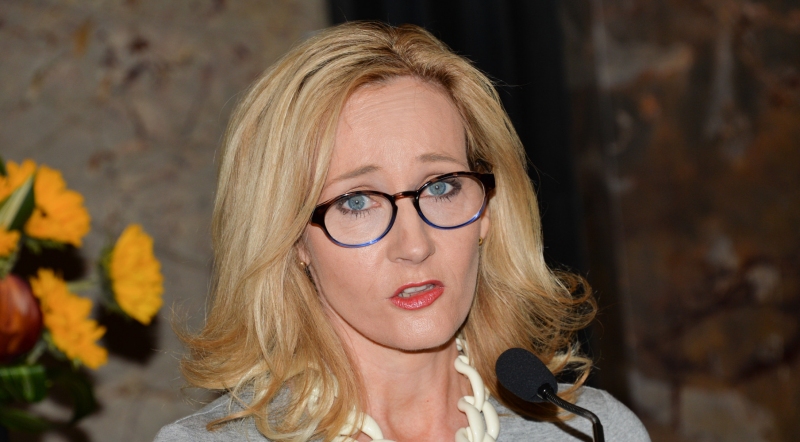 Twice in the space of a few weeks she's appeared on newspaper front pages bleating piously about the terrible hordes of cyber- and other-nats. Yesterday the Independent, Telegraph, Scotsman, Herald, Daily Record and more all ran dismal, whiny pieces about her (entirely evidence-free) claims that the SNP was infested with mad, bitter Anglophobes just waiting for a signal to invade Derby again or something.
No particular barrage of abuse appears to have been unleashed upon the former author to provoke the outburst, but seemingly for a lack of anything better to do with her time she had a good old moan anyway and the press lapped it up.
And the reason it's all so very tedious is that the papers might as well run stories claiming that there's a chance of rain tomorrow.
We've mentioned recently that the summer months are the "silly season" for politics, when both the Scottish and UK parliaments are eyeing their holidays and nobody's really doing very much. Alert readers will have spotted that Wings Over Scotland has been taking things a little easier than in the weeks before the general election, and as a website that's a luxury we can enjoy in quiet times.
For newspapers and broadcast media, though, it's different. The Six O'Clock News is the same length every day whether there's anything happening or not. Papers can vary their pagecounts to some degree when things are slow, but only up to a point – you can't put out a six-page edition of The Times in July because there's no politics or football and hope people buy it anyway.
And so it is that the witless honkings of someone whose opinion is notable only because they have five million followers and enough money to try to influence political events (although Rowling's seven-figure funding of Labour has done it precious little good of late), rather than because it offers any insight or novelty, become news.
In any large demographic of people, whether defined politically or culturally or anything else, it's a nailed-on certainty that a percentage of its supporters will be nutters. It doesn't matter if it's Eurosceptics, feminists, One Direction fans or the left-handed – some minority of the group will be racist, some will be illiterate, some will be mentally disturbed, some will have unsavoury views on totally unrelated subjects, and so on.
So if you want to attack that group, it's not news to be able to trawl up half a dozen examples of unpleasant behaviour. News would be (for example) an academic study proving that Group X had more propensity towards Characteristic Y than Group Z did.
But those are terribly expensive, so instead the media pads out column inches and air time by doing a quick word search, finding a couple of slavering halfwits with 57 followers between them and a rentaquote MP to condemn them, and the job's done.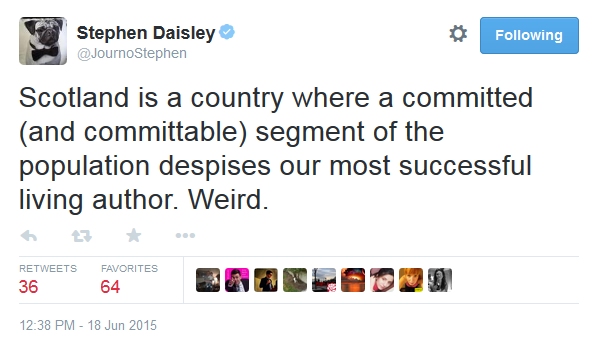 And the bonus, of course, is that even perfectly reasonable people get so sick of this transparent ploy after a while – of being attacked as xenophobic fascists just because they'd like their country to choose its own governments – that they get irritated and exasperated and direct their own intemperate comments at both the attention-seeking celebrity and the media, which the latter can then gleefully jump on all over again any time they get a slow news day or just can't be bothered doing any actual work.
(Ironically, in Rowling's case the volume of abuse her fanbase will then hurl at anyone it deems to have slighted its heroine will eclipse any she got by orders of magnitude.)
JK Rowling has more money than a sane human being could spend in a lifetime. She could stab a pin into a map of Africa and go and end poverty and disease in whichever country it landed in. She could build herself a gold castle. She could mould her Twitter followers into a Fagin-style shoplifting army.
She could open a free school and call it Hogwarts Academy. She could devise an Iron Man-style robosuit and fight crime. She could – and this is what we'd do if we were worth half a billion quid – buy a modest hill somewhere and landscape it into an exact 1:1 scale replica of the first world of Super Mario 64.
Instead, apparently motivated by an unshakeable bitterness that her near-limitless money and fame still don't stop some people from daring to disagree with her politics, she seemingly sits around on Twitter all day looking for stuff to get upset about.
As anyone who's been on Twitter for more than five minutes will tell you, that's a task that makes shooting fish in a barrel look like climbing Mount Everest on a pogo stick. Shrieking "SOMEONE WAS RUDE ON THE INTERNET!" as if it's news is such a crass insult to the intelligence of anyone with an IQ above room temperature that it's a miracle people's reaction is as modest as a bit of colourful language.
(We're not even going to get into the wider ludicrousness of grown adults pretending to be shocked when someone says a four-letter word in 2015, the facepalming insanity of a civilisation where some sounds are deemed to be more offensive than others.)
JK Rowling made an obscene fortune out of making up stories about fantasy worlds and flying broomsticks and magic spells. The tragedy of her life is that when it comes to enjoying the fruits of her labour, she's so pathologically devoid of imagination.