Perhaps the single most striking feature of everyday non-constitutional Scottish politics is Labour's constantly-recurring habit of highlighting some supposedly unsatisfactory statistic about the Scottish Government's performance, only for it to be revealed that it's vastly better than the comparable figure for Wales, where Labour has been in power ever since the Assembly was created in 1999.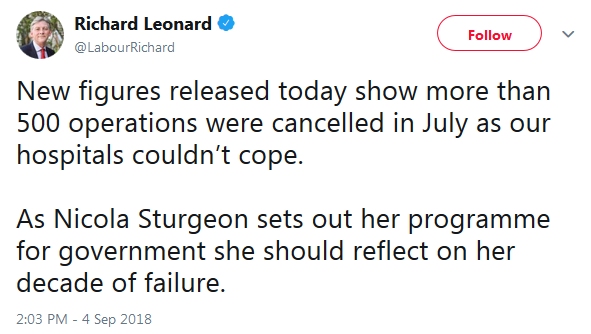 So let's crank up the machine again and see what it says, shall we?
Cancelled-operation stats are recorded by ISD Scotland, and divided into categories according to the reason for cancellation (which include being cancelled by the patient, or for clinical reasons, eg the patient got better or a different treatment was chosen).
The non-clinical cancellations, which are what Richard Leonard's tweet refers to, for the last two years (typically out of a number of scheduled operations somewhere between 25,000 and 30,000 a month) were these:
July 2018: 540
June 2018: 403
May 2018: 489
April 2018: 587
March 2018: 1,201
February 2018: 711
January 2018: 1,249
December 2017: 778
November 2017: 664
October 2017: 557
September 2017: 560
August 2017: 523
July 2017: 404
June 2017: 476
May 2017: 512
April 2017: 490
March 2017: 620
February 2017: 586
January 2017: 704
December 2016: 644
November 2016: 665
October 2016: 614
September 2016: 618
August 2016: 662
TWO-YEAR TOTAL: 15,257
So generally speaking, there's roughly a 1 in 50 chance that the hospital will cancel your operation because it's over capacity or short-staffed (eg due to a major flu outbreak like last winter's, which caused abnormally high cancellations in January and March). Not perfect, but we don't mind those odds.
(Tory-run NHS England, by way of perspective on those numbers, cancelled 50,000 operations in January alone this year due to winter pressures, in addition to the usual typical figure of around 8,000 a month.)
But of course, our question is how has Labour-run Wales, with a population 40% lower than Scotland's, been managing over a similar period of time?
And oh dear.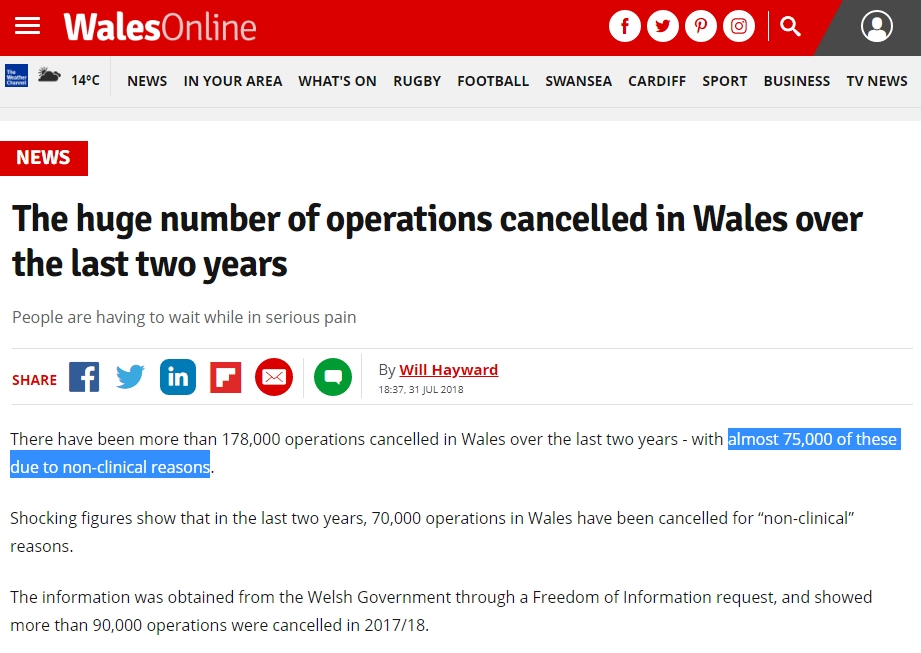 The number of non-clinical cancellations in Wales over the last two years is 75,000 – almost FIVE TIMES as many as Scotland despite a far smaller population. Per capita it's more than EIGHT TIMES worse.
Scottish Labour – assisted as always by a relentless stream of doom-and-gloom stories in the Scottish media – love to draw attention to every tiny hiccup in Scotland's public services, implying that if only we'd hand things over to them rather than the vile SNP they'd magically get better.
The evidence of Labour's competence levels in the one UK nation where it IS in control suggests that the reality isn't just the opposite of that, but the opposite on a truly gargantuan scale.
For so long as Welsh Labour exist, they'll be a constant source of embarrassment to their Scottish cousins, and to anyone gullible enough to take their claims seriously.