This was the Daily Record's front page on Tuesday:
It wasn't true. Corbyn DIDN'T, in fact, table a vote of no confidence in either the Prime Minister personally (a meaningless and non-binding gesture even if she'd lost it) or the government. But tomorrow he may actively prevent one.
May had dared Corbyn not to table the meaningless personal rebuke, and instead move a real proper vote of no confidence, which if it succeeded would bring down the government and cause a general election – the thing Labour insists it wants.
She promised that if he did that she would grant it Parliamentary time, but that she wouldn't do so for the meaningless stunt vote.
In the end, Corbyn actually did neither (at least so far as we can make out – the news completely blanked the story, focusing instead mainly on Jose Mourinho's sacking as Manchester United manager).
So tonight the SNP, the second-biggest opposition party, backed by the Lib Dems, Greens and Plaid Cymru, did it for him.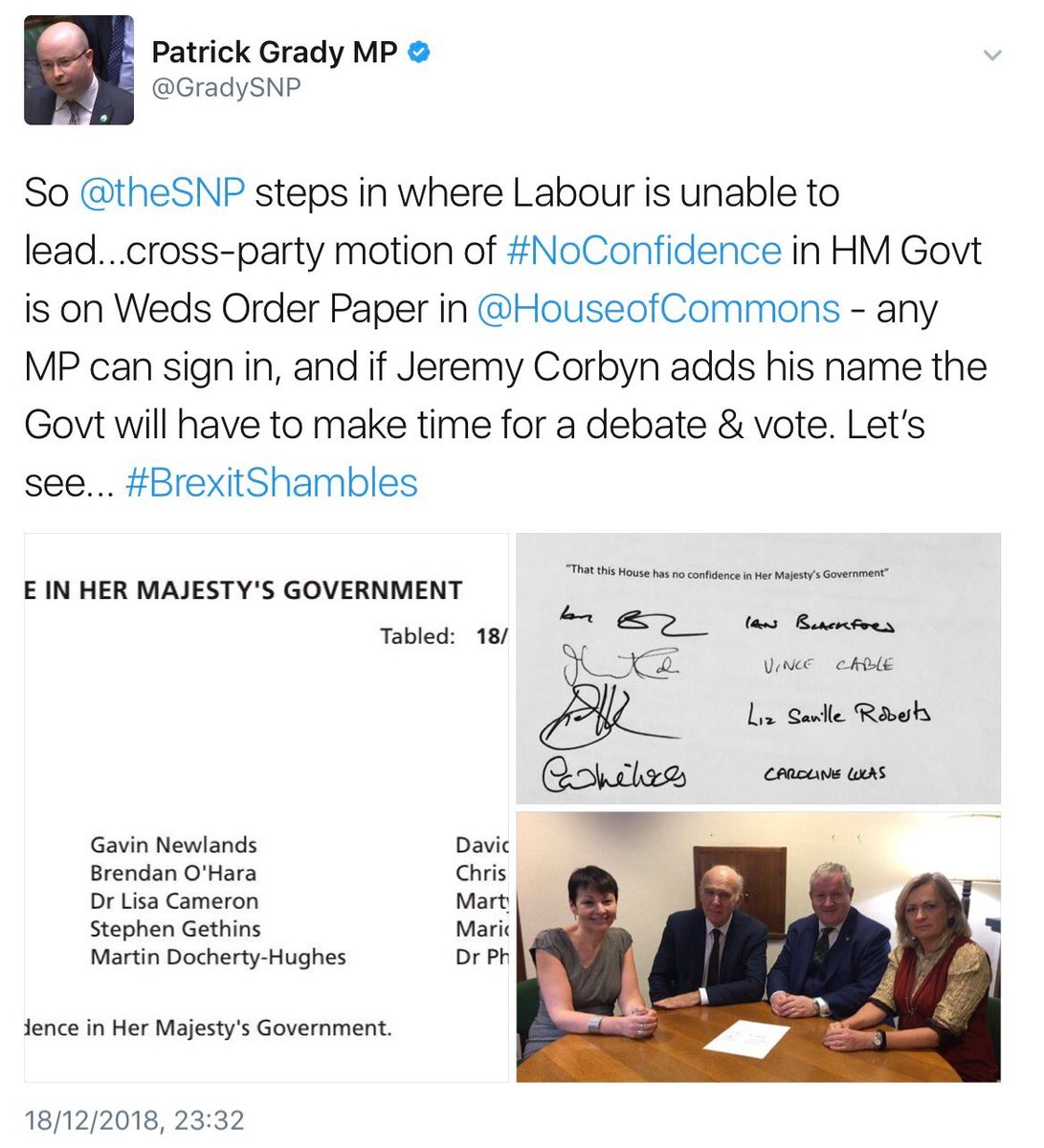 By the arcane rules of the Commons, the motion will go straight to a debate and vote EITHER if the government chooses to allow it of its own free will, or if Corbyn backs it, in which case it HAS to. Labour has as yet made no indication of its position, but its Scottish MP Paul Sweeney said this tonight:
If such a move "reduces the prospect of defeating the government", then as the official opposition Labour are duty-bound to oppose it. Which would leave British politics in the farcical position of the opposition, who say they have no confidence in the government and want to bring it down and have a general election, actually BLOCKING the only mechanism by which that can happen.
There's no penalty for a failed vote of no confidence. It's not like the Tory leadership challenge, where you're only allowed to have one every 12 months. And given that just a week ago 117 Tory MPs publicly declared they had no confidence in the Prime Minister, there has to be at least a chance that four or five of them (which is all it would take) might seize the chance to get rid of her.
Some people claim, not unreasonably, that Tories wouldn't vote to put themselves out of a job or their party out of office – it'd be like turkeys voting for something that we can't quite put our finger on. But many of them are in extremely safe seats personally, and judging by polls it's pretty likely the Tories would still come out of any election as the biggest party, so they might well consider it a gamble worth taking, in the certainty of deposing May and the hope of getting a new Brexiter PM and running down the clock further towards a no-deal Brexit.
The only way to find out is to force a vote and see. The only chance of Labour taking charge of the Brexit negotiations – which the party also claims to want – is to kick the Tories out NOW. Waiting until at least February to trigger an election (which is what will happen if the confidence vote doesn't take place this week) is plainly far too late when Brexit day is scheduled for 29 March.
Labour's bluff has been well and truly called. If they fail to back the motion tomorrow (or fail to vote for it if and when it happens), everything they've been saying for months about wanting a general election and a Labour team negotiating Brexit will be exposed as an absolutely hollow lie. If they DO back it, only Paul Sweeney will be a liar.
We'll be watching the news intently to find out which turns out to be the case.