It's fair to say, readers, that Wings Over Scotland is somewhat cynical about the UK and Scottish media. It's pretty much our thing. Very little about it behaving maliciously, untruthfully or incompetently genuinely shocks us. But today is one of those rare days.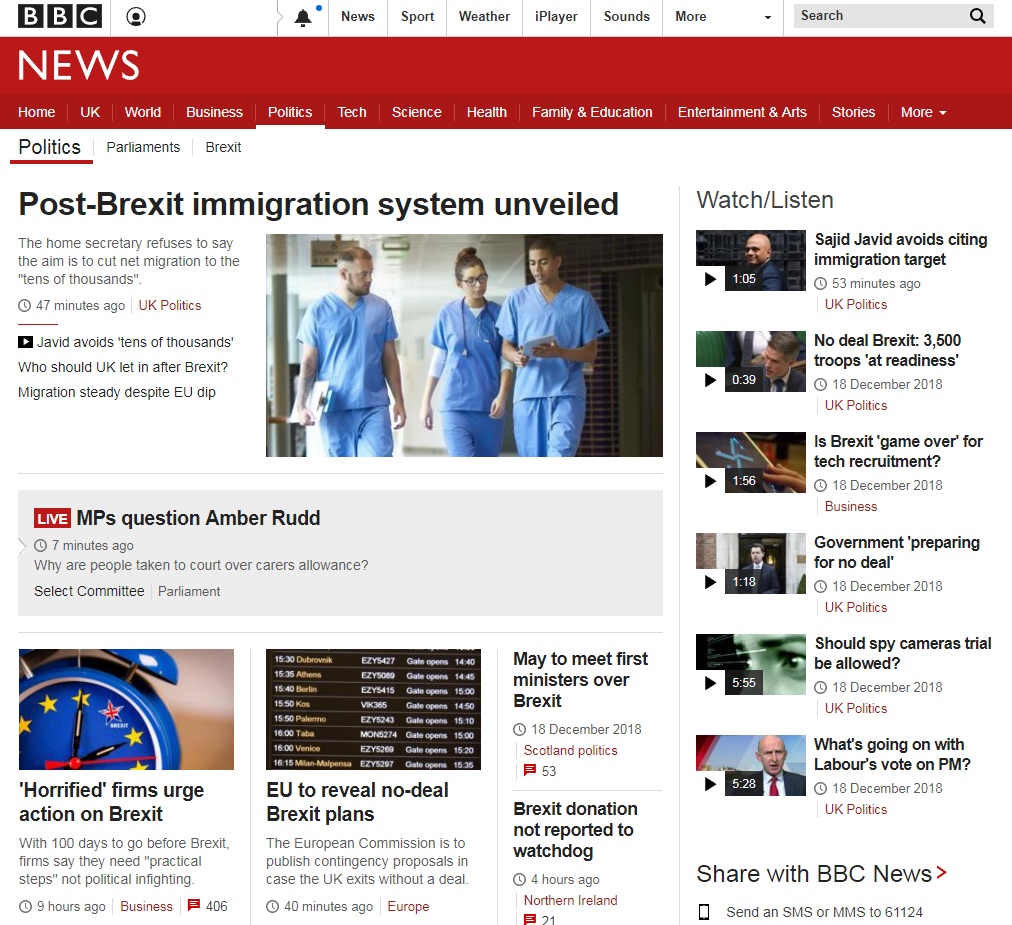 Votes of no confidence in a UK government are even more uncommon. The last one was almost 40 years ago. They're extremely dramatic and newsworthy events. So it's a little odd that one has been called this afternoon and the British state broadcaster has absolutely nothing to say about it, even on its politics website.
The motion was tabled last night by four opposition parties – the SNP, the Lib Dems, the Greens and Plaid Cymru. And the ladies and gentlemen of the press DO know that it happened. The Independent reports it fairly prominently on its front page:
And STV have a story on their website:
The Guardian is also aware – although you'll struggle to find it anywhere on the front page, it does get mentioned, eventually, in passing, in paragraph SEVENTEEN of an obscure story about Labour activists:
Sky also buries it way down a story about Labour – this time in the NINETEENTH paragraph of 24, as a few hastily-edited-in lines (they weren't there originally):
But that's all we've found, more than 12 hours after the story broke. It didn't make last night's TV news bulletins. Neither we nor anyone else have encountered any mention of it at any time on either of the UK's two 24-hour news channels. As far as we can find, most of the UK's national news outlets – the Times, the Telegraph, the Daily Mail, and the Express – have nothing at all.
What will happen this afternoon is that either a UK government will face a vote of no confidence for the first time in four decades, or Her Majesty's Loyal Opposition will fail spectacularly in its primary duty, which is to seek to depose a government that has lost the support of Parliament.
Whichever of those things happens is major news, or at least would be in any sane country with a media worthy of the name. Even we're genuinely stunned that the UK's press and broadcasters are determinedly turning their blind eye to the telescope.
We can only assume that they instinctively stop paying attention any time they hear the word "SNP" and dismiss it as being a Jocks-only matter, even when what they regard as the UK's "proper" third party is also involved. And that probably tells you everything you need to know about Scotland's place in the Union.