There's been a fair bit of crowing from "Better Together" about some recent poll results. Which is fair enough – almost everybody likes to shout when they get some good news (though this site has consistently urged caution over polling findings months before a vote, whether favourable or not).
It is, however, always wise to look at the small print.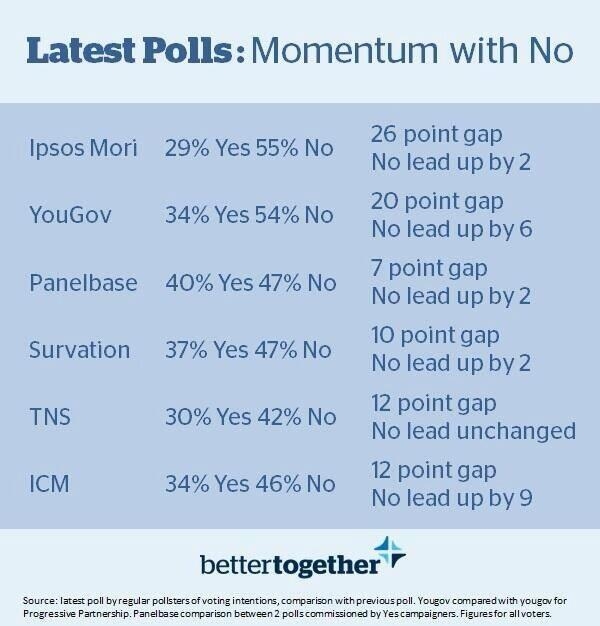 Above is a graphic posted on the "Better Together" Facebook page at the weekend. Let's break each of those claims down and see if they stand up to scrutiny.

This in fact ISN'T the "latest" Ipsos Mori poll at all. It's from March 3, two and a half months ago, and the 2% increase referred to is in comparison to a poll conducted last December. The actual most recent Ipsos Mori poll was commissioned by the UK government, which has for some reason declined to release the results, claiming:
"We do research to identify information people require to help them make an informed decision. It is not usual practice to publish internal research"
Wait, what? You ask people questions in order to "help them make an informed decision", but then don't tell them the results? How are they supposed to make an informed decision if you hide the information? (Also, if you got that information from asking the people in the first place, didn't they already know it anyway?)

The second statement is probably the most bare-facedly misleading on the graphic. Firstly, it wasn't a "YouGov" poll at all. YouGov did the fieldwork, but the poll was actually commissioned for the Sunday Mail by Progressive Partnership, who then applied the all-important weighting that determines the final figures.
(And which nobody has yet seen, though we're still trying to get hold of it.)
Secondly, the No campaign were the only people who interpreted its findings as an increase in their lead. The Sunday Mail itself reported the findings as "Gap closes between the Yes and No campaigns", and noted that in fact they showed a nine-point DECREASE in the No lead compared to Progressive's previous poll.
Professor John Curtice of What Scotland Thinks concurred with the Mail's analysis:
"The poll shows a six point swing to Yes compared with last November. Since then, of course, every other pollster has recorded a narrowing of the No lead. To that extent today's poll is simply further evidence of that narrowing."
The "Better Together" claim rests – as they reluctantly acknowledge in very small print at the bottom of the graphic – on comparing the Progressive poll to a "real" YouGov one commissioned by Channel 4 a few days earlier, which used YouGov's own weighting and would therefore produce completely different outcomes.
[EDIT 23 May: We've now managed to secure the release of the data tables from the Sunday Mail. They show that no political weighting at all was applied to the "raw" findings, making an absolute mockery of comparing them to a politically-weighted YouGov poll.]
When both the people who commissioned a poll and the country's leading impartial psephologist say it shows a substantial swing to Yes, claiming the exact opposite requires a very flexible attitude to reality and a certain amount of chutzpah.


Ask a polling company and they'll tell you that any poll with a sample of around 1000 people has a built-in margin of error of 3%. The Survation poll in question even includes a preface pointing that fact out (it puts the precise figure for that poll at 3.1%).
Any fluctuation within that range is therefore essentially meaningless, and can't be legitimately described as "momentum" in either direction.

"Unchanged" rather speaks for itself.

Which leaves only the most dramatic poll, the ICM one for Scotland on Sunday apparently showing a substantial No swing of 4.5%. The full data tables for the poll have only just been released, and tellingly show that just as with the Progressive Partnership poll, the No campaign is comparing apples with oranges.
ICM have altered their methodology since their previous poll – for more detail, read James Kelly's explanation over on Scot Goes Pop. While it's possible to debate what effect the changes (most noticeably a rather leading preceding question) may or may not have had on the results, what can't be disputed is that in polling terms the conditions for the two polls weren't the same, and therefore the results can't be meaningfully measured against one another.
So out of the six polls which "Better Together" claim show momentum is on their side, one shows no change at all, two show changes within the standard margin of error (ie effectively no change), one actually shows a significant swing AWAY from No, one is an invalid comparison and the other one is months old and has been superseded by a new poll from the same company which the UK government is frantically suppressing.
In other words, NOT ONE of the six polls shows a verifiable movement towards No.
It is, fair-minded readers may feel, a slightly different picture to the one painted.