We were going to take the night off until we read this drivel. Gah.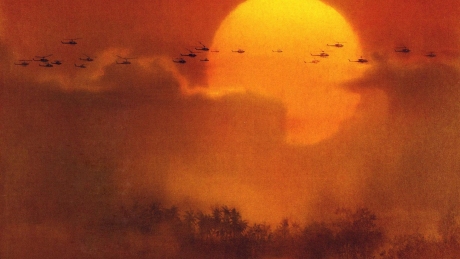 And if we're being honest, we were just too pleased with the pun.
It seems that Unionist journalists writing doom-laden "We might actually lose Scotchland!" columns is the fashion du jour with UK newspapers at the moment. Barely a day goes by now without some London-based doofus belatedly realising what we've known since 2012 – that the referendum is up for grabs.
And with such a glut comes the pressure to find a new angle. Some go for "hilariously clueless", while others plump for "cluelessly hilarious", and some are just plain surreal. But our favourites are the end-of-days-ers.
Encouraged by actual adult politicians like George "cataclysm" Robertson and Phillip "space monsters" Hammond (not to mention George "Catholic genocide" Galloway), no luridly dystopian image of a post-Yes UK is too hysterical, and Martin Kettle's piece for the normally-sober left-leaning broadsheet doesn't disappoint. Let's dip a toe in.
"It is clear that the change has followed the UK government's attempts to confront Scottish voters with some of the possible realities that would follow a yes vote. Some dismiss these attempts as threats, others as mere bluster.

My own view is that they are legitimate and mostly rational warnings of some of the risks that may, and in some cases would, follow from a yes vote."
Cataclysm. Space monsters. Catholic genocide. Legitimate. Mostly rational.
"When David Cameron says he loves Scotland or George Osborne warns about the currency, or Philip Hammond, just this week, says serious things about defence, the yes campaign's response is to monster the Tory."
Phillip Hammond didn't say "serious things" about defence. He came up to scaremonger with a load of irrational nonsense that contradicted the last load of irrational nonsense but, somehow, still without becoming rational. Osborne's "warning" about currency has been debunked by an entire parade of economists, commentators and even by members of his government. It's not "monstering" to point out that someone talking bollocks is talking bollocks.
"My instinct, as a rationalist not a nationalist"
Miaow! Totally see what you did there.
"is that some of what the UK ministers say actually gets through all the same. Voters who would never admit in public to agreeing with Cameron or Osborne may nevertheless log their warnings in private – especially in a Scotland where it is so completely not cool to be a unionist."
Well, that bit we agree with, on every level. "Shy Tory syndrome" did for Labour at several elections in the 1980s and 1990s, and is a real danger for the Yes campaign. (And wow, it really must be just unbearably uncool to be a "Better Together" activist. We can't even imagine the self-loathing cringe that must seethe and bubble and boil under every waking moment, and probably quite a few of the sleeping ones too.)
"But there is a second thing to be clearer about too. If Scotland votes yes, the consequences could be messier and nastier for longer than most of us have allowed ourselves to consider."
Oh, here we go.
"That is partly because there is a conspiracy of decorum surrounding the referendum campaign. The no campaign doesn't want to attack the nationalists too hard because that plays to the nationalist message of bullying and victimhood."
Seriously? "LYING FAT NAZI BASTARD SALMOND WANTS TO BRING ABOUT A GLOBAL CALAMITY" is the No campaign going easy on us?
"But the yes campaign is equally bland about pretending that every problem triggered by independence will be sorted pragmatically, amicably and quickly."
Perhaps because nothing else makes any sense. It's so blindingly obviously in nobody's interests to make the dissolution of the UK any more awkward than it needs to be that it would take an outbreak of mass collective insanity unprecedented in human history since the Jonestown Massacre for anyone to be obstructive.
Scotland needs the rUK making its membership of the EU complicated like it needs a hole in the head. The rUK will have a shrieking existential fit if Scotland plays hardball over Trident. And both nations will have fragile economies just beginning to show signs of recovery which would be cast into the abyss of recession again by even a tenth of the financial havoc either could wreak on the other if it had a mind to.
The negotiations over Scottish independence will be the equivalent of the Cold War's key defining doctrine – Mutually Assured Destruction. The West and the Eastern Bloc loathed the sight of each other, but kept the peace for half a century, even under incredible tensions and provocations, simply because neither could afford not to.
"I think this is misleading at almost every level. If a yes victory is declared, how will the British Labour party, meeting for its party conference on the following day in Manchester, react? By promptly agreeing to expedite Scotland's departure? Dream on."
As opposed to what? Vowing publicly to trample on the democratic wishes of the people of Scotland, as expressed in a legal referendum backed by the UK Parliament?
(Leaving aside the fact that it'll be precisely bugger-all to do with Labour anyway, being that they're in neither the Scottish Government nor the UK one.)
"A yes vote would explode into the UK party conference season. All the main parties would be destabilised in major ways."
Things change sometimes. Deal with it.
"Salmond talks as though the negotiations following a yes vote would be straightforward, respectful and informed by mutual trust. Why should that be so?"
See above.
"They would more likely be devious, antagonistic and riddled with mutual suspicion"
Welcome to the concept of negotiations.
"as well as largely meaningless until after the 2015 general election.
Whether Salmond was negotiating with Cameron or Ed Miliband (and it is worth remembering that if Labour wins in the UK in 2015 and then wins in Scotland in 2016, Labour could in fact be negotiating with itself), the process would be likely to be prolonged.

The UK government would have every possible incentive to drive a hard bargain with Scotland, as Hammond made clear in the defence context this week, and it would be backed by public opinion."
See above again. Labour – in the increasingly unlikely event of them winning in 2015 – would have to have completely lost their minds to have run on a platform of ripping up everything agreed by the start of the election.
Bear in mind that most people in the rUK think Scotland is a whingeing subsidy junkie and will be (misguidedly) quite happy to see the back of it. The last thing they'll want after a three-year referendum campaign is to drag everything out for months longer by going on even more about the bloody Scots.
"Meanwhile, what about the public mood? Views will not remain frozen unchangingly once the result is in. Nor will they inevitably remain benign and peaceful. Nationalist opinion could become more militant if the talks become bogged down.

Even acts of violence are not inconceivable in certain circumstances or places, as anyone with a smattering of knowledge of the Irish treaty of 1921 will grasp."
Shark. Jumped.
It isn't 1921 any more. There is no history – none whatsoever – of armed struggle in the Scottish independence movement. Having pulled off the miracle of holding a referendum at all, and then to have won it after the best part of a century, nobody is going to jeopardise it over the sake of the odd bump and hiccup in negotiations.
Because at the end of the day, everyone HAS to work something out. There is no alternative. Having accepted the referendum and sworn to abide by its result, it's simply inconceivable as a matter of both international law and realpolitik that the rUK could refuse to follow through on the deal, even if outside arbitration were required.
But even if we allow Kettle his mad flight of delusional paranoid fantasy and imagine for a moment that some lunatic DID commit some murderous atrocity – ultimately, in the bigger picture, so what? The 7/7 bombings were dreadful tragedies, but they didn't result in the UK becoming an Islamic caliphate.
If anything, such an event would only drive home to both sides their responsibility to get on with it. Just days ago, Martin McGuinness met – hell, he toasted – the Queen. If there was anything of worth to be salvaged from the era of the IRA and the UVF, it's that British people saw first hand and conclusively that you only solve anything by talking and compromising, even over what seems uncompromisable.
Economically, socially, logistically, and politically, the end of the Union must be – can only be – conducted as smoothly and amicably as humanly possible. The lessons of history, and the all-too-current example of Ukraine, shows that there is no other option.
Anyone suggesting otherwise is not just criminally reckless, but an idiot.