As alert readers will know, one of the primary purposes of this website isn't just to tell people when the Scottish and UK media is lying to them, but to teach readers how to spot that for themselves. And one of the keys to learning that is to ask yourself what a story in the press is leaving out as well as what it's telling you.
So last week, when several newspapers went on an orgy of shock-horror reporting about SNP MPs' expenses – focusing mostly on aeroplane flights and only quoting figures for a small handful of MPs who'd allegedly been claiming far more taxpayers' money than their Unionist predecessors – alarm bells started ringing everywhere.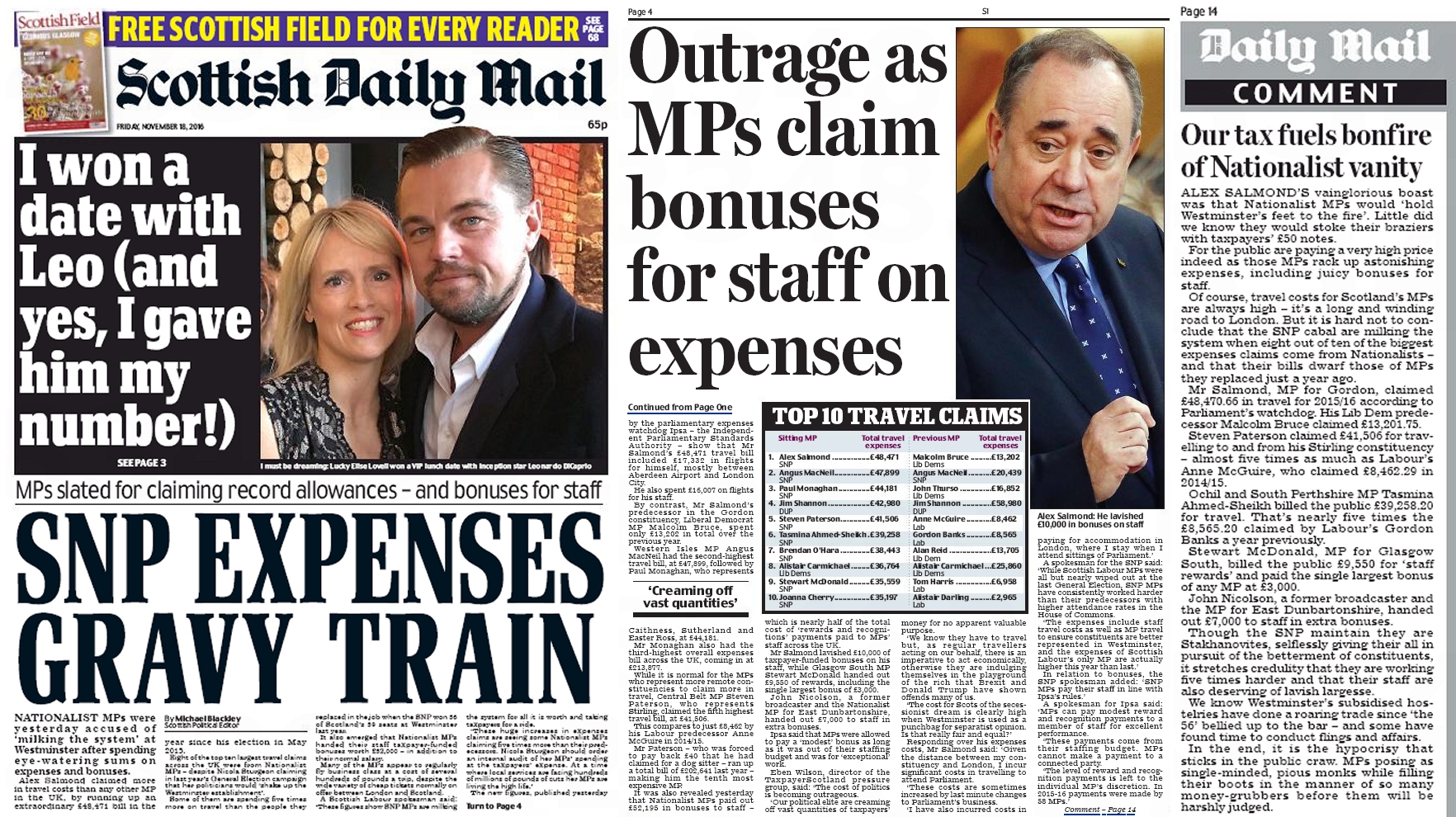 And just as we've taught them to, Wings readers leapt into action to do the hard work that Scotland's professional journalists don't want to do, in order to provide Scots with the facts that the media doesn't want them to know.
On this occasion our intrepid researcher was alert Edinburgh University student Marky Booth, who dived fearlessly into the guts of the Independent Parliamentary Standards Authority (IPSA) website and produced a comprehensive spreadsheet of all the figures for the past three years for every Scottish MP.
By the time he was finished, of course, Unionist social media, press and politicians had already spent 48 hours indignantly and stridently punting the "greedy Nats" line: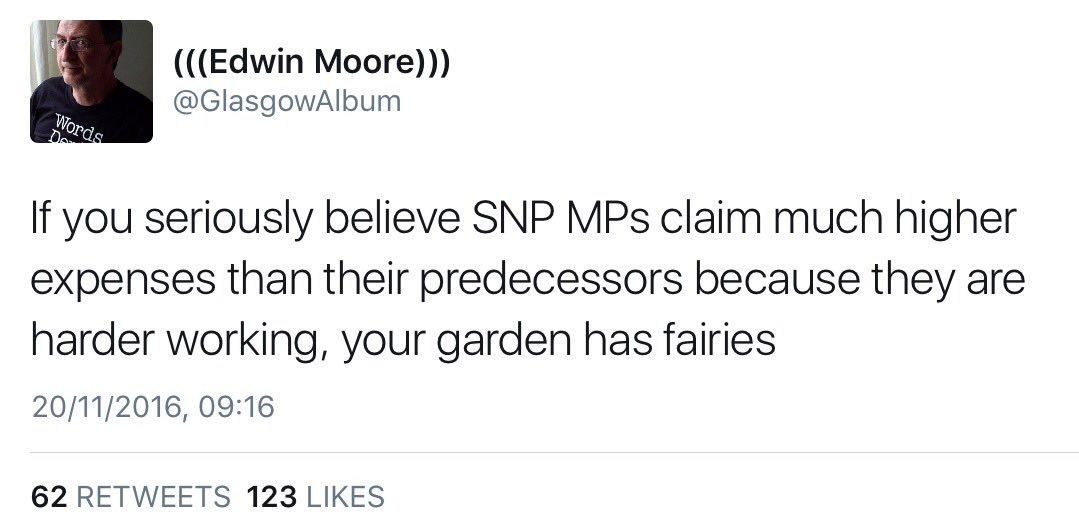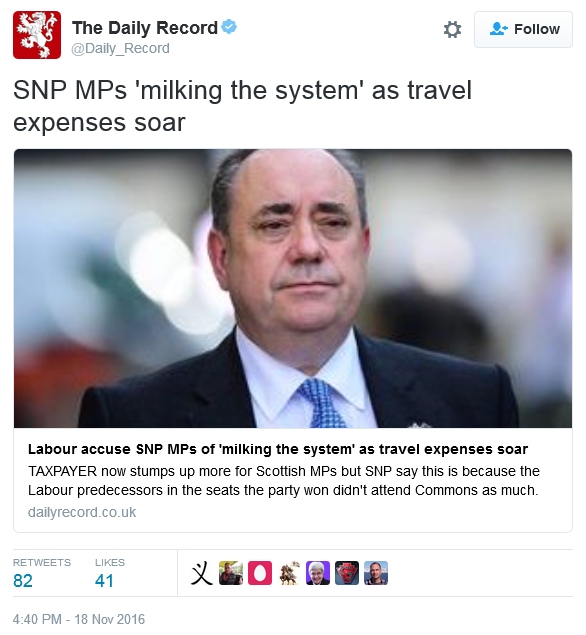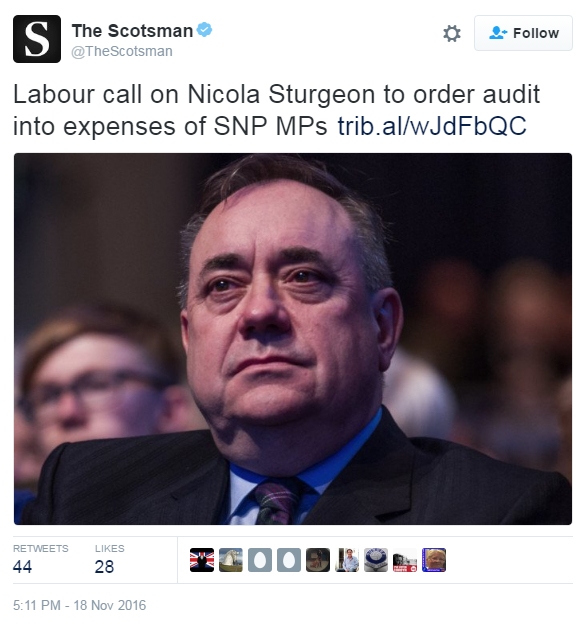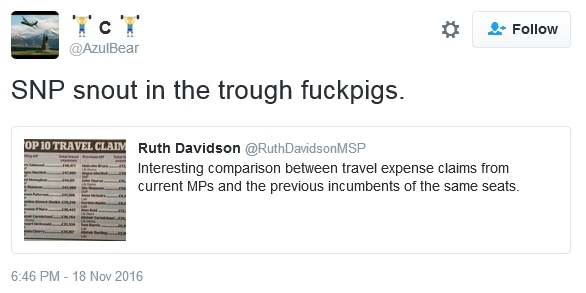 But there was only one small problem with the narrative.
TOTAL PARLIAMENTARY EXPENSES 2014-2016
SCOTTISH MPs 2013/14 (53 Unionist MPs): £10,654,235
SCOTTISH MPs 2014/15 (53 Unionist MPs): £10,738,609
SCOTTISH MPs 2015/16 (56 SNP/Ind MPs): £9,162,821
It was completely untrue.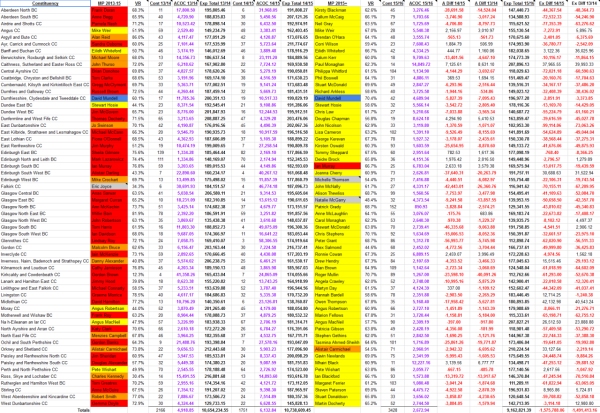 The total expenses claimed by Scottish MPs in the last Parliamentary year was in fact more than £1.5m LOWER than the previous year, when most Scottish MPs had been Labour. The reduction was almost 15%, an incredible feat over just 12 months.
(Nor was it attributable to the three remaining Unionist MPs. The total bill for Alistair Carmichael, David Mundell and Ian Murray was £17,258 HIGHER than in 2014/15.)
But there's more. Because not only had the SNP's MPs been charging the taxpayer less, they'd been delivering more in exchange for their money. The spreadsheet also counted how many times each MP had turned up to vote ("VR" in the table above) or spoken in a Parliamentary debate ("Cont"), and thereby calculated an Average Cost Of Contribution ("ACOC") for each member and the full groups.
TOTAL NUMBER OF PARLIAMENTARY ACTIONS PER YEAR
SCOTTISH MPs 2013/14 (53 Unionist MPs): 2,166
SCOTTISH MPs 2014/15 (53 Unionist MPs): 1,751
SCOTTISH MPs 2015/16 (56 SNP/Ind MPs): 3,428
The SNP-dominated 2015/16 cohort voted and spoke in the Commons almost TWICE as many times as the Labour-dominated group of the year before, and over 50% more than the year before that.
AVERAGE COST PER CONTRIBUTION PER MP
SCOTTISH MPs 2013/14 (53 Unionist MPs): £4,919
SCOTTISH MPs 2014/15 (53 Unionist MPs): £6,133
SCOTTISH MPs 2015/16 (56 SNP/Ind MPs): £2,673
And so the year after the SNP won 56 seats saw taxpayers being charged less than half as much money per Parliamentary contribution as they had been the previous year, when the Unionist parties provided 53 of Scotland's 59 MPs.
Members do more than just vote and speak in the chamber, of course. But in every possible comparable term of measurement, the hard facts are that SNP MPs do much more and cost much less than their Unionist predecessors. The coverage in the media is the diametric opposite of the reality.
(We normally point out that newspapers carefully use weasel words, semantic spin and subtle massaging of the figures to create a totally misleading impression without telling any actual technical lies, but the reporting of the expenses story is very close indeed to absolute categorical falsehood.)
We just thought you'd like to know.