Nobody could ever accuse the Scottish press of underpromoting its grievances – alert readers will still recall, for example, the long procession of articles with near-identical content in the Daily Mail last year about SNP MPs and their "second jobs". For 2016, though, the media's obsessive repeating of the exact same story every few weeks has manifested itself over Nat members' expenses.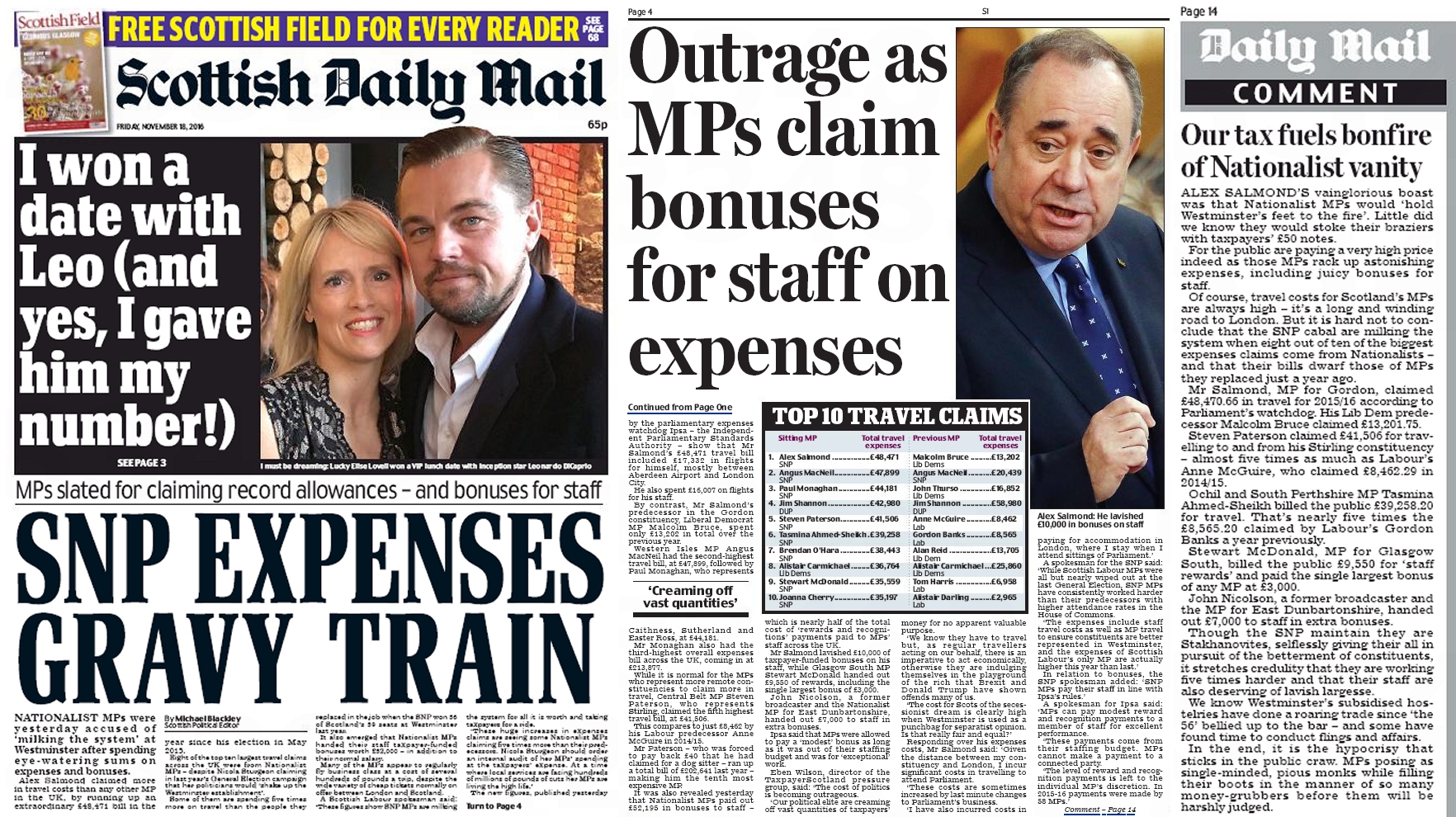 So let's take a quick look.
The vast bulk of the Mail's front-page lead piece today is on the cost of flights, and is no more than a direct lift of a non-story from the Daily Express in September, which was also picked up by other papers at the time.
It also makes it into today's Times:
Readers familiar with this site's regular warning that newspaper headlines are almost always a lie will be less than astonished to discover the truth (which we'd of course also pointed out in September) a little further down the Times' article:
So the paper is using the lesser-known definition of the word "soar", where it in fact rather counter-intuitively means "slightly decrease". We've all heard of stuff soaring downwards, right?
(The weasel-word defence will be that the headline refers to certain individual MPs, but the only one listed in the Daily Mail's top 10 claimers who was an SNP MP in the last parliament is Angus MacNeil, who represents the remote Western Isles and is therefore always likely to be a high expenses claimer.)
The only piece of new information in the Mail's story is that some MPs had also paid their staff bonuses. But while the claim appears on the front-page strapline and opening paragraph, it's not until halfway through the text that we find out just how weak an outrage it is:
Any "bonus" paid, in other words, is already included in MPs' staffing budgets and doesn't cost the taxpayer an extra penny.
So let's recap: the SNP's "expenses gravy train" comprises a reduction in travel expenses compared to the previous cohort of Scottish MPs – which was known about and extensively reported in the press eight weeks ago – and members' staff being paid out of their normal staffing budget.
(And for that lower cost, SNP MPs are turning up more often, asking more questions and making more legislative impact than Scottish Labour's benchwarmers ever did, partly because as the third-largest party they get extra Commons profile compared to Labour MPs from Scotland being swallowed up uselessly into the UK party.)
As scandals go, then, it's right up there with "MP may have bought a bag of chips in 2011 without checking they were made from Fair Trade potatoes first". Naturally that doesn't stop the Mail wheeling in Eben Wilson, the only known member of "Taxpayer Scotland", for a quote so stupendously demented we're going to print it in full for you to marvel at in its sheer stream-of-an-idiot's-consciousness majesty:
"The cost of politics is becoming outrageous.

'Our political elite are creaming off vast quantities of taxpayers' money for no apparent valuable purpose.

'We know they have to travel but, as regular travellers acting on our behalf, there is an imperative to act economically, otherwise they are indulging themselves in the playground of the rich that Brexit and Donald Trump have shown offends many of us.

'The cost for Scots of the secessionist dream is clearly high when Westminster is used as a punchbag for separatist opinion. Is that really fair and equal?'"
As it happens we actually have a shot of an SNP MP conducting a strategy meeting with his staff in his office, yesterday:
But remarkably, the Mail still then manages to up the ante with a hysterical editorial:
"Our tax fuels bonfire of Nationalist vanity

Though the SNP maintain they are Stakhanovites, selflessly giving their all in pursuit of the betterment of constituents, it stretches credulity that they are working five times harder and that their staff are also deserving of lavish largesse.

We know Westminster's subsidised hostelries have done a roaring trade since 'the 56' bellied up to the bar – and some have found time to conduct flings and affairs.

In the end, it is the hypocrisy that sticks in the public craw. MPs posing as single-minded, pious monks while filling their boots in the manner of so many money-grubbers before them will be harshly judged."
We must admit, though, that we're secretly pleased. Since the departure of its former political editor Alan Roden to oversee an orderly sinking of the Titanic that is Scottish Labour, the Mail seemed to have lost its mojo a bit, abdicating responsibility for truly shrieking-batshit coverage of Scottish politics to the Daily Express and its bona-fide moon-howling chemtrail-sniffing loony Siobhan McFadyen.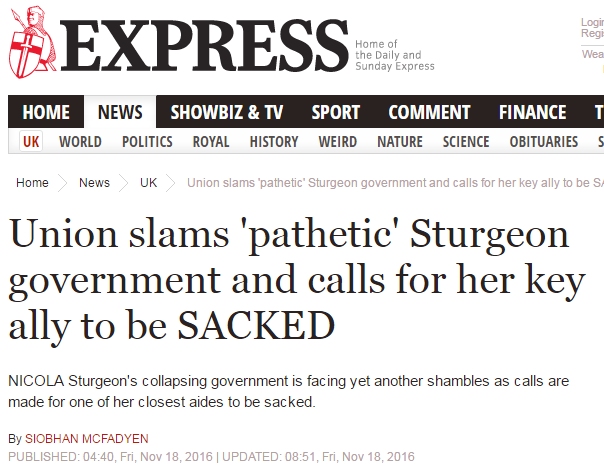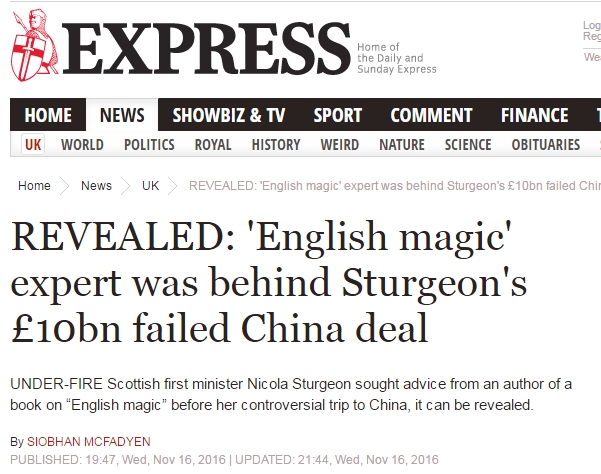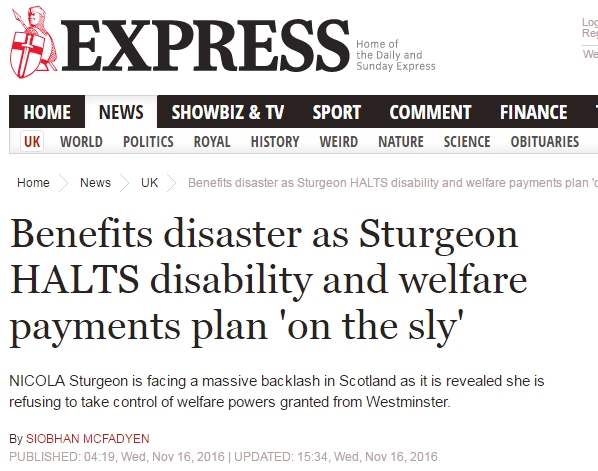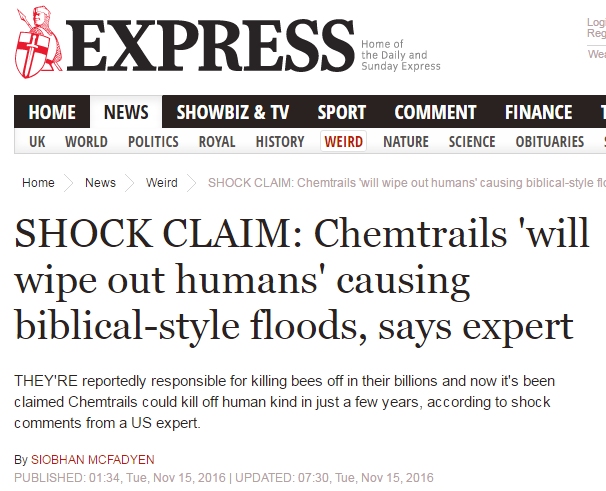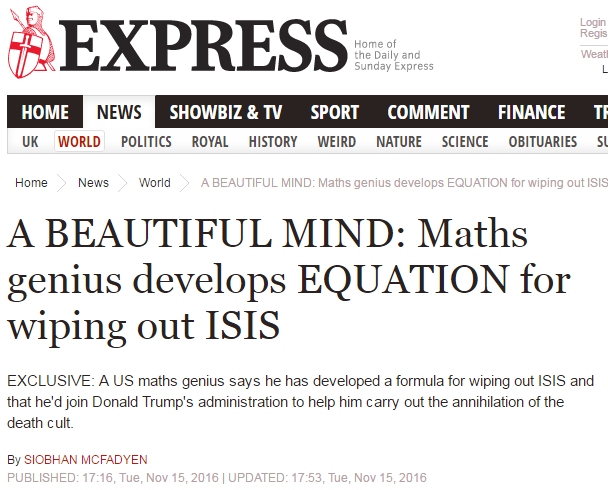 It's still too early to talk of a comeback, of course. But at least by making a front-page lead out of a story that was pathetic two months ago, the Mail has given some sort of indication that it wants to get back in the game.