The most overused political insult du jour is for people to accuse each other of dealing in "fake news" and "alternative facts". Normally, of course, they're referring to dodgy memes on social media or the latest mad yelping from Donald Trump or his minions.
But in Scotland, our fake news is in the real newspapers.
Pretty much every day of every week of every year.
It's worth noting that after being subjected to the scrutiny of this site, the rhetoric from the Scottish Conservatives about Scotland being the highest-taxed part of the UK – which is then dutifully parroted by the right-wing press – has been subtly toned down of late. Take this example yesterday from idiot Tory MSP Jamie Greene:
Alert readers will observe how the headline claim is now qualified by the graphic, which refers to just a small minority (somewhere around 14%) of Scottish taxpayers, not all of them. Contrast this with countless previous Tory assertions, including from Greene himself, that the whole of Scotland was subject to higher taxes than the rUK: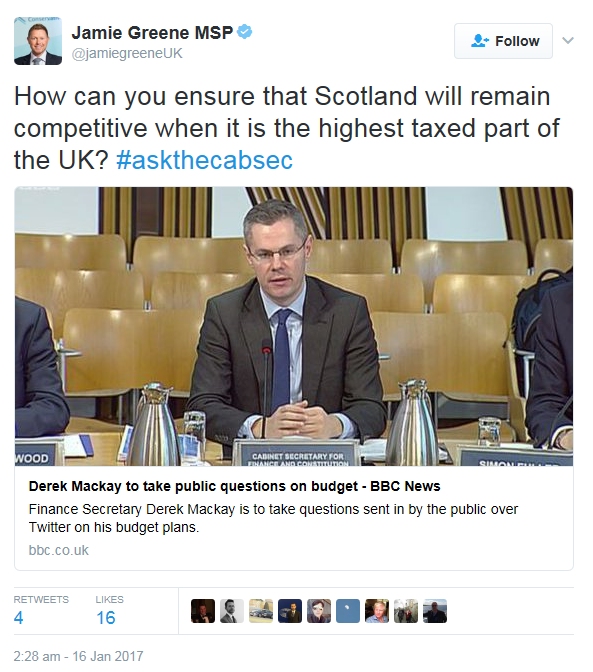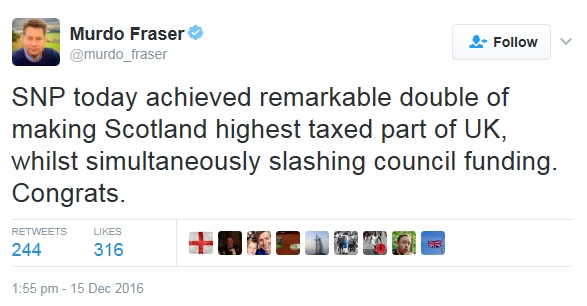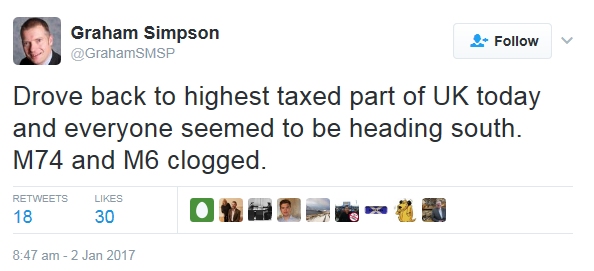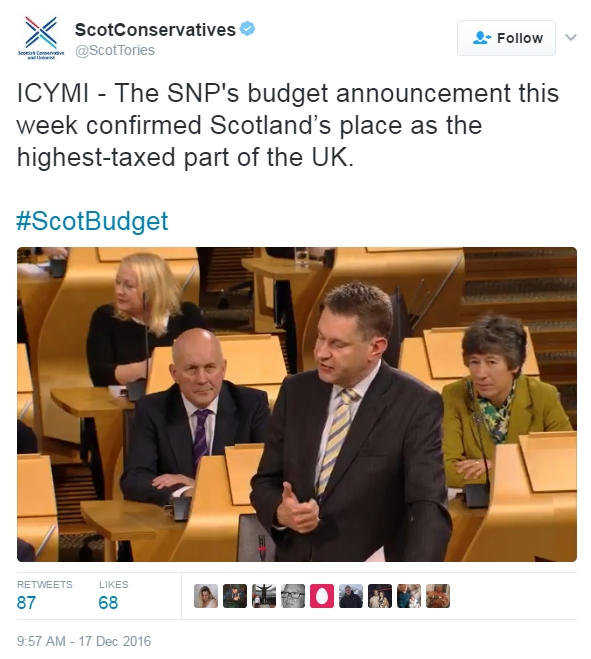 The papers pull similar weasel-wording tricks – this morning's Times has a headline screaming "Scots taxpayers pay £400 more than rest of UK", but in the very first paragraph it concedes that it's only referring to a small subset, though it tries to make it sound bigger by saying "more than a third of a million" rather than "one in seven". The Mail also eventually acknowledges that it's talking about "many" Scots when the headline would lead readers to believe it's all of them.
(We suppose we should at least be grateful they didn't get Iain Gray in to round it up to "nearly a million" or something.)
The problem is that even with all of the cowardly, disingenuous phrasing in place the claim is still complete rubbish. Income tax isn't the only tax people pay, and in other areas Scots pay considerably less than their counterparts elsewhere in the UK.
Most significantly, for example, the average council tax in Scotland is hundreds of pounds a year lower than the average in England and Wales. (Northern Ireland has a different system and can't be directly compared.)
And since council tax is paid by around seven times as many people as higher-rate income tax, there can be almost no credible doubt that overall Scots still pay LESS tax than people in the rest of the UK.
(And they also get more for their money – they don't pay for prescriptions and they don't get taxed to pay back university tuition fees, to name just two examples.)
The papers and the Tories cover a lot of this with weasel words, as we point out above. But sometimes they just can't help themselves from falling over the line from sneaky misleading to outright lying, such as in the tweet at the start of this article from the Times' Scotland editor Magnus Llewellin referring to a "Scottish tax hike".
The incontrovertible truth is that NOBODY'S taxes have been "hiked". The higher rate has stayed exactly the same as it was last year, the threshold is exactly the same as last year, and the personal allowance has increased, which means that absolutely everybody in Scotland will in fact be paying either the same or LESS in income tax as they were last year.
(And most working people, certainly those paying the higher rate of income tax, will likely also have had at least a modest pay rise, so they'll also be paying less tax as a proportion of their income than they were last year.)
An editorial leader in the Times adds more inexplicable, innumerate drivel:
(1) Taxes haven't been increased on ANYONE, as we've just shown.
(2) But even in so far as it could be said that Scots are paying more of one tax, relative to people elsewhere in the UK, that applies to people on over £150,000 exactly as much as it applies to those on £50,000. They still start paying the 40% rate at the same threshold, whether they then also go on to qualify for the 45% rate or not.
The Scottish media's coverage of taxation is – like most of what it does – a heady concoction of things which are actual straight-up lies, and things which are merely designed to give a totally false impression but without actually saying anything untrue enough to get sued for.
As we've been revealing for over half a decade now, the vast bulk of Scottish political journalism is the fakest of fake news, and we can only salute the chutzpah it takes for them to accuse anyone else of that crime and still keep a straight face.