Here's Alex Salmond on last night's Newsnight:
Let's just quickly fact-check that claim.
Salmond says "Far more people in Scotland, by majority and percentage, wanted to stay within Europe as wanted to stay with the United Kingdom". Is that true?
Majority for staying in the UK: 383,937
Majority for staying in the EU: 642,869
The second number is very significantly higher – almost 70% higher, in fact. So it's looking pretty good so far.
No vote: 55%
Remain vote: 62%
We've had some top experts check this one out for us, and it seems that 62 is indeed a bigger number than 55. So in the terms the former First Minister used he was absolutely, categorically, unambiguously and unequivocally telling the truth. Those claims are 100% accurate.
Now let's see how it was reported.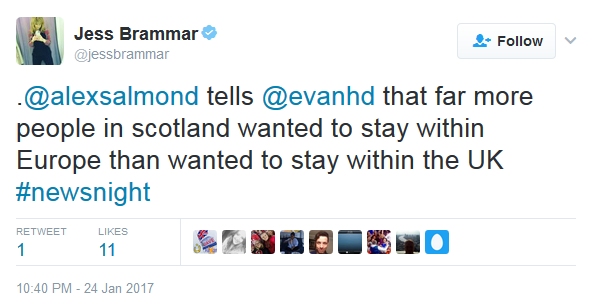 That's Jess Brammar, the BBC flagship show's deputy editor, magically turning truth into a lie before viewers' very eyes.
(And Twitter's character limit isn't an excuse for it. "@alexsalmond tells @evanhd that proportionally far more people in scotland wanted to stay in the EU than the UK #newsnight", for example, fits comfortably into 140 characters and has the key added benefit of actually being true.)
Salmond chose his words carefully and entirely truthfully, but by misrepresenting them Brammar makes them appear false – because different turnouts meant that the absolute numbers voting No were higher than those who voted Remain.
But that's simply not how people talk about votes. Opinion polls don't say "142 people backed Labour", they say "14%". Nobody complains that the Tories have a majority at Westminster on only 11.3m votes, they say "37%" – even though it's only about 25% of the electorate – because people who don't vote don't count.
Still, Brammar only has 19,000 followers, so maybe it's not a huge deal, because it's not as if vast numbers of people are being falsely told Salmond is a liar – oh wait.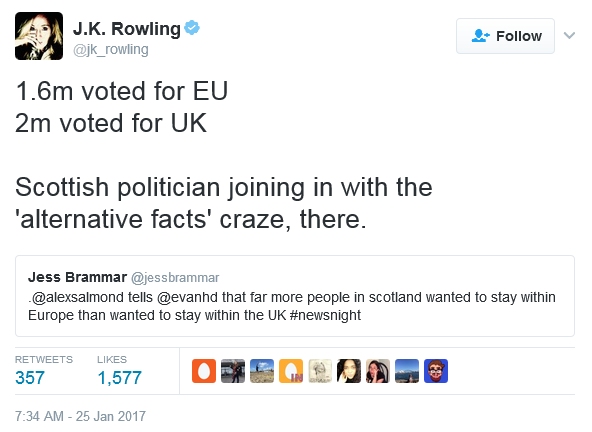 (It's perhaps worth noting in passing at this point that around 173,000 EU citizens living in Scotland were explicitly prevented from voting in the EU referendum by the UK government, whereas the Scottish Government gave them a vote in the indyref. And that 16/17-year-olds were allowed to vote in the indyref but excluded from the EUref, lowering the numbers further. And perhaps also that the 2m who voted for the UK were expressly and specifically told they were voting for a UK inside the EU.)
JK Rowling has 9.1 million followers as we write this. While of course they won't all be in the UK, that's almost enough to actually win a general election. (Labour won in 2005 with under 9.6m.) It's nudging on for twice the entire population of Scotland, and well over twice the electorate.
And while we already knew that Rowling doesn't give a damn if anything she tweets is true or not, that's still a scary amount of potential influence to be so cavalier with.
Because people who should know better – and who, unlike JK, were almost certainly watching Newsnight and know fine well it's not true – will ride on her coat-tails and use the undeserved credibility conferred by her celebrity status in order to propagate the falsehood. People, for example, like Eddie Barnes, former Scotsman journalist and current Director Of Communications for the Scottish Conservatives.
And people like former Scottish Labour MP Anne McGuire.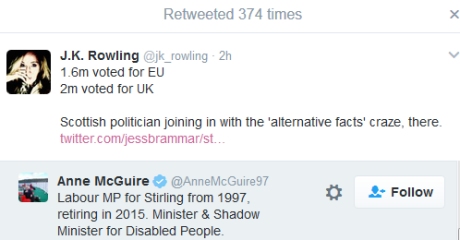 And hundreds of others, with each retweet reaching different groups of people. So the empirical lie that Alex Salmond said something he didn't say spreads its tentacles across the Twittersphere just as people are getting up and ready for work, irretrievably poisoning reality before anyone knows what's happened. (Because we'd bet you good money that neither Brammar nor Rowling will retract or apologise for the error.)
We marvel, as always, that someone as obscenely wealthy as JK Rowling can find nothing better to do with her day than obsessively spread lies about Scottish politics to millions of people at 7.34am. But it's a bit rich that she should do so in the guise of protecting the truth.